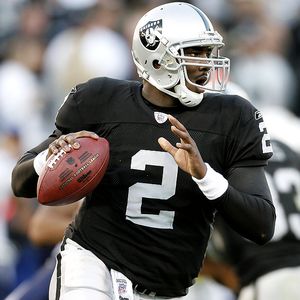 Only a couple of things really get me going. And when I get going, I'm inspired to write. Today's topic is the Oakland Raiders, who have been the butt of my jokes in multiple columns on this site and when I wrote for The Union in Grass Valley, Calif.
A simple question was posed today by a fellow sports writer on one of the many journalism list serves I take part in: Has JaMarcus Russell gotten a fair shake considering the state of the Raiders? (I'm paraphrasing.)
There were a couple of somewhat emotional responses to this, including my own. I hate the guy's play. I think he down right sucks, and I said as much in the e-mail thread. I've asked for permission from two individuals, Benjamin Bullock and Marcus Osborne, to quote their responses (and the initial question) so that you may see how the conversation went. I find it interesting to see how those in the newspaper and radio industry view the Refrigerator — inside and outside of the Bay Area bubble.

Here's the initial e-mail:
From: Benjamin Bullock
Subject: Who's to blame for JaMarcus Russell's failure?

I'm sitting here watching OTL's report on how Jamarcus Russell's career & how it has been a failure. But, whose to blame for this?

In my opinion, its more of the Raiders fault than Jamarcus because they have been the most dysfunctional franchise in the NFL for the past eight years. Granted, his work ethic is not the best but he's never really had a consistent coaching staff around, a good o-line, WR's, & many other deciding factors. Heck, even Randy Moss could do nothing in Oakland.

If he was drafted by any other franchise with good values & leadership, I don't Jamarcus would be in this position.
What yall think?
Here's the first reply from Marcus Osborne, a radio personality in the Bay Area:
Benjamin,

You're waaay wrong. As much as I hate the way the Raiders have been run the last 7 years, JaMarcus Russell's failures are HIS and HIS alone. And I've seen every single game he's played. Here's a guy who's been given every opportunity to master the very BASIC essentials of being a quarterback and a leader and he's applied himself NOT AT ALL.

Other players have played well with this team in SPITE of the inconsitant coaching, the losing, the bad drafts. No matter WHERE he goes, he'll be awful because he hasn't worked hard, and doesn't care enough to get better. His inability to hit an open receiver isn't the team's fault. His immobility isn't the team's fault and his terrible decision making isn't the team's fault.

My man enjoys hitting the clubs more than the film room. As Ochocinco would say, "Child Please." Russell's got a cannon arm and nothing else…THAT'S not the team's fault. It's the team's fault for drafting him in the first place.
Generally speaking, Marcus Osborne is saying exactly how I feel. But Mr. Bullock was not to be deterred.
Ok granted, some or should I say FEW players have succeeded but he plays the hardest position in sports and in order to be successful, he needs consistency from good players being drafted or signed to good coaching which he hasn't had in the years he's been there.

Like I said, I know he's the hardest working QB in the world BUT it all starts with the organization and they did a horrible job by putting the wrong players coaches in place in order for him to succeed.
At this point, I can't help myself. I'm typing up my thoughts on the subject, and as I'm doing so, Marcus Osborne fires out another response:
No excuses or justifications for this guy. If it's just the organization, why is it that BOTH QB's that replaced him at the end of the season outplayed him? By A MILE. WHy is it that the other players on the team offer him no support? And shouldn't everyone at that position suffer equally if the problem is the team itself? Why is it that the most talented QB on the team (allegedly) played markedly worse than the back ups? Oh I know — because he's just a bad QB. Period. He's had 3 years to show some kind of improvement and he gets worse every year.

Let's not justify his crappy play by conveniently laying the bulk of the responsibility at the feet of the organization.
Then I chip in:
Man, anybody from the Bay Area will tell you, as Marcus has, that the Raiders problems start with the Refrigerator (aka JaMarcus).

He is enemy No. 1.

That dude is, or was, the worst starting quarterback in the NFL. You want consistency? I'll tell you how consistent things were. In his short time under center for the silver and black, he consistently saw Al Davis' free pass to ruin his franchise week in and week out. Lane Kiffin wanted to dump him. No dice. Tom Cable wanted to bench him early in the season last year. No dice.

It took awhile, but Old Al came around and figured that coaching wasn't the problem anymore. He kinda had a realization, if you would, that Russell was as terrible as everybody in the Bay Area knew he was two years ago.

He's a horrendous QB. And I'm not too pleased with his general fitness as a professional athlete. Short of that, I'm sure he's a nice guy. Probably pleasurable in person. But I wouldn't let him quarterback a junior midgets team.

Am I making myself clear?

You know, I'm positive there are good quarterbacks that play for terrible teams elsewhere (Matt Hasselbeck for one), but this guy ain't one of 'em.
As conversations go, this is one of the more interesting ones to me. How do you respond to two people, obviously personally invested in Bay Area sports, who emit such strong feelings about a rather innocuous topic. But here we go with another response from Mr. Bullock:
OK but your saying that like those QB's came in and turned that team COMPLETELY around when they finished with a 5-11 record. In addition, JR did come in win and a game for them vs. Denver when Gratkowski got hurt late in the fourth quarter. And in many games last year, he had his WR's running into each other on routes and dropping passes (Louis Murphy & Heyward-Bey). Also, he was running for his life every time he dropped back to throw a pass because of that horrible offensive line he had protecting him.

So is that JR's fault? NO. He had to work with what he had and what he had, was AWFUL. Like I said, JR does deserve some of the blame but not ALL of it because Al Davis did a HORRIBLE job of assembling this team through players and coaches. No consistency & continuity throughout the organization = no success. Point blank.
I had to think about this. Not even knee jerk like, but really think about this. Do people outside of the Bay really sympathize with the Refrigerator? I can't really fathom it. But the evidence is above. There is definitely a difference between those that are (or have been in my case) up front in covering and watching the Rai-duhs, Wacky Al and the 'Fridge. It's no secret how I've felt about this team for the last five years.
Seven years of depression is enough.
So when Russell came in as the No. 1 pick, held out for the majority of 2007, and subsequently began to suck for every game since, I'll go out on a limb and say a lot of folks in the yay lost faith. There's no tolerance for underachievers, especially for a franchise which is home to the slogan, "Just win, baby."
I don't pretend to be a Raiders fan. I don't feel their pain like they do. And I also don't stick up for them as a fan would. I consider myself impartial in the truest sense. With that said, I rip them a lot because they suck on the whole. However, a major piece of this wretched franchise's woes is JaMarcus Russell. I won't let him off the hook for his terrible play. Without him, as Marcus noted above, they've been marginally good. And with the addition of Jason Campbell, there's hope the team can at least turn the corner. With him, they're in the gutter of the NFL. They're a constant sideshow in the AFC West with a clown owner, a bereft quarterback and an allegedly violent coach. From top to bottom, the franchise has issues. But Russell cannot, and will not, be excused.
He's simply as atrocious as advertised.
And seriously, this is something Raiders fans and the media universally agree upon. Just in the Bay Area apparently.