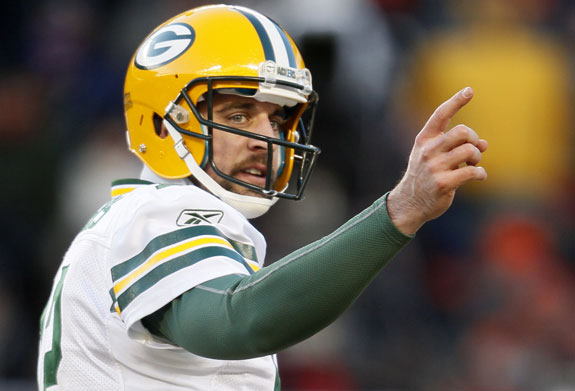 The way Aaron Rodgers is playing, he is deserving of the NFL's MVP honors right now. The Chico, California-bred Rodgers (shout out to Chico State!) is completing 71 percent of his passes in three postseason games for 790 yards, six scores and two interceptions. The one bad apple, that drove down his quarterback rating to a measly 109.2 in the postseason, was last week's NFC championship game against the Chicago Bears in which he threw both of his two interceptions and didn't throw a touchdown.

However, Rodgers still managed to use his feet, scrambling for a 1-yard touchdown and 39 yards rushing in the game to lead his team to the Super Bowl, a 21-14 victory overshadowed only by Jay Cutler's glum mug.
In short, he's been phenomenal. And the Packers' defense has been damn there spectacular too. They're the No. 3 defense in the playoffs (allowing 282.3 yards per game) and No. 5 in the regular season (309.1).
The Steelers, who have all of this going for them in Ben Roethlisberger (on my dead to me list) and more (the, ahem, No. 1 defense), just don't carry the same pizazz for me as the Packers do. Troy Polamalu, the ball hawk safety of interception fame, doesn't look like the presence he was mid season when he was blowing people up and ripping interceptions all over the place. And that is a huge factor. However, with a strong running game and the escapability of Big Ben, anything is possible. But I'm not picking just anything, now am I. My money is on the Packers.
My pick: Green Bay Packers (-3) over the Pittsburgh Steelers: 27-24