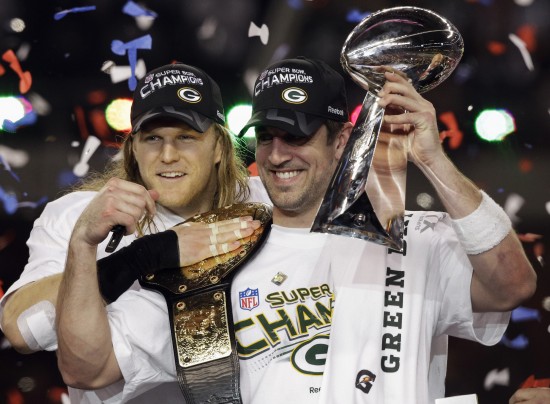 I didn't get to say this last year, or even the year before (didn't pick a winner then), but it's good to be right about my Super Bowl selection.

While it seemed that many a "expert," analyst and commentator, opined on the big game — a majority of which appeared to choose the Pittsburgh Steelers — I liked the Green Bay Packers for a number of reasons. But mainly, it was because of Aaron Rodgers. (Shout out to Chico, California!!)
The 24-of-39 passing for 304 yards and three touchdowns without a turnover was phenomenal. And his 61.5 percent completion rate would've been higher (and likely included at least one more touchdown) had his receivers not dropped four passes. No doubt Jordy Nelson (9 catches, 140 yards, 1 touchdown, 3 drops) would've been scapegoated had the Packers lost.
Hurt feelings
As much as we all know the struggles of the Packers because of their numerous injuries, it's gotta hurt more for those core players like Charles Woodson and Donald Driver to be able to start the game and then get hurt while playing. I still think fondly of Woodson from his days with the Oakland Raiders, and I found it particularly tough to watch him on the sideline with that collarbone injury.This is a man that deserves at least two rings. (The Raiders won that game. Yes, that game.) And for him and Driver, another veteran of the league and senior member of the Packers, to go down in SB45, when their team was in need of them, I could only sympathize from my couch. I know they feel a great sense of accomplishment from this achievement, but I happen to think that every athlete on their level wants to be playing when that final whistle sounds. Maybe it's just me. I know I'd want to have played all the way through. It's the kind of stuff that drives guys like Driver, who finished his 12th year, to come back for a 13th. You know, for no particular reason.
My favorite commercial
So gross it's awesome.
Black Eyed Peas or Whack Eyed Peas?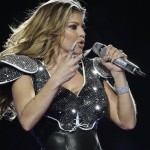 The debate rages on about the halftime show dilemma. Do they let old people continue to perform, or morons with glow sticks and silly stunts? I'm not gonna go so far as to say the entire performance of the Black Eyed Peas was whack, but on a 1 to 10 scale, I'd be hard pressed to come up with something higher than 5. And if I were a friend to Will.I.Am or Fergie, I'd tell them not to take offense. Live shows suck. Especially for hip hop. There's just no solid musical element to base the show off of. And Slash proved my point. As soon as he came on, the halftime show instantly went up a couple of notches. Subsequently, when Usher came on, his heavy-on-dance and short-on-vocals performance (lip-sync much?) reconfirmed my beliefs. I continue to say, let other people do the dancing for you. We want to hear that million-dollar voice. Speaking of which….
Oh Christina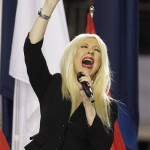 She flubbed her lines. Christina Aguilera flubbed her lines. I'm OK with that. She's even owned up to it. But what I don't understand is all the vitriol she's gotten. You realize she did that at the Super Bowl, right? Upward of 111 million people were watching. You try and sing with her talent and artistry with that kind of pressure. I can feel a lump in my throat just thinking about it. And besides, she was awesome. I'd book her for my future kid's Sweet 16 anytime.
Did Green Bay win it, or did Pittsburgh lose it?
With three turnovers in the game, including a killer fumble by Steelers running back Rashard Mendenhal and two interceptions by Ben Roethlisberger, a good argument can be made that the Steelers lost it. But I hate this thinking. The Steelers, with a buck and some change, still had an opportunity to win the game. It's Roethlisberger's fault, along with a great defensive series from the Packers, that the black and gold aren't the champs. He couldn't hit the broad side of a barn in the bottom of the ninth and the Lombardi is on its way to Wisconsin right now because of it.
Moving on
Baseball is on the horizon and basketball is heating up. I love both of these sports, but I'm not gonna lie. There's going to be a huge letdown for me in sports interest until the NBA playoffs. I hate baseball in April. And I'm not particularly fond of spring training, either. It's sooooo overrated and ridiculously long. (But then again, so is the entire baseball season.) I'll miss the pigskin and I'll be watching the labor situation with great earnest, the NFL draft, and the 49ers' offseason. (Jim Harbaugh, you're on notice!) Until then, I'm diving into Celtics basketball. It's my No. 1 focus of interest here in Boston. And maybe some New England Revolution soccer. But that's neither here nor there.
–
Zuri Berry rambles about things like the 49ers and other inconsequentialities as well here. Follow him on Twitter at @zuriberry for all of his lame attempts at humor and updates on topics in journalism, the 49ers, Giants, the NBA and Massachusetts High School Sports.