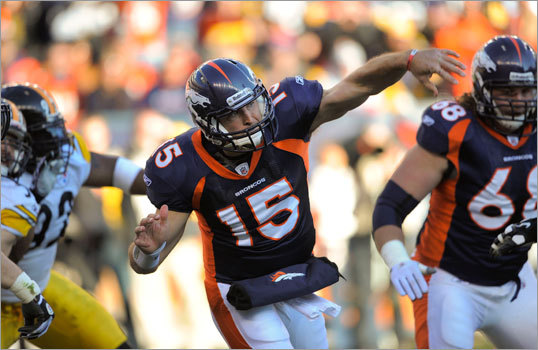 Why is it every time I feel the odds are stacked against Tim Tebow, particularly when I think there is NO WAY he can overcome them, he goes ahead and wins football games in the most stunning of fashions? Certainly I'm not the only one to feel this way. And I guess that's what adds to the phenomena behind Timothy Richard Tebow. He simultaneously surprises, enthralls, inspires and enrages football fans. The way he wins, both awkward and unorthodox, late but timely, and marvelously highlight driven, is uncharacteristic in any regard. It's spawned Tebow Time, and Tebow Magic, something no quarterback has ever done in comparison. It's historic. It's humbling. It galvanizes. It's pure entertainment.
On the first play of overtime, Tebow found Demaryius Thomas over the middle of the field on a play-action pass for an 80-yard touchdown. Heads are still spinning. With Thomas' quick stiff arm and 55-yard sprint, he left a wake of dropped jaws and speechless Twitter users. (How many times did you see just "Wow" in your Twitter stream?) Not to forget a felled Pittsburgh Steelers team that was destined to go in and challenge the juggernaut in New England. I can't think of a play even as close to amazing as that one from the entire weekend.
But besides the Broncos shocking the world (there is truly a "world is against them" aura floating over there), there were three other games going on of high interest. Saints-Lions, Texans-Bengals and Giants-Falcons. Just a couple of thoughts on each.
– I swear the Lions would've won against the Saints if they could simply catch the gift-wrapped interceptions Drew Brees was floating to their defensive backs. A failure to capitalize on turnovers is just as much as a failure to score points in the playoffs. It was so egregious I was ready to suit up and sub for Aaron Berry (no relation) to get the job done. (C'mon dude, no one would ever know….)
– The Falcons are disappointing. Forget the fact that I picked against them in this game, but at least have the cajones to put some points on the board. Two points? 2? Dos? That's irresponsible. Outrageous even. You can't win unless you score some points, plain and simple. Credit to the New York Giants for shutting them down. Matt Ryan is not an elite quarterback.
– How many times was Andy Dalton going to go for the home run, rather than look for a single? Yes, let's use a mixed sports analogy here in describing the quarterback of the Cincinnati Bengals. Dalton's three interception were inexcusable in the Bengals' loss to the Houston Texans. Particularly his fourth quarter bomb to Houston's Danieal Manning with seven minutes remaining. That's what sealed the loss. Forget the pass to Texans defensive lineman J.J. Watt, which was a freak of athletic nature. But his final two interceptions really were boneheaded picks, something only a rookie would do. On the flip side, I liked T.J. Yates' game and Arian Foster. I can see the Texans doing well against the Baltimore Ravens. And on that note …
I'm going to follow up with my picks for the divisional playoffs later today. It'll be the first time I pick for, or against, the Patriots. So there's that. Check it out.