Category: Business
It's not often I comment on the dealings at the Boston Globe. In fact, it's been a long time since I've been sort of an ambassador for newspaper dealings. That all ended when I left The Union.
But today marks a pretty historic day for the Globe and the communities it serves, as the BostonGlobe.com paywall finally goes up and the Globe completes the splitting of the paper's online news brands.
This is significant for more reasons than opening a new revenue stream. (BostonGlobe.com will cost $3.99 a week — $0.99 for the first four weeks — but will be free to subscribers.) The deployment of a second website is a unique strategy, spearheaded by publisher Chris Mayer, that depends on both Boston.com and BostonGlobe.com to find separate niches, voices even, to serve the same communities. Boston.com, which will still carry breaking news, sports coverage and select Globe stories, is supposed to be the voice of Boston with community bloggers, photo galleries and other features that tap into the heart of New Englanders. BostonGlobe.com will carry the weight of the Globe's newspaper content, with exclusivity in some areas and also breaking news. The new website, hailed for its design and scalability between smart phones, tablets and computers, is still changing. But its main thrust is dependent on its reading experience and being New England's No. 1 news source.
So, basically, we'll see where things go from here.
A couple of things that have gotten lost in the public's conversation on the new site:
Stories of importance, or considered of public service, will be made available on Boston.com. So the whole Priest scandal thing, or the probation department fiasco, and stories like them will be made freely available.
Sports coverage, with the exception of enterprise pieces, will be available on Boston.com.
Current subscribers don't have to pay anything for access to BostonGlobe.com. (Weirdly, this is confusing to some.)
I'm excited about this. And not just because I'm an employee of the company, but because this represents another domino in a long line of newspapers that need to start charging for what they've been giving away for free. The New York Times took the plunge, the Globe has taken the plunge, and I don't believe it'll be long before many other newspapers find a strategy that works for them to charge for the content that they produce.
Now with that said, there are a number of things the Globe needs to do in order for BostonGlobe.com to be a success in its own right and so it will not compete with Boston.com, and vice versa. Mainly, the new site has to give up its current sports centric focus. Given the availability and popularity of sports on Boston.com, it doesn't make sense.
Instead, BostonGlobe.com should focus on its exclusive content and hesitate at all points to mirror what Boston.com does, particularly for sports. So in the evening, when readers visit BostonGlobe.com and see exclusive previews for content in the next day's paper from our acclaimed G section or an editorial on a pressing topic, the company is doing what needs to be done in order to be successful. But on Monday, in the morning, the last thing the new site should be doing is featuring New England Patriots content as if it isn't plastered all over Boston.com already.
It is my belief that for BostonGlobe.com to be successful — whether that is in terms of monetary value, protecting a sliding newspaper circulation, or web traffic — it has to break away from what Boston.com does and provide value to a distinct audience, one that despises Boston.com already. In the two years I've worked at the Globe, one of the constant complaints about Boston.com is how much of the newspaper's content is buried online while readers eyes are diverted to photo galleries and other non-newspaper content. The new site is designed in a manner in which that will no longer be the case, catering to a large number of people already discontent with Boston.com. But I also believe a large number of these readers will never venture to the new site if, in essence, its homepage reflects the content on Boston.com. That'something the masters of the Globe — editor Martin Baron, Boston.com editor Ron Agrella and BostonGlobe.com editor Jason Tuohey — have to hash out. With time, and proper focus, I'm sure two distinct voices will form. That's the hope I have for the company and this two-brand strategy.
So, basically, we'll see where things go from here.
Editor's note: If I ever wrote a column again, it'd be here on Wednesdays. In fact, that's what I plan on doing. Starting next week, right here, my thoughts. You know the topics: Giants, 49ers, Warriors and journalism. Screw the Raiders. (OK, maybe some Raiders. But definitely screw the A's.) This is long overdue.
A new group is saying they want to buy The Boston Globe.
This comes at a time when the New York Times Company has not put the Globe up for sale. Instead, the group, The 2100 Trust, is looking to protect the interest of the community, so to speak, buy buying the Globe as some form of community trust. Hence the name.
The 2100 Trust, a Massachusetts-based limited liability company, is putting together a community-focused investor group to submit a letter of intent to purchase The New England Media Company, including The Boston Globe and all its associated properties from the New York Times Company.

The Boston Globe has been a pillar in the city, the Commonwealth and the region for more than a century. We believe that The Boston Globe's strongest days can be ahead. It is essential that the Globe be positioned for its next 100 years. This will require the significant long-term investment that we intend to make. One of the principal areas of investment will be the newsroom, which is due for a significant increase.
This all comes on the heels of the Globe's major announcement a couple of weeks ago in which publisher Chris Mayer revealed plans for the Globe to carry two websites going forward, BostonGlobe.com and Boston.com (for which I am employed). BostonGlobe.com will be a sorta paywall website, whereas as Boston.com will remain free. Globe content will be split up among the two.
Mayer responded in a memo to the Globe about the advance, which the NYT co. still has not received.
"While we can't stop others from having interest in our business, I'm viewing any potential outside interest in the Globe as a reaffirmation that we're doing all the right things and moving the business forward," Mayer wrote. "We have a solid strategy. Let's stay focused on our success."
The idea of having two websites at the Globe was a hot topic in the hallways last week. Everybody wants to know how it's going to work out. And, as Mayer has said before, all the answers have not been determined yet. But this renewed interest in purchasing the Globe, something which was broached in 2006 and in 2009 when the Times threatened to shutter the Globe, seems to be an obvious response to the new strategy. I say obvious without actually knowing what's in the minds and hearts of the individuals encompassing The 2100 Trust. However, this group's timing could not be any more questionable.
This also comes at a time when the union is negotiating the Globe's contract before it expires at the end of the year.
What does all of this mean for me?
It means that I'll be working for both of the websites going forward, producing content for both. There's a lot of gray right now, but I'll be one of the many producers and editors for the website that determines what content goes to each website and what goes on both. (Yes, there are some items that will be on both.) My job will not drastically change. I'll still be producing journalism with my eyes on serving New England fans for both high school sports and wherever else needed.
Eastie-Southie game hitting home
I recently moved from East Boston to South Boston. So went from hanging out in Eastie, to now living Southie. (Explaining this for the non-New Englanders.) Anyways, it means that I now have a rooting interest in watching the Eastie-Southie game on Thanksgiving Day. Or at least I can pretend. Either way, I miss the house in East Boston. But the move was warranted. They were selling it. I'm very happy with the new home and it's actually pretty cool to be two minutes away from the office. In eight days, I will have been in New England for an entire year. I flew in on a blustery night, Oct. 28. In the past 12 months, I've lived in three different places. Hopefully, I'm here in Southie for awhile.
Alex Smith sucks
One game doesn't change my opinion of a man. Nor does two. In fact, his entire body of work is what I'm thinking of when I say I think he's a rotten QB and should be tossed out on his hindquarters. But it's not my team, now is it. The 49ers won their first game on Sunday despite Alex Smith. However, the embattled QB did not throw an interception. He had averaged 1.8 interceptions a game up until the Battle of the Bay. It was another milestone for what has been a terrible season for Mr. Suck. But he is getting better. In fact, the comeback attempt against the Philadelphia Eagles was his first signs of real life to me, throwing two touchdowns in a what eventually was a 27-24 defeat including a — you guessed it — interception to end the game. The whole incident in which he argued with Mike Singletary and fought to go back in the game after getting pulled was the first time Smith actually appeared to be a sympathetic figure to me. He wasn't just arguing for a few minutes of reserve time. Smith was arguing for his career right then and there. You could see it in the urgency of his body language. You could see it in the urgency of his play after he called David Carr back to the sideline. He was a man on a mission to save his career. That was interesting. But two games doesn't change my opinion of Alex Smith the QB yet. He still sucks.
How about 'dem Giants?
I can't help but think about the inevitable argument on sports radio here in Boston when the San Francisco Giants make the World Series. These guys are gonna bring up all the reasons why the Giants shouldn't be there. How the Red Sox could beat 'em and yaddy ya ya ya. I hate this line of argument. It's all about the American League being better than the National League. I get it. AL cities have a superiority complex. Fine. But let's not let the conversation fall into what the Sox, or any other AL team would do, when they're not even in the dance. That's just stupid. If the Red Sox were to be included in the argument, they'd first have to go back and win a couple of regular season games and then win a couple of series against some of the best teams in baseball before even being mentioned. I have no problem with the Yankees, Rangers, or even the Phillies, beating the Giants as the world crams it on the Black and Orange about how they shouldn't have been there in the first place. But those are playoff teams. And as far as I'm concerned, they're the only ones that matter.
Jason Campbell sucks
But you know this, right? And to think, I had lobbied for the 49ers to actually trade for Jason Campbell. But after the stinker he put up against the 49ers (8-of-21, 83 yards, 2 interceptions, 10.7 QB rating), I'd be remiss to say that wasn't one of my better ideas. I mean, he did that against the 49ers. I'm not saying the 49ers defense is bad (10th in yard allowed per game), but they aren't the Chargers (1st in yard allowed per game, 1st in passing yards allowed per game).
Crackdown on the crackdowns
I used to blow guys up all the time … OK, I'm lying. I used to cheap shot guys as my teammate ran up and down the sidelines for a league-leading 32 touchdowns. But you know what, I never once hit a guy helmet to helmet. Not on purpose. I did so one time on accident. Guess who got hurt? I did. Sorta Dunta Robinson like. It made me woozy for at least two more plays as I stayed in the game trying to stop a team from scoring on us. I don't think it was a concussion, but it would explain a lot. Either way, this crackdown needed to happen. These guys are physically talented enough at the NFL level to tackle people by aiming for the core of the ball carrier's body, rather than the head or neck. For guys like James Harrison to consider retiring because he may not know how to play the game is absolutely idiotic. But then again, he's the same guy who said he wouldn't go to the White House and meet the president (Obama and Bush) after winning the Super Bowl because "they weren't for the Steelers." We're not talking about the smartest Golden Girl here.
–
Be sure to follow along on Twitter as I tweet about things related to Massachusetts high school sports and other stuff. I like the other stuff, but Mass High sports are cool too. It's football season, ya know.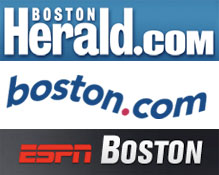 I really shouldn't be the one to write this, but it's the dominating thought on my mind right now. Things are heating up between three of the major outlets in Boston sports media and it's all sort of happening below the radar.
Read the full article »
Editor's note: This was originally posted on Addisports.com, headlined "Writing our online obituary."
Nobody's died. At least not a person. But in a few days, I'm going to end the life of AddiSports.com for reasons that should be apparent: I just don't have any time or energy for it.
This is very unfortunate because I kept thinking that with enough attention to the site and the proper love and devotion one would need to give in order to expand their online presence, it would grow into something fortuitous and possibly generate secondary income. Alas, that is still possible. But my time for such endeavors is not.
Read the full article »
That's unacceptable.
You know I'm right because if you're like 80 percent of the world's population (or at least America's) you've worked in some form of customer service before. It's also the majority of jobs available.
(Don't worry about the numbers. Just focus on the point.)
But there's an added tangent to the customer-server relationship: The tip.
See, the basis of a customer's relationship does not live or die by the customer's behavior, but that of the server. Excellent service and a warm attitude is rewarded handsomely, while poor service and a shitty attitude gets no dinero.
Are you following along? … Cool.
Read the full article »
As someone who has worked in customer service before, I understand simply that the help doesn't want to be subjected to my crappy mood. If I'm ready to breathe fire and spit tongue lashes on the account of my personal issues, I shouldn't take my foul outlook on the world to the restaurant or the coffee shop or the dentist's office.
Do you like my new digs? I'm actually still getting used to it. One of the biggest changes for me was the new favicon. Don't it look purty?

If you've been following for the last four years or so, I've been going with the blue Z.
Twenty-10 had to be different. The change had to be seismic, in tune with my goals and updated for the new challenges ahead between the three Web sites I am charged with maintaining.
Read the full article »
I've been looking with interest to see where the Nevada City Advocate, a new paper in my county, will land after its printers closed a couple of weeks ago. They reported the issue on their Web site at the time.
Since then, they've been looking for a new printer and are expecting to go to a monthly, from what I've been told. I've called around to try and gauge who will get the bid for the printing job, knowing that The Union has been crossed off the list because our press doesn't accommodate the width size for the Advocate (35 inches). I called the Paradise Post printing press, and they said they spoke to the Advocate, quoting them a price but have not heard back from them. That was Thursday. The lady also noted that the Advocate might go to a monthly as well after speaking with Stacey Butler, editor and publisher Pat Butler's wife and advertising director.
The word is the next issue of the Advocate is expected Labor Day weekend, meaning probably Sept. 4, with no news on where they've secured printing. They have a couple of options, but they all will more than likely affect the look and feel of the paper as well as possibly their editorial cycle. Although, moving to a monthly may do that as well.
A release from the National Association of Black Journalists:
Second annual report by black journalists' organization finds broadcast companies slow to improve diversity
TAMPA, FLA. – AUGUST 6, 2009 — The National Association of Black Journalists (NABJ) Television Management Diversity Census released today reveals a discouraging lack of diversity in top tier newsroom management at seven of the nation's major broadcast companies.
The census is a study of the ethnic make-up of news managers with editorial control at 111 stations owned by ABC, CBS, FOX, Hearst Argyle, Media General, NBC and Tribune. News managers are defined in the study as executive producers, managing editors, assistant news directors, news directors and general managers.
The 2009 census found that of 548 managers employed at the stations, only 65 or 11.7% are people of color. Last year's study of stations owned by ABC, CBS, Fox and NBC found that there were 61 managers of color at the companies' 61 stations, or 16.6%. This year that percentage fell to 15.8%.
NABJ President Barbara Ciara, speaking at the opening ceremony of the NABJ Annual Convention & Career Fair in Tampa, characterized the results as disappointing considering the large talent pool of skilled black journalists available.
"These results should be a wake-up call to media owners who say they are serious about diversity in management," said Ciara. "At the end of the day, we find the number of African Americans who actually have the ability to hire or influence content falls woefully short of the desired goals."
NABJ shares the mission of the American Society of News Editors (ASNE) in advocating for parity between the nation's newsrooms and the communities they serve. This study, like ASNE's April newsroom employment census did for newspapers, demonstrates that minorities lag far behind in decision-making roles at television stations.
"This is not about the economy costing black journalists their jobs," said NABJ Region VI Director and report author Bob Butler. "When you have 111 stations and in those stations you have 65 managers of color, that's not because of the economy. That tells you that there weren't many there to begin with."
The study also found that the economy was a major reason cited for cutbacks to newsroom positions, but that diversity was also adversely affected.
"I think to a certain extent the old boys network still exists in television," said Butler of the challenge for current hiring managers to incorporate more diversity into management. "The manager will hire someone who he or she knows and will be less likely to hire somebody they don't know."
Ciara encourages the companies used for the study to consider NABJ as a resource to achieve a diverse population in their newsrooms.
"We have a huge talent pool of experienced media professionals within our organization," she said. "All we have to do is connect the dots."
The full 2009 NABJ Television Newsroom Management Diversity Census is available by visiting NABJ.org.
Editor's note: I am a full member of NABJ and the Sacramento Black Journalists Association. For the 2009 Television Management Census, click here (.pdf).
Vibe
could have possibly survived if it had the right leadership. There's only person that keeps popping into my mind: Sean "Diddy" Combs, CEO and founder of Bad Boy Records, Sean Jean clothing and many other various hip hop endeavors. What Diddy touches is basically gold. Not platinum, but gold, which is pretty good for the bottom line.
On July 1, Vibe magazine, the best-known and most mainstream of the magazines aimed at the hip-hop generation, folded immediately after 16 years, Steve Aaron, Vibe Media Group's chief executive officer, announced. Richard Prince's Journal-isms column has a good writeup about it.
There are few specific reasons why I think Diddy adding the title of publisher would work for Vibe — and for Diddy.
He has the capital, particularly from his clothing company, to back a national magazine and infuse it wish cash whenever there is a bear market underway. You know, like right now.
Diddy has in hands in the industry. Actually, more like tentacles. He's got friends in all the right circles and enemies everywhere. Kind of like any everyday editor. The inside perspective and connection could be invaluable to the magazine.
The magazine could be a launching pad for his own marketing schemes, if he wanted. I mean, as publisher you can literally do whatever you want with the product, so long as you're satisfying your readership. And while you're at it, you don't have to write that glowing review of the next 50 Cent album. It'll be trash anyway. That's power stronger than money … OK, almost as strong as money.
It's unfortunate that large magazines like Vibe are dead and major metropolitan newspapers have gone under. At one point, I thought the Seattle Post-Intelligencer would be saved by an 11th-hour buyer. I think Vibe can still be revived, survive and thrive, if under the proper leadership and direction. That's not a knock on their previous ownership, but realization that sometimes you need outside / diversified funds to keep a company going. Diddy brings that.
And yes, I am a fan.
For some reason, I think