Category: Football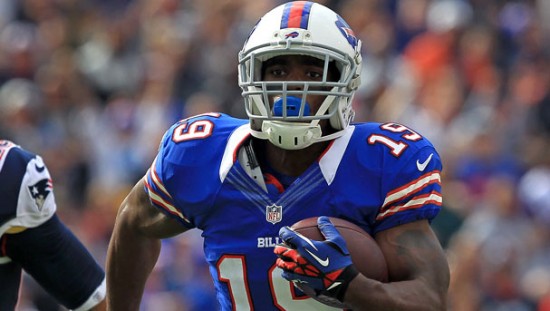 The Patriots now have 12 wide receivers on their roster after signing free agent Lavelle Hawkins to a 2-year deal. The addition makes for an interesting mix as the group of players competing to make the team swells to a number worthy of the show "Survivor."
The clarity of the group's rankings isn't helped by Julian Edelman's status, who is back in a walking boot after re-injuring his right foot. He is one player who can not afford to have an unhealthy training camp while the team has plenty of options – both cheaper and younger – to turn to in his stead. Without Edelman, who will possibly miss OTAs because of the injury, the Patriots are looking at a full-blown overhaul in the position group. That will lead to training camp battles as both veterans (Hawkins, Michael Jenkins, Donald Jones) and rookie free agents (T.J. Moe, Kenbrell Thompkins) fight for the remaining spots on the team's roster.
What does the receivers depth chart look like? – Extra Points – Boston.com.
I've been out of it again. That's just the way it is on this site in the month of March, April and May. I'm too busy doing non-football related things to really get a chance to post here.
But I wanted to make sure I got a chance to highlight some of the things I've written and produced in the last month and a half. After the Boston Marathon bombing, a good portion of my time went to Patriots coverage and the NFL Draft, which was April 25-27. I wrote a number of items on the draft and ran our live coverage of the event on Boston.com. (You can find an archive of that coverage here.) I was also did some video, both producing and appearing on air.
And then I've also been writing a new weekly feature in the Extra Points Patriots blog on Boston.com called "Patscetera." It's basically a catch-all for interesting items and commentary. So far, so good with that. You can read a new one each Friday on the site. I'll try and link it up here more regularly going forward. No promises, though.
Here's a look at what my last month and a half has been like.
Story: Patriots rookies 'just happy for the opportunity' – May 5, 2013
Patscetera (5): Now, the fun part for the Patriots – May 3, 2013
NFL draft (pictures): Meet the New Patriots – May 2013
NFL draft: On the third day of the draft, Belichick adds to competition – April 28, 2013
NFL draft: On Day 3 of the NFL draft, what's left for the Patriots? – April 27, 2013
NFL draft: 5 takeaways from the Patriots' first four picks – April 27, 2013
Patscetera (4): Day 2 of the draft: The best of the rest – April 26, 2013
Patscetera (3): Patriots show heart, connect with the city – April 20, 2013
Patscetera (2): With Dennard in the mix, Patriots draft board opens up – April 12, 2013
Patscetera (1): For Patriots, pieces falling in and out of place – April 5, 2013
NFL draft (pictures): Scouting the draft (It was a whole series) – April 2013
Hopefully I don't take this long to send in another update again. And hopefully I'm doing more video, on air.
Until next time.
The NFL Draft Combine is still in the throes of devouring its young, with linebackers and defensive linemen going through drills today. Defensive backs will take the field Tuesday. But in the week of buildup toward the combine's conclusion, more than a few names have been tossed about with relation to the Patriots. Here's a rundown of who has been mentioned, as well as any pertinent information.
1. Florida safety Matt Elam — The hard-hitting safety is one of the best rated defensive backs on the board, so it's no wonder his name has been connected with the Patriots after the team finished a paltry 29th in pass defense. As a Florida football player, Elam has connections with former Gators Brandon Spikes, Aaron Hernandez, Jermaine Cunningham, and Jeff Demps. But his game speaks for itself. He tallied 76 tackles, 2 sacks, and 11 tackles for a loss. He was first team All-SEC and first team AP All-American. It'll be tough if he makes it to No. 29, but he's definitely on the radar. We'll see more details on Elam when he works out on Tuesday.
2. West Virginia wide receiver Tavon Austin — What's the likelihood that there are two guys named Tavon on the Patriots? After the way Austin's name was thrown around by mock drafters and media folks, you'd think it was a done deal. Austin ran a 4.34 40-yard dash Sunday. In his senior season for West Virginia, he was all over the field as a returner, receiver, and in the back field. He caught 111 passes for 1,287 yards, ran for 652 yards on 73 carries, and averaged 25.1 yards on kickoff returns. He totalled 17 touchdowns on the season. He's only 5-feet, 8-inches and weighs 174 pounds. So he fits the mold of another slot-like wide receiver. But he has the versatility to be moved around, an attribute Bill Belichick thoroughly values.
See more of my original post on Boston.com: Five draft prospects that keep popping up – Extra Points – Boston.com.
The big hubbub over Brandon Lloyd, which boils down to whether or not he's pesty enough to jettison, is far too premature and underdeveloped to seriously consider.
We can ask, in essence, what is acceptable and unacceptable behavior for an NFL player? And does being moody reach the barometer for unacceptable?
Without answering those questions, it's impossible to gauge whether the Patriots should cut the cord on Lloyd. But you already know the answer to both questions and it has everything to do with star status, contract dollars, productivity, and — until recently — perception with the public, at least around these parts.
In colleague Greg Bedard's expanded thoughts on Lloyd Tuesday, he included this damning note:
You just never know what you're going to get with Lloyd, and either you can deal with it or you can't. For example, talked to one player a few weeks ago that said he was talking to Lloyd about something and suddenly Lloyd said in mid-sentence, "I don't want to talk to you anymore," and put his headphones on.
Call it anecdotal, but it's damaging nonetheless to Lloyd's standing in the locker room and a personal problem he'll have to address on his own. But if that's the extent to which the anecdotes run (there are plenty more this reporter and others can summarize in dealing with Lloyd), it's hard to imagine this passes the smell test for a team problem. However, it would also not be surprising if there were more incriminating examples of his surly behavior. He fits the type. But there have been worse characters in the NFL.
See more in my original post on Boston.com: Should the Patriots drop Brandon Lloyd? You already know the answer – Extra Points – Boston.com.
I never would have thought we would be talking about a non-call in the Super Bowl again. At least not so soon.
But in a season that began with replacement referees and ended on 4th and 5 hold — and yes, it was a hold — one has to seriously be concerned with the state of officiating.
The San Francisco 49ers fanbase was sent into a tail spin after the impediment of Michael Crabtree's possible game-winning touchdown went uncalled. It was one in a series of bad no-calls in Super Bowl XLVII.
There's this whole thing about the genie in the bottle when it comes to losses after the fact, but there is also a cold, hard truth here: The 49ers didn't deserve to win. The Baltimore Ravens, finishing on top 34-31, took the game from San Francisco in the first quarter and were on the verge of giving the ball game up before getting a little help. But make no mistake about it, the Ravens played for 60 minutes, something the 49ers failed to do. And when the game was on the line, and the comeback was in its full throes, the Ravens got one in a series of bad calls to go their way. It doesn't make the call right, but it was equally distributed between the two teams.
Just plays earlier, 49ers left guard Mike Iupati had gotten away with a holding call. Tis the way of the world it seems.
In Super Bowl XLIII (2008 season), the Pittsburgh Steelers beat the Arizona Cardinals 27-23 with a little help from the officials, too. Here's what I wrote up about the calls in that game:
Exhibit A – there was a clear and obvious block in the back on James Harrison's length-of-the-field touchdown return. There's seven points off the board.

Exhibit B – an awful roughing the passer call that gave the Steelers a first down and eventually led to a field goal. That would've been a bad call in a regular season game, but was truly terrible in the Super Bowl.

Exhibit C – same drive, roughing the field goal holder??? I'm not quite sure when that became a penalty. It sounds vaguely familiar, but that can't be in keeping with the spirit of the rule, can it? He hardly roughed him up.

Exhibit D – the first Kurt Warner fumble that was overturned after a review. They got the call right, but it was so obvious that the Cardinals shouldn't have had to waste a challenge on it.

Every one of those bother me, but I'm able to look past them. However, to not review a questionable fumble call, with seconds remaining in the game — the game being the freaking Super Bowl — is inexcusable. Initially I thought it was a fumble, and I understood the call. But the replay looked different. I thought the ball may have still been in his hand and that there was a real good chance that the call could be overturned. Needless to say, I was pretty surprised when they didn't bother to look at it.
In Super Bowl XLVII, we'll be talking about Jimmy Smith's hold/non-hold on that 4th-and-goal, Chris Culliver's pass interference, the no-call pass interference on Corey Graham on 2nd-and-goal with the ball game on the line, and the no-call offensive pass interference on Torrey Smith that could have resulted in a Culliver interception.
That's a lot of plays to consider that are questionable. It's magnified when more than 100 million people are watching. And outside of Baltimore, fans of the game continue to have their faith shaken that the league will not do the right thing when it comes to perceived injustices. The last thing the NFL wants to discuss is its poor officiating.
But when I awoke up this morning, after having digested the game and re-watched the pivotal highlights (again and again), I find myself equally disgusted with the 49ers' lack of urgency in the first half. On 3rd and 15, their first offensive series, they elect to run a draw with Frank Gore for 3 yards. That was conservative play-calling at its worst. In the second quarter, facing a 3rd-and-10 at their own 6-yard line, the 49ers went back to gore for a 6-yard run. Again, conservative play-calling at its worst. No need to remind the Red and Gold that this is the Super Bowl. Mr. Hindsight is a great teacher.
Add in two pivotal turnovers by rookie running back LaMichael James and second-year QB Colin Kaepernick (his 10th start) and then throw in a special teams touchdown by the Ravens' Jacoby Jones, a 108-yard kickoff return, and you have the recipe for a super loss already.
But even then, after coming back from a 28-6 deficit, the 49ers found themselves with a possible game-winning drive on their hands, 1st-and-goal at the Ravens' 7-yard line. They proceed to give James the ball (he should've been benched), and throw three straight passes to Crabtree at the right pylons that made no sense whatsoever.
No read option. No quarterback scramble. No targets for Vernon Davis. No touches for Gore. No sense of balance in play-calling.
It was atrocious coaching, punctuated by a gut-wrenching fourth down play that had slim hope for success. There was no pickup on the blitz, no 49ers receiver working the middle of the field, and no separation for the target.
The non-call didn't give the Ravens the victory. It was just the final dagger. It sours the loss, sure, but it was the Ravens' game to lose. No reason to be mad because they got help on one play. The 49ers gave Baltimore plenty of help on their own.
Top 10 Super Bowl prop bets – Football – Boston.com.
Betting is a huge part of sporting events and there's nothing like it when it comes to the Super Bowl.
For Super Bowl XLVII, there are numerous proposition bets, also known as prop bets, that can spice up the betting climate with wagers that have little to do with the play on the field, draw upon historical games, and cross sport and pop culture barriers.
See the top 10 prop bets I found on Boston.com.
The universe became a little more screwy when little brother Harbaugh opened up as a favorite. It's like we all have been transported into the Gronkowski household.
Jim Harbaugh, little brother to John Harbaugh, leads the San Francisco 49ers into Super Bowl XLVII as 4-point favorites against big brother John's Baltimore Ravens. We all get to witness the Brothers Harbaugh out grimace each other on the sideline as the 49ers and Ravens play out a title game that will be 10 times more about each team's defense than about the guy who is under center. Or wearing a headset.
It's the smash mouth defense of the twenty-teens, versus the old(er) smash mouth defense of the two thousands. It'll be peachy.
I'm 8-2 in the playoffs against the line and straight up. But neither of my Super Bowl picks are still playing. Sadly, the Patriots and Seahawks have more time to enjoy Mardi Gras and warm weather than prepare for a championship. So with one more pick to make, a year in which I went 169-83-1 during the regular season and picked the 49ers to win in 17 of their 18 contests, I have to go with little brother Jim and his 49ers once again.
Why? Simply put, the 49ers are loaded. From a deep and dependable offensive line, a secondary that is arguably tops in the NFL (despite a porous playoff stretch), and a linebacker corps that is second to none. Then add in an offense that is hitting its stride at the right time, quarterbacked by the speedy and hard-throwing Colin Kaepernick, and position players that are top notch throughout. The Ravens don't compare in that regard.
This is the 11th ranked offense versus the 16th ranked offense. The 3rd ranked defense versus the 17th ranked defense. The 4th best rushing team versus the 11th best rushing team. Only in the passing game do the Ravens take an edge. And even there, the pendulum could swing in the 49ers' favor with Kaepernick at quarterback. We don't know what kind of performance we'll get.
The X-factor here is whether or not the 49ers will show the same inconsistency they've shown in the past month. In Week 15, they went on a tear to beat the New England Patriots. The next week, they were in the dumps after getting blown out by the Seattle Seahawks. In each of their two playoff games, they allowed early leads against the Green Bay Packers and Atlanta Falcons, the latter of which went up 17-0 before they woke up.
That's where this game is dangerous, where expectations and numbers and matchups don't relate to the stun of the bright lights and the inspiration as well as emotive draw that takes place with more than 100 million people watching. That's a place where the Ravens thrive, both as underdogs and as veterans of big games that have a new-found rallying cry in the soon-to-be retirement of Ray Lewis.
This is going to be close, but I don't think it's going to be as close as Baltimore (and maybe Patriots fans) want it to be.
The key matchup will be how the 49ers handle the Ravens' passing game, orchestrated by the deft Joe Flacco. Torrey Smith is a deep threat and combined with Anquan Boldin and Dennis Pitta, the Ravens have a layered passing attack that requires attention up and down the field. Nickel corner Carlos Rodgers has to be solid against Boldin while he's in the slot and you'll likely see 49ers LB Patrick Willis bodied up against Pitta at times while he keeps an eye on fullback Vonta Leach coming out of the backfield. Who wins in these one-on-one matchups should very well determine the dynamic and outcome of the game. I happen to think the 49ers are favored here.
Straight up winner: 49ers
Against the spread: 49ers
Prediction: 49ers 35, Ravens 27
FOXBOROUGH — The Patriots were beaten handily by the Baltimore Ravens on Sunday, losing, 28-13, in the AFC Championship game. But one could still argue that the game would have turned out dramatically different had the home team capitalized on some key plays and executed better down the stretch.
There were numerous plays left on the field. There's no going back now, but let's highlight a few things that went wrong in this week's takeaways.
1. Time management was an issue — Tom Brady and Bill Belichick did their best to deflect the issue, but they had a problem toward the end of the first half managing the clock and burned all three timeouts at the end of the game, much too soon for any comeback effort. But the events at the end of the first half were particularly troubling. The Patriots were driving down the field, only 10 yards away from the end zone, with 26 seconds left. Brady couldn't find a receiver, so he scrambled for 3 yards and then tried to gather his teammates to attempt another play before realizing too much time had passed. He had to use the Patriots' final timeout of the half with only four seconds on the clock. Either Belichick or Brady should have immediately called a timeout after the play to preserve an opportunity to take a shot at the end zone. With only four seconds on the clock, they were forced to take the field goal. A touchdown would've changed the dynamic of the game and given the Patriots more confidence going into the second half.
2. Wes Welker's drop deflated a perfectly good drive — The second half wasn't kind to the Patriots. They were outscored, 21-0, a remarkable display given the team's standing as the top offense in the league. Drive after drive, the Patriots were stumped by their own ineptitude. In the third quarter, they had a particularly good stretch that was mucked up by an all-too familiar episode of Welker's dropsies. (Forgive him, he was getting knocked around pretty good out there.) The Patriots had drove 57 yards to the Baltimore 34 and were facing third and 8 when Brady threw a pass that hit Welker in the hands and face mask. It would've given the Patriots a first down and possibly the opportunity to extend their lead. Instead, because of the fourth down and the windy conditions, they elected to punt. Which brings me to my next takeaway.
To see all of my takeaways, view the original post on Boston.com's Extra Points.
So I'm out on a limb saying the Patriots are going to beat the Baltimore Ravens in the AFC championship and will advance to Super Bowl XLVII in New Orleans. I'm not just saying this flippantly. I've went out and purchased my tickets to New Orleans and now I'm trying to prepare myself for the inevitable breaking news/multimedia moment during Super Bowl week.
Last year, I was dependent on my iPhone (which held up for the most part) in Indianapolis for the Super Bowl. But I dreaded lugging around my MacBook, at almost 8 pounds, which is what I used to do the brunt of my work. This year, if the Patriots win, I'm traveling lighter with my iPad. I just bought a new Bluetooth enabled keyboard to go along with it, so I'll be able to type normally and with the same speed I'm accustomed to doing.
I still have worries though. For one, my iPad is a wifi only tablet, meaning if there isn't any wifi, it isn't worth the trouble of lugging around. Similarly, my iPhone 4S has terrible battery life. And it sucks typing on it, too. However, between the two I figure I can be as mobile as possible. I've discovered that my phone also can link with the Bluetooth keyboard and in doing so keeps me online at all times — so long as I have battery life.
Thank God I keep a charger close by.
All of this yammering will be worth it if the Patriots win. Then I'll be able to test everything. For some reason, that makes me excited. And that's how you know I'm a nerd.