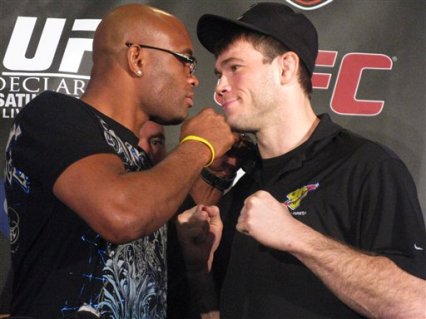 If you don't get knocked out in UFC, or are forced to tap out for fear of a broken limb, there's no reason you should be quitting because of punch to the face.
On Saturday, Forrest Griffin was absolutely embarrassed by Anderson Silva after the light heavyweight practically rope-a-doped him into a solid-right strike to the face. Silva had been gaming Griffin, who looked visibly scared after his first early knockdown in UFC 101. And Griffin didn't want any part of the beatdown that was going to ensue, throwing up his hand after his second knockdown before running out of the octagon with his tail between his legs.
First thing I yelled after he quit the fight: "What a wussy!!!" And then a myriad of other expletives.
Here's a rule mixed martial artists: Don't quit, unless you have to. In this fight, it was more than obvious Griffin didn't have to quit. He was just being a wussy. Or, even worse, a coward.
Overall, good knockout though by Silva. It was thoroughly enjoyable. It proves he's one of the smartest fighters in the game right now. And that hard right, makes me think that lean body has more punch than I expected. Apparently, Griffin was scared of a second encounter.
Wussy.