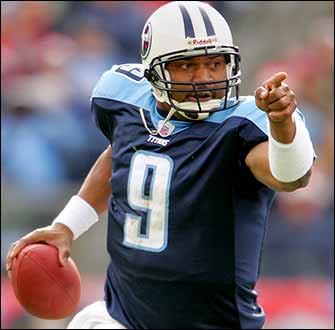 The more details come out about Steve McNair's life and final days, the sadder the situation becomes.
There are many things to take away from the last week of celeb-craziness, hysteria, fame, infamy and alleged adultery. While the entire world mourned the loss of Michael Jackson, many sports fans and those who work in the industry found themselves mixed up in a tragedy too close for comfort.
These are the dog days of summer.
While initially annoyed by the response and attention Jackson received, I was overcome with sadness by the reaction of his only daughter, Paris-Michael Katherine Jackson, crying out that her daddy had been "the best father you could ever imagine."
These aren't the times to be a curmudgeon. Not when folks are hurting.
On Saturday, the sadness came instantly. For while McNair didn't have the same impact Jackson did globally, and while he didn't carry any of the baggage that the King of Pop claimed, he was by all accounts a standup dude, and that warranted a moment of pause.
As investigators determine whether he died by the hands of his girlfriend, Sahel Kazemi who also was killed, or some third party, I think of his four kids as well. He only managed to get to 36. Still young. Still lively. Still destined for greatness. And unable to see his boys become men.
We can argue McNair's merits for the Hall of Fame, his stature as one of the greatest black quarterbacks ever, or why he was mixed up with a 20-year old mistress, but somehow all of it feels so wrong.
The worst part, we may never know the complete details despite the openness of the Nashville, Tenn., police department.
"It may be we'll never know exactly why this happened," police spokesman Don Aaron told the Associated Press, referring to the rising media interest in the case.
Kazemi had purchased the gun used in both of their deaths and the police department is trying to determine if this is a case of murder-suicide, although there are no signs that point to any troubles between the two.
Meanwhile, McNair's wife, Mechelle McNair, was apparently unaware of the affair. Again, as details dripped out, it was difficult to stomach the news. He had allegedly told Kazemi he was divorcing his wife, and yet she had no idea.
When this week is over, and all of these bodies are buried — Ed McMahon, Farrah Fawcett and Billie Mays included — it'll be a good opportunity to look to the people around you and really consider what it means to lose someone you love. And then, what would it mean for them to lose you.
As Jackson has shown, with McNair following, no matter what transgressions may have occurred in their lives, it doesn't take away from what they aspired to be. I'm sure if we dig long enough, we'll find plenty of skeletons in each of their closets. But do we want to?
I don't.
Editor's note: This column originally appeared in The Union.