Category: Personal
I've been out of it again. That's just the way it is on this site in the month of March, April and May. I'm too busy doing non-football related things to really get a chance to post here.
But I wanted to make sure I got a chance to highlight some of the things I've written and produced in the last month and a half. After the Boston Marathon bombing, a good portion of my time went to Patriots coverage and the NFL Draft, which was April 25-27. I wrote a number of items on the draft and ran our live coverage of the event on Boston.com. (You can find an archive of that coverage here.) I was also did some video, both producing and appearing on air.
And then I've also been writing a new weekly feature in the Extra Points Patriots blog on Boston.com called "Patscetera." It's basically a catch-all for interesting items and commentary. So far, so good with that. You can read a new one each Friday on the site. I'll try and link it up here more regularly going forward. No promises, though.
Here's a look at what my last month and a half has been like.
Story: Patriots rookies 'just happy for the opportunity' – May 5, 2013
Patscetera (5): Now, the fun part for the Patriots – May 3, 2013
NFL draft (pictures): Meet the New Patriots – May 2013
NFL draft: On the third day of the draft, Belichick adds to competition – April 28, 2013
NFL draft: On Day 3 of the NFL draft, what's left for the Patriots? – April 27, 2013
NFL draft: 5 takeaways from the Patriots' first four picks – April 27, 2013
Patscetera (4): Day 2 of the draft: The best of the rest – April 26, 2013
Patscetera (3): Patriots show heart, connect with the city – April 20, 2013
Patscetera (2): With Dennard in the mix, Patriots draft board opens up – April 12, 2013
Patscetera (1): For Patriots, pieces falling in and out of place – April 5, 2013
NFL draft (pictures): Scouting the draft (It was a whole series) – April 2013
Hopefully I don't take this long to send in another update again. And hopefully I'm doing more video, on air.
Until next time.
As much as I hate going so long without posting to my website, this period of inactivity happens to occur every year around this time for a particular reason. Why? Because of March Madness. Unfortunately I'm not talking about the men's college basketball tournament. I'm talking about the Massachusetts high school Super 8 hockey tournament, the boys' and girls' basketball state championships, and the end-of-winter projects like All-Scholastics at the Boston Globe. It makes for quite a rigorous month, with many days logging 12, 13, 14 and 15 hours. So in a nutshell, I can only handle so much blogging at work before neglecting my personal site.
It's a give and take I'm still working on.
With that said, it's been quite an enjoyable month because of the work my colleagues and I have done. We're going into the month of April having navigated another demanding season by providing dynamic, timely, and news-oriented features for our readers. Our live blog on Boston.com of the Super 8 tournament was wildly successful, as was our live coverage of the state high school basketball championships. The tool of choice, Scribble Live, has certainly made our lives easier for event coverage.
In April, I get to turn the page a bit and focus on the Patriots more before the NFL draft. I'm currently in the throes of a month-long series scouting prospects that would be a good fit for the team. You can find my entries on Boston.com's Extra Points blog. But I'm also developing some other features that I think will be awesome for our offseason coverage.
What's great about all of this is that I'm back to writing every day. Not just every other day or some days of the week, but every single day. I'm at my best when I'm writing often. And that means April looks good too.
This is the tough part of the year when this blog gets pretty inactive. Football is over and there is no longer a sense of schedule and rhythm to hold myself to every week.
Instead, I try to latch onto whatever national news there is, journalism topic of interest, or cultural snafu worth whining about. But that's never come with regularity for me, hence the trepidation about what to do this winter and spring.
I feel like this is a great time to start writing about basketball again. Basketball is an early love of mine. Second to baseball and before football, I spent many an hour studying the game and playing it. One could argue I've written some of my best work snooping around the hardwood. It comes natural for me.
On the other hand, I know the danger of starting something and not being able to finish. And when I write finish, I mean continue the activity with consistency and timeliness until it's done. There's only so much time in the day and only so much I can do without taking away from my work. Paychecks come first.
Then there's the prospect of a new baseball season starting. In my dreams, I'd follow a team throughout the year and write a recap for all 162 games. It's something I've never been able to follow through on but I've been dying to do since 1995 when I caught every single San Francisco Giants game. (Caught my most SF Giants games since leaving California last season en route to their World Series win. How many? About 40. Ha. Thanks At-bat.)
Between basketball and baseball, I'm sure my attention won't waver. But I'm not so sure my will to write will be as strong, particularly with the many commitments I have as my schedule changes. That's something that won't go away. When the seasons change, so do my time and ability to do different things. Certainly not extended essays or commentary. That is the definition of impossible for me. And the time it takes to do full-blown newspaper commentary right is out of the question.
So what then? What to do, what to do?
Thinking out loud here (which is what you should be prepared for because you're on my site), this is a great opportunity to introduce a new series in this space: One thought.
For every game I watch, regardless of sport, I'm going to offer one thought, or takeaway, on what's occurred. I can only imagine what my dominating thoughts are for the Celtics. Whether that be Kevin Garnett acting unruly again or Doc Rivers' rotation choices (a large source of my ire).
The idea here is that my one thought should take no less than a few paragraphs. But it can be longer. It can also be very short. Even one sentence — or tweet. It can also be sporadic. It most definitely can be bigger than pro basketball and baseball. It could even be high schools related.
Whatever it is, I think you'll get an idea of how many games I actually watch and attend in a year's time. It's something that needs to be represented here and hopefully you'll enjoy these short bites while I wait until the football season begins again. Of course, I still have thoughts on Super Bowl XLVII to come, including my pick. So there's that. But at least now I can say there's more to come. In fact, expect my first thought really soon.
again
!
Yesterday I was telling Claudia that I put New Year's right up there with Thanksgiving and Fourth of July. They're all good holidays that bring family and friends together around something that has nothing to do with purchasing power, yet still have a communal purpose in which to celebrate. And I love the resolutions. As I've said before here in this space, resolutions are goals not meant to erase away what has been done the past 12 months, but a guide for the next dozen.
Since 2008, I've been sharing my NYE resolutions right here. And this year is no different. I've got a few things that I want to accomplish. The idea is to be as specific as possible with actionable items.
So, for instance, last night when I was going around the room at a New Year's Eve party, instead of telling folks that I wanted to lose weight, I told them 1) I wanted to lose 14 or 15 pounds. I'm trying to get under 200 and I want to look beach-tastic for my wedding. Right there I got my specificity and a deadline.
But that's only goal No. 1. Here are the others:
2) Find a side hustle — Right now, my only hustle is writing. That's good and all that, but sometimes you need to have something else to fall back on. For those that have followed me from the beginning, this sounds eerily familiar to my 2009 resolution to have a journalism backup plan. So to advance on that, I'll be seeking out an added skill to make some moola in the near future. And hopefully I'll have that wrapped up by the summer.
3) Be disciplined with my cash flow — I have a ton of saving I need to do for this wedding and it's imperative that I am disciplined with my money. It would probably help to not have any car emergencies for the next seventh months either. You know, because things happen. They just don't need to happen for the next seven months … maybe eight, depending on how things go down in Cancun.
Anyways, those are my resolutions. It's a short list this year, but one I'm intently focused on. I'm pumped about 2013 and what the new year will bring.
What are your resolutions? What are you looking forward to this year? Let me know.
I hope you had a happy new year. I know I did. Cheers.
I love New Year's. It's one of my favorite holidays, giving me both the time to reflect and look forward. And yes, that means New Year's resolutions —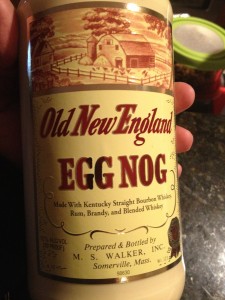 May your eggnog be as strong as mine.
Also, here's an excerpt of an absolutely awesome poem I read on Boston.com this morning. Please read the whole thing. Much love to the author, Joseph P. Kahn.
Greetings! Hola! Bon Noel!

Come right in and rest a spell.

Kick the Uggs off, lose the hoodie.

Grab a plate of home-baked goodies.

Coffee? Cocoa? Pinot noir?

The hearth is lit and here we are

To welcome all ye faithful who

Would share a cup of our yule brew:

A mashed-up missive, couplet-ized

And sent each year in warm reprise

To readers who, as Christmas dawns,

Might fetch it from their frosted lawns.

First of all — and not in passing —

A holiday-of-all-faiths blessing.

Could we take a moment here

To make our quarrels disappear?

Red states, blue states, Mitt v. Barry:

Just for one day, let's make merry,

Tout ensemble, as they say,

In keeping with this jolly day.

No more going all kvetch-y,

No more speeches Etch A Sketch-y.

Just peace, good will, and harmony

Bundled here beneath our tree.

Six days left and this year's done!

We must confess it's had its fun,

So bear with our irreverence while

We almanac it Gangnam Style.

The Court endorsed Obamacare.

Eastwood grilled an empty chair.

Mommy porn was shaded grey.

Critics clucked at Chick-fil-A.

Jesus married? Who'd have thought it?
Cheers.
The weird thing about covering the 49ers for my first time in the regular season, when everybody around you professionally and personally knows you've followed the team your whole life, is everybody expects it to be a big deal to you no matter if they win or lose.
I'm sorry but that's just not the case for me. Win, lose, or draw, it's all just work at the end of the day. That doesn't mean I don't enjoy a good game, so long as it is played well, appears fair, and ends at a decent time. Sunday's 42-34 win for the 49ers over the New England Patriots definitely fits the bill. At least partly. But I certainly didn't care which way the game went. I'm just glad I didn't have to watch the Patriots pounce on another team after they demolished the Houston Texans. That was atrocious.
For me, as a football writer and a fan of the game, what's most important is a high level of competition. Nothing is better than a good game with two worthy opponents going toe to toe. I'm not a fan of blowouts by any means. I'll leave that to the diehards who paint their faces. The 49ers wouldn't even be worth my time if they weren't such an interesting and dynamic team. I'd treat them like the Oakland Raiders if that weren't the case, out of sight and out of mind.
Instead, I think because I've written about the 49ers for more than 10 years now — in training camp, in columns for my previous newspaper, and on this site — my family and friends hold certain assumptions about whether I'm a fan or not. Even some colleagues may view me as a fan, although they would be wrong to do so. In fact, the conversation came up in the press box after Sunday night's game at Gillette Stadium. My response is a simple one, and it may be hard for some to understand: I like good football. I'd be remiss if I didn't find certain joy from watching the 49ers play well, or upset if they played poorly. But I feel exactly the same way about the the Patriots, the New York Jets, the Jacksonville Jaguars (who I have the unfortunate pleasure of watching this weekend) and every other NFL team.
For the Patriots, a team I'm paid to watch and write about, it's tough to see them play bad games when their opponents are clearly not up to the task. I feel like I'm in a perpetual state of rooting for the underdog, just to see a good game. That's not what I want. That's not what I want to go home and talk about.
For the 49ers, a team that my family and friends follow closely, it's all a regional thing. They are all my family and friends know, and there's nothing wrong with that. But I'm trying to do more with my football writing career than just following the 49ers, while at the same time remembering where I came from. So I pay attention while living 3,000 miles away and continue to write about a team that I have very little professional interest in.
It's hard enough to do what I do, trying to be creative, provide insight, and stay on the ball with all of the storylines for the Patriots, and then be questioned about who I'm rooting for. All I can say is the last thing I want to do is be bored to death. If anything, that's what being a fan of the game means to me. On Sunday, I got to catch one of the few good games in the NFL. I was happy about that.
I don't know what other kind of fan I could be.
A little break here from the normal tide of football, football, and more football. As many of my friends and family already know, I was recently engaged to Claudia Frederico. Claudia and I now have our wedding website up at zuriandclaudia.ourwedding.com. There you can read more about how we met and our proposal story.
I would have loved to have put our wedding stuff on this site, but Claudia was against it. She kept saying something about this being a professional site. I have to remind her, I've never been a professional in my life. I cover sports.
Anyways, for you strangers, I hope you enjoy this little slice of my personal life. I'm truly blessed and I don't mind sharing it with anybody.
Now back to football.
For the first time in 13 years I found myself down at San Francisco's Fisherman's Wharf playing the part of a tourist. It was, as I remember it all those years ago, a surreal experience. The sheer number of people, the smell of the water, the breeze of the bay, and the scenic views attack your senses. It's more than enough eye candy for any regular Joe or Jane. But for someone who has done it before, albeit years and years in between, it comes to be a reminder of what I left behind since moving to Boston.
I've lived in Boston for two and half years now — the longest I've lived anywhere other than San Francisco. It's grown on me but it's not home. At least not yet. There are certain views, like the one from my grandmother's house, that are ingrained in my brain. I don't have that here yet. I guess the whole part about making a new home in the Bay State, not the Bay Area, is a much longer process than the time I've put in.
When I got to Massachusetts, it was at the precipice of winter. But that didn't deter me from exploring the city. I played the tourist here for at least six months (probably longer) in order to soak up the the setting. I've walked through Boston Common, Downtown Crossing, Faneuil Hall, the North End, Harvard Square, Coolidge Corner, and have been through every other neighborhood at least once. I've done the Duckboat tour, the Freedom Trail tour, watched Shakespeare on the Common, been to the Museum of Fine Arts, Museum of Science, Fenway Park, Gillette Stadium, TD Garden (all as a fan of the game) and have found myself walking aimlessly on Newbury Street. Let's just say that my knowledge of the city is still shallow. As time has gone on, and work has become a greater focus, I've gotten into a pattern of doing the same things in Boston over and over again. In a sense, my feel for the city is that of a business traveler. I know the hot spots, but little else.
What's the answer? Become a tourist all over again.
Why not? This city has a lot to offer and I'm getting tired of telling people that the best I have to show them is Fenway Park, the Common and Harvard Square. (I also mention the Duckboat tours, but those are only during the nice months.) I would be happy to have a working knowledge of various food options outside of the North End that are moderately priced. I'd be delighted to bring visitors to a neighborhood that they can walk from bar to bar. It would bring me joy to bring folks to a park that is not located in the center of the city, but somewhere closer to its heart.
(I think I need quite a few more months as a tourist before I can call myself an insider. Surprisingly though, I still feel like I've done more in the city than some of its residents. What's up with that?)
The idea, I guess, is to have an image of Boston ingrained in my head that is unique to my experience. One that hopefully isn't just sports related. Is that too much to ask for? I don't think so. But then again, I'm asking it of myself.
After today's Boston Marathon, I've now covered all of the major sporting events in Boston. You'd think I would've scratched this one off the list pretty early because of the throngs of people the Boston Globe dedicates to marathon coverage. But in the two years prior to today, Marathon Monday, I had been on desk duty — the other half of the equation in our amazing coverage. Today I helped produce our live broadcasts on Boston.com from Hopkinton.
The Boston Marathon is one of those unusual events in the sporting landscape, one I would easily equate with the Super Bowl, NBA Finals and Stanley Cup, which I've also covered. Not because of its popularity outside of the running community, but because of its festive atmosphere, prestige and the throngs of coverage thrown its way. It's a great event, filled with tons of stories on redemption, determination, exuberance and filled with people who flaunt a never-say-quit attitude in front of the world. It's the runner's Mecca, better than NYC and more serious than the wacky Bay to Breakers.
Which leads me to this: What's next? I've now covered every major sport in the area. You name it, I've done it. Red Sox, Patriots, Celtics, Bruins, Revs, high schools. I haven't touched a college event yet, including the Bean Pot, but I have been to a few press conferences. I can't imagine I'd want to be near a regatta, but a Head of the Charles might be cool enough to warrant extra coverage in the future.
What else is there?
If I'm truly blessed, and so are the Red Sox, maybe a World Series. Is that too much?