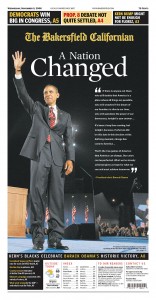 If there was ever a time when newspapers are at their most important, it's during elections. After an election like the one in which America has just experienced, particularly its historic nature, newspapers have become the most sought after memento since 9/11.
I also jumped at the chance this this morning to check out the Newseum's Web site all the major front pages, only to be welcomed to a slow, unresponsive Web site with dial-up type of speed due to the heavy traffic on the site.
I'd hate to see their bandwith bill.
So far, my favorite front page has been the Bakersfield Californian. I have a thing for reverse type and big photos.
But the bigger thing here is that newspapers still have a soft spot in people's hearts. As a daily piece of history, newspapers will the way many, many folks remember their fondest memories when flash drives, CD-Roms and laptops are long gone. Hopefully, our trees will last as long too.