Tag: ESPN
The first round of the Super 8 hockey tournament has concluded its first round in Massachusetts to great fan fare. Reports of Merrimack College turning away spectators are detailed in the video above, with the nightcap game having more than 1,000 observers at the small school.
If you're a non-New Englander, you might ask, what's the Super 8 tournament? Also, hockey? Really??
The Super 8 hockey tournament is the Division 1A championship tournament for high schools in Eastern Massachusetts. It's the best of the best. So it gets a ton of deserved attention, which is why I'm all over it at work and tweeting about it nonstop.
Read the full article »
I'm happy to report that I had an awesome first week of high school football in Massachusetts. For the majority of my regular readers, you don't care. But I think there's a couple of points I'd like to hit on here anyways.
The competition is still burning — I'm watching with great interest how ESPN Boston as well as the Boston Herald go forward with their high schools coverage. After this last weekend, I'm sure that the Globe's No. 1 competitor is still the Herald. There's simply not enough manpower at ESPN to handle the output that the Globe and the Herald offer. (I got some shit last week or so for writing about the competition in Boston. I wonder if those people are still mad.) And Danny Ventura, the high schools sports editor at the Herald, surprised me with his new Hot Shots video show and feature. I thought that was a cool idea. With our show The Huddle launching and Danny V's Hot Shots coming out, the ESPN crew followed with a new podcast. That was a quick adjustment to an obviously changing media landscape. At least as far as the websites go.
The Huddle came out great — I was very pleased with the first installment of the show on Monday and the views it has already received. I expect the viewership to rise with more promotion and some in-house advertising. You can watch the video below here.
At one point, maybe a couple months back, a friend of mine in journalism said Boston would be a great place to do a study on for its abundance of sports media. Doing a study sounds like a bright idea right now. What's interesting is more than what critics usually churn out, but the actual moves each company has made and is making, where they are putting their resources and what they consider to be important (not always the same thing). And, in the end, the relationship that the employees of each company have with each other. Colleagues in arms is the motto in some corners (Patriots writers) and every man, woman and child for themselves in others (Red Sox).
If only I could print it all.
Either way, I'll continue to update my readers, family and friends (whether they like it or not) on the good, the bad, and the ugly in Boston media as well everything else. I've been tired, but that's not stopping me. Matter of fact, nothing is stopping me.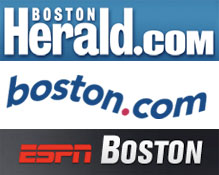 I really shouldn't be the one to write this, but it's the dominating thought on my mind right now. Things are heating up between three of the major outlets in Boston sports media and it's all sort of happening below the radar.
Read the full article »
Editor's note: I really wish I could have gotten this up earlier. I had mucho technico problemos with the audio. But I still think the discussion in San Diego, Calif., is pertinent for any and all interested parties.
There were a number of newsworthy moments at the National Association of Black Journalists convention and career fair (July 28 – Aug. 1). But none was more important to me than the discussion of "LeBronapalooza." Also known as, "The Decision."
NABJ compiled a stellar assortment of its own members, most of which were at the forefront of coverage and decision-making, for a panel on how the ethical quandary arose. That being how the World Wide Leader simultaneously covered LeBron James while being quasi business partners with him as he announced his decision to some 18 million viewers that he was leaving the Cleveland Cavaliers for the Miami Heat.
At issue was ESPN's ceding control of the advertising spots on the show, which many journalists are still outraged about. I wrote about that here.
It's not the first time NABJ's Sports Task Force, chaired by my colleague Greg Lee Jr., has addressed hot topics with newsmakers at NABJ conventions. (Unfortunately, Mr. Lee was unable to attend. And Mr. James was missing as well.) Michael Vick and those dogs comes to mind. But this discussion brought out all the heavy hitters. On the panel were ESPN reporters Chris Broussard and J.A. Adande, Yahoo! Sports NBA writer Marc Spears, Miami Herald Heat writer Mike Wallace, Managing Editor of the Cleveland Plain-Dealer Debra Adams-Simmons and Comcast Sportsnet New England's NBA writer A. Sherrod Blakely.
Each had a unique take on the development and coverage of the story. But with all of these great perspectives, what really lacked was an executive's take. You know, an editor.
Oh wait, NABJ had that too.
Read the full article »
Everything about this 1-hour "decision" special isn't terrible. I won't go so far as to say that. But I will say that in its current design, it is of poor taste. There are a couple of reasons for this.
ESPN should not have ceded its advertising spots to LeBron James.
James, pending his exodus, is pissing on the citizenry of his hometown.
It really is outrageous that ESPN has surrendered some journalistic integrity in order to secure exclusivity with James. Only because surrendering their advertising spots, this can be seen as a sort of pay-to-play situation. And that's really what it is. It's the equivalent of Paul Pierce coming to the Boston Globe, telling us he wants to blog, then asking for all the advertising money. That's no bueno.
Read the full article »
Far be it of me to believe ESPN likes to hype gimmicks. But the professed WWL is know for its flashy graphics and flawless designs, both online and on TV. And if there's a knock to be made about the company's cool flashiness, is that it can be excessive.
However, today's question is not about usage, but about what is the next step for said WWL? We'll likely get a glimpse of that soon.
Today, ESPN announced it would be launching a 3-D network.
Here's a bit of what was posted on the Web site today:
ESPN 3D will showcase a minimum of 85 live sporting events during its first year, beginning June 11 with the first 2010 FIFA World Cup match, featuring South Africa versus Mexico, ESPN and ABC Sports president George Bodenheimer announced.

Other events to be produced in 3-D include the 2011 BCS National Championship Game, college basketball and football contests, up to 25 World Cup matches and the Summer X Games. Additional events will be announced at a later date.

"ESPN's commitment to 3-D is a win for fans and our business partners," Bodenheimer said in a statement. "ESPN 3D marries great content with new technology to enhance the fan's viewing experience and puts ESPN at the forefront of the next big advance for TV viewing."
Read the full story here: http://sports.espn.go.com/espn/news/story?id=4796555
ESPN has testing 3-D technology for the last two years, according to the report. One wonders if 3-D technology has advanced enough for viewers to actually care to tune in, whether or not separate eyewear will have to be purchased to enjoy the channel and whether or not the technology necessary to produce the broadcasts will be unobtrusive to the sports being played.
None of these questions were announced in its announcement.
I'm all for the hype if it's possible and looks good. I mean jaw wide open good. But I'll hesitate on those expectations, especially after watching Jame Cameron's blockbuster movie "Avatar" in 3-D. If anything, it just made the weird alien sexual tension just all the more whack. Oh, and it was incredibly underutilized for the hype.
Can we expect the same? I'll be sure to tune in for the South Africa-Mexico game to find out.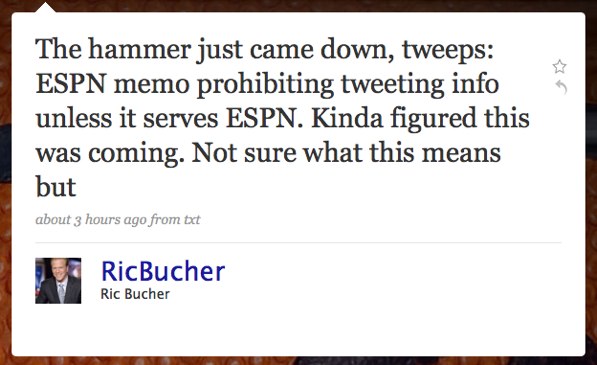 Guidelines, social media policies and rules are OK. They are the nature of the corporate environment.
But simply banning reporters from using Twitter for sports purposes, which is another means of extending the "World Wide Leader's" brand, is absolutely demented in my book.
But hey, when you become a corporate entity too huge for your own good, this is the natural progression of things. As Frank Lopez said in "Scarface":
You know what a chazzer is? It's a Yiddish word for "pig." See, the guy, he wants more than what he needs. He don't fly straight no more.
ESPN is very much a chazzer. How much are they going to be in the news as a news organization? Who is their corporate communications czar? Whoever they are, they're doing a terrible job of keeping the "entertainment" front and center for ESPN.
Lastly, that means no more gems like this from @jemelehill and @sportsguy33:
Sad news from Comiskey Park today: the White Sox offense overdosed on Phil Coke.
But not from the New York Post.
We see this thing happen pretty often, especially to celebrities. I wouldn't call Andrews a celebrity (or any other journalist for that matter), but she's known as a "pretty face" for the World Wide Leader. But that doesn't take away from further sensationalizing the story, which is what the Post is accused of. The Post published three photos from the video, after it appeared on the internet in many places.
"While we understand the Post's decision to cover this as a news story, their running photos obtained in such a fashion went well beyond the boundaries of common decency in the interest of sensationalism," ESPN senior vice president of communications Chris LaPlaca said in a statement Wednesday night.
In response, ESPN has banned all Post writers from appearing on its network. Ouch.
Talk about bringing the hammer. Not sure how much this hurts because the WWL doesn't share what kind of contracts it has with writers of news organizations. Are they paid like Mike Wilbon, or are they doing it out of a means to promote themselves and their newspaper's brand? We really don't know.
On the other end, ESPN has been taking hits this last week because they would not even mention the Ben Roethlisberger case, in which he's been accused of raping a hotel employee in Harrah's. (The thing is, the accuser waited a whole year to just file a civil lawsuit — that's right, no criminal complaint — against Big Ben, Harrah's Casino and some of its employees. This was the main cause for ESPN to hesitate.)
While the accusations looked flawed with the absence of a criminal complaint, most observers have noted that it is still newsworthy.
I agree.
The Associated Press had reported on the issue when it arose, getting a quote from NFL commissioner Roger Gooddell and Roethlisberger's lawyer. So it was very weird to not see ESPN even mention it.
Talk about burying the news. Would Michael Vick, Pacman Jones or Terrell Owens have received such restraint from the WWL? I don't think so.
So on two different, totally separate fronts, ESPN is caught in these awkward positions to 1) do their journalistic duty as the WWL and 2) protect their own and uphold journalistic integrity.
Batting 1-for-2 when it comes to ethics, isn't exactly admirable.
–
Here's another good read on Erin Andrews being "pretty" from Viv Bernstein.
Erin Andrews has been wronged. Recent news about her being surreptitiously videotaped naked while in her hotel room, has warranted plenty of sympathy.
Men's Health Magazine
about their July/August issue in which the magazine ranked America's top sports towns.
My hometown of San Francisco was No. 39 on the 100-city list, with a grade of C+. But the whopper I noticed on the list was Sacramento, which was a dismal No. 95, getting a grade of F. Other, probably more notable, cities to get that grade were Orlando, Fla., Miami, Fla., and Newark, N.J.
The list was based on a couple of factors: Who's looking to purchase tickets to games and sporting events, who is buying team apparel and who responded to calling themselves a "fanatic" in a survey done by Scarborough Sports Marketing.
The No. 1 city on the list was Arlington, Texas. Shocking, I know.
This kind of reminds me of ESPN's Title Town campaign, where Valdosta, Georgia won for its "high school tradition, young but powerful Division II college football and overwhelming spirit."
It's hard to argue these things when you know towns like Valdosta just had everyone jam ESPN's servers and vote the crap out of it. But Men's Health is different in this regard. It actually did some evaluating and selected the cities and towns on its own. Which leads me to a very simple question: How can anyone argue for Sacramento to be any higher than 95th?
Let's take a look at reasons why Sacramento is probably so low:
The Sacramento Kings suck. With a stadium that seats one of the NBA's lowest figures (17,317), there were many nights when the purple and black barely touched 5,000 because of an 88-158 over the last three seasons and an atrocious 17-65 season last year. All is quiet on the fandom front, with the faithful holding it down for next season hopes.. Rocking a Kings jersey right now, is not cool. Not cool, man.
A lack of a second major franchise. How can Sacramento compete with the only major franchise in town of the four professional sports leagues is the Kings? There's just no way possible. Add on to the fact…
There's no major Division I schools in the area. Sacramento State ain't cutting it. Neither is UC Davis, which is down I-80. Although they do make for interesting Division-II fodder. (Yes, UC Davis is Division I, but how many people realize this?)
People don't respect Triple-A baseball. Maybe this is a personal opinion here … OK, they're all personal opinions. But who gives a crap if Sacramento has a championship-winning Triple-A baseball team. The Sacramento Rivercats get their due in Sacramento, but nowhere else. Because no one pays attention to minor league baseball except "fanatics" and baseball writers. It's surprising — really, shocking — that they're affiliates of the Oakland Athletics which continue to suck in their own right.
Below is the full list from Men's Health, as sent to me. Click on the link here for the article.
A few weeks ago I received an e-mail from a person representing
I'm curious to see how much time and space ESPN and ESPN.com will dedicate to next weekend's UFC 100. It's just a number, after all, but ESPN loves to make a big deal out of those nice round numbers. And why not? It is a milestone and is being presented as such, with two titles on the line and a stacked card.
I'm curious because I've heard ESPN voices say several times that they failed to give the sport, in particular the UFC, the coverage it deserved. They didn't predict it's rising popularity. Fair enough. Most didn't. But I haven't seen too much of a change in coverage. Little time is dedicated to the sport on TV, and ESPN.com hides it on a back page, which gets its content primarily from Sherdog.com.
Horse racing, I would imagine, is not a sport on the rise. Yet today there is a horse racing headline on ESPN's home page. I won't bore you with the headline. We all know what the story says.
"Some horse ran faster than some other horse. The slower horse was shot in the head."
I don't really have anything against horse racing. It's fun to watch a big race, or a small race that you have big money riding on, and the horses are impressive athletes. I just want ESPN to up their game a bit. There's no avoiding ESPN if you're a sports fan. It would be nice to not have to look past them all the time to hear about MMA. The sports nation needs to have high standards for the sports leaders.