Tag: Grass Valley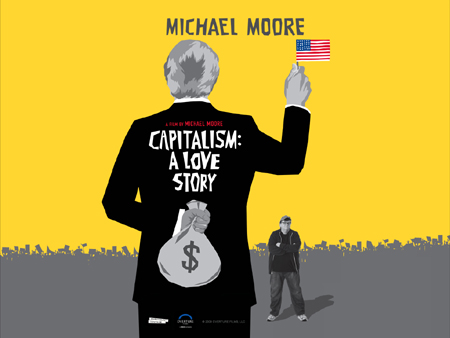 Community radio station KVMR-89.5 FM will likely get a boost in capital tonight as the Del Oro Theatre will do a special screening of the new Michael Moore film, "Capitalism: A Love Story."
The benefit premiere, at 7:30 p.m. at the historic theater for $20, is one of only eight nationwide that the film's distributors have authorized, according to a press release by KVMR.
"Moore has long been a supporter of the independent, eclectic public radio outlet, which he first discovered when visiting his sister Anne, a Nevada County resident," the release stated. "She has served as a film producer on Moore's recent projects."
Read the full article »
Culture Shock
.
It's owned by Joanne "Bobbi" Giudicelli, who by all means is a whole 'nother story unto herself.
As I wrote in the story, Giudicelli has worked in executive recruiting for the last 15-20 years, and has made quite a name for herself doing so. She's penned a couple of books, which you can view here, and she's an adjunct professor at Golden Gate University teaching the same business topics for the human resources industry.
What's cooler (coming from a sports guy) is she's also a competitive tennis player, and next month she's supposed to be playing in nationals with her partner.
Apparently, she's passed on her athleticism to her son Bryan as well, who is a Dartmouth soccer player.
So she has this whole other aspect of her life that most in Nevada County will never know, because she's known to most as "Bobbi" and not Joanne.
How does she have time to do it all? "I don't sleep much," she said.
I kinda figured that.
For Monday's B1 business story in The Union, I wrote about the new yogurt shop on Mill Street,
The Nugents will never forget their heritage.
Spread across California, the Nugents represent one line of descendants from the Leonard family, pioneers who arrived in Nevada County in the Gold Rush of the 1850s and settled along the South Yuba River.
On Saturday, the Nugents honored their ancestors by restoring their grave sites at St. Patrick's Catholic Cemetery in Grass Valley; the markers had been vandalized some years ago. The site was blessed by the Rev. Cecilio Tupasi of St. Patrick's Parish.
"When I realized that they no longer had a tomb stone, I organized the family to get another one," said the Leonards' great-grandson, David Nugent.
Nugent, who resides in San Francisco, has been researching his family for the last 10 to 15 years. He's traveled to Ireland six times to trace his roots and has written a book about what he has found, "A Thousand Year Journey: From France to Ireland to California."
David Nugent traced his Nevada County roots to Thomas Leonard and Sarah Browne Leonard, natives of Ireland who had lived in Philadelphia. Sarah died in 1893 and Thomas in 1909, both at age 90.
Editor's note: Read the full story in The Union.
Here's a video invitation the Southwest Section of the 99s did to invite people to Grass Valley:
Not Bear River's Onur Olmez.
Olmez, 17, has been a 4.0 student as long as he could remember, extolling the virtues of an over achiever while having what seems like endless free time to contribute to his self-expressed passion of video production.
"I'm all into and all out in video," Olmer said.
The Bear River junior was recently recognized at the Nevada City Film Festival as the winner of the "My Nevada City" film contest, for his two-minute short "Walking in the Past."
He's also an intern at NCTV, where he's worked since he was in the seventh grade at Lyman Gilmore.
Read the full article »
For a 17-year-old who dedicates endless hours to a hobby, you would think he was hedging around the bushes on his primary responsibility: School.
More than 1,000 people crowded into the Grass Valley Veterans Hall to ask McClintock questions and get answers about health care reform being pushed by President Barack Obama's administration. Because of the mass participation, McClintock held a second town hall immediately afterward, allowing for as many people to have their voice heard as possible.
The 4th District congressman opened the gathering with comments on how vital town halls are to America's democracy.
"Whenever we sense our country's in danger, we rise to the occasion," McClintock said. "We become actively involved and ultimately, we set things right.
"There are very serious problems with our health care system that must be addressed," McClintock told the crowd. "But … I am skeptical that a government that pays $400 for a hammer, $600 for a toilet seat and runs a $1.6 trillion deficit within a single year is somehow going to be successful keeping down our health care costs."
Because of the relatively little shouting and civil disagreement among the crowd, McClintock was able to swim through his third forum in the district, answering questions from supporters, detractors and opponents fairly easily.
Read the full article »
Tom McClintock was welcomed to Grass Valley with a packed house — and a distinct lack of the vitriol that has plagued similar town halls on health care reform across America.
After a man had his finger bitten off in a town hall in Thousand Oaks Wednesday night, the national furor over health care will continue its series of forums tonight with Rep. Tom McClintock hosting his third of four scheduled town halls at Grass Valley's Veterans Hall.
"I'll make a five-minute presentation on health care and the general financial condition of the nation, and then we'll open it up for questions," McClintock said.
The congressman said "emotions ran high," at a similar meeting in Granite Bay Wednesday night but he did not expect trouble here. Most people in the Granite Bay audience were against President Obama's proposed changes but were respectful of divergent views, he said.
"I believe most people are concerned about their country," McClintock said. "We're all Americans, we're all in this together. People were respectful in Granite Bay, I don't know why it would be any different in Grass Valley."
Editor's note: Read the full story in The Union.
The dogfight is coming to Grass Valley tonight.