Tag: hockey
Editor's note:
I wrote this June 16 as I was on the plane coming home to Boston from Canada. For photos from Vancouver that I took, see my
pictures page
. For videos, check out my
"Vancouver" posts
.
VANCOUVER, British Columbia – Lifting Lord Stanley's Cup is unarguably hockey's greatest achievement, for championships trump individual rewards and history favors the carriers of the Cup as well as the men who doggedly pursued its capture, yet failed in doing so.
It's with this thought in mind that I believe being on hand for the Boston Bruins' Stanley Cup title win – a dominant 4-0 Game 7 victory over the host Vancouver Canucks — is a moment I won't soon forget.
I shot video of the on-ice celebration right in the thick of one of sports' most precious moments. That thought hasn't escaped me since I watched a geared up Nathan Horton – despite being unavailable due to a concussion – hug it out with his teammates, capping a grueling and spectacular championship run. It clicked for me right then and there that this is a moment which will be ingrained on my cerebral to the end of my days.
For a sports journalist, it's easy to think I could have the moment while sitting in the press box, or pregame, or any of those other oft-repeated game situations I've encountered. It being a Game 7 of a championship series, one would think that the situation at hand would normally suffice the mnemonic tape recorder to begin its obligatory duty. For me, I guess not so much. It's the celebration that I'll always remember, and I think the same can be said for those watching at home around the world.
Read the full article »
At the Boston Bruins parade through the city, I asked a bunch of kids (actually, more kids than I could get to) who their favorite player is and why on the team. As kids go, it's always interesting to see how they react to a camera in their face. Watch the video above.
VANCOUVER, British Columbia — While celebrating their Stanley Cup title win on the ice, I just had to ask the championship Bruins if they're ready to drop those playoff beards. Watch what they had to say in the video above.
VANCOUVER, British Columbia — Boston.com's Chad Finn previews Game 7 of the Stanley Cup Final at Rogers Arena, addressing the Canucks' goalie situation and Johnny Boychuk's hit on Mason Raymond and how that'll affect the game. Interviews with Tim Thomas and Canucks general manager Mike Gillis included.
VANCOUVER, British Columbia — As the Bruins faced the Canucks in Game 6 of the Stanley Cup Final series, more than 60,000 fans watched the game in downtown Vancouver. Their faces expressed their disappointment in the Canucks' loss.
VANCOUVER, British Columbia — I spent a weekend in Vancouver talking to Canucks fans before Game 6 of the Stanley Cup Final to see what they thought of Boston and to get their predictions on the series. All of these people knew what was what. And they said it anyways.
VANCOUVER, British Columbia — The Globe's Amalie Benjamin previews Game 5 of the Stanley Cup Final series in the latest edition of Chase for the Cup Today. Interviews include Claude Julien and Tim Thomas.
–
Notes on the video: Thanks to the lighting of Rogers Arena, my colleague Amalie Benjamin appeared extremely dark. To compensate for the poor lighting — both by the arena and my small light fixture — I tried to use Final Cut Pro's 3-way color corrector to lighten her up. The danger in using this tool is that in all likelihood the video will become awash. That's why lighting is so important to video. In fact, it's almost as important as audio. So needless to say, I was not happy with the way she was lit. I'm going to have to start carrying more equipment.
The Globe's Fluto Shinzawa previews Game 4 of the Stanley Cup Final series with a look at Tyler Seguin's insertion on the ice, Claude Julien talking about Nathan Horton and why the Bruins don't need to avenge him, as well as Vancouver coach Alain Vigneault on Tim Thomas's check on Henrik Sedin.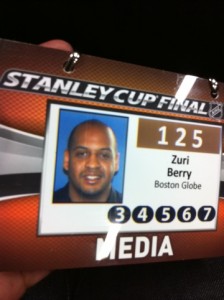 So while I've got time to kill, I'd like to break down my latest adventure in sports journalism: The Stanley Cup Final series.
I've sat back and watched Games 1 and 2 from afar — literally. The first couple were in Vancouver and I wasn't tabbed to travel for those games. Instead, I'm being asked to cover games 3, 4, 5 and 7. If it comes to Game 5, I'll be making my first Canadian voyage, eh.
But what's significant to me, thanks to the amazing teams in New England, I've been to the NBA Finals, NFL playoffs, and now the Stanley Cup since I've been in Boston. Who knows what my role will be come October with the way these Red Sox are playing. So I have to say, I'm having another one of those moments in which I realize I'm no longer in Kansas, as the saying goes.
And as I get around to all five major sports, including soccer, it's interesting to see the different ways each sport treats the media when the spotlight is at its brightest. I was surprised how limited media members were when the US national soccer team played Spain in a friendly last week. (No locker room access. ) The NHL operates similarly to the NBA, although I could chalk that up to the phenomenal staff at the Garden. The NFL, as I've said before, does not operate uniformly. The 49ers open their locker room much more frequently than the Patriots, for instance. And in baseball, access is still king. That is to say, really good.
What it all adds up to is varying degrees of preparation. I'm enjoying that part. I'm still a young guy doing this stuff. So I think it's fun still. And in the end, it's always nice to be at the talked about game.
Now let me stop fiddling around and go get ready for the Bruins and Canucks.
Eh.