Tag: journalism
There's been much written about the Boston Globe after news of the company's plan to "untangle" its two websites, Boston.com and BostonGlobe.com, was announced followed by news that the New England Media Group — which includes the Globe, Worcester Telegram & Gazette and 49 percent of Metro Boston — was to be sold from the New York Times Company just a few days later.
Allow me, if you will, to bookmark some of the articles written about this right now. Maybe in six months or so, when the dust has settled, we can look back and compare and contrast the coverage of these topics with reality. For my own personal sake, I think it will be interesting.
And in an attempt to be transparent, I should add that I know nothing of the Globe's business dealings outside of what's been shared publicly. That's the nature of the game when you're at the bottom of the food chain.
Now, onto the links:
Feb. 18: "McGrory: Boston Globe will 'untangle' its two websites" by Andrew Beaujon, Poynter.org — This piece came out in Poytner a little more than two weeks after the idea to untangle the two sites had been unveiled by new editor Brian McGrory in the newsroom. McGrory speaks for himself here, saying "Boston.com will be in many ways the front page of Boston. BostonGlobe.com will be the front page of the Boston Globe."
Feb. 18: "Brian McGrory wants to restrict free content" by Dan Kennedy — This is some analysis from a Northeastern journalism professor who often scrutinizes the Globe on his site following the Poynter article the same day. He offers this thought: "The Globe has to pay the bills, of course. I just hope McGrory and company understand how many free alternatives are out there. Even if they're not as good as the Globe, they may prove to be good enough for those determined not to pay. An overly restrictive paywall could also trigger new competition."
Feb. 21: "New York Times Co. puts Boston Globe up for sale" by Edmund Lee and Jeffrey McCracken for Bloomberg — Bloomberg broke the story of the Globe's impending sale. I was already home when the news broke so I didn't see this until I logged onto our site and the Globe had posted its own story.
Feb. 22: "New York Times exec outlines Boston Globe sale process to employees" by Beth Healy of the Boston Globe — Vice chairman Michael Golden traveled to Boston to discuss the sale with the Globe staff along with publisher Chris Mayer. Healy quotes Golden: "We have no intention to send the New England Media Group to the slaughterhouse."
Feb 21: "The newsonomics of the Boston Globe sale" by Ken Doctor for Nieman Journalism Lab — Doctor analyzes the potential sale price point for the Globe, but also wonders whether the NYT Co. will put the newspaper and its related properties in good hands. Doctor asks, "How much will the Times Co. — which has been a good steward of impressive Boston journalism — use civic interest as a filter in its consideration of buyers?"
Feb. 22: " 'Scared' Globe staffers press for answers" by Jessica Heslam, Christine McConville, and Matt Stout of the Boston Herald — The Herald's story has a juicy headline and a sexy lead, but there's nothing here new: "Blindsided Boston Globe employees — still reeling after The New York Times Co. put the Hub paper up for sale again — are slated to come face-to-face this morning with a top Gray Lady exec for the start of what could be a messy split, including the likely demand for contract talks from the paper's 10 unions, insiders said."
Feb. 22: Ernie Boch Jr. exploring bid to buy Boston Globe by Greg Walsh of the Boston Business Journal — Boch Jr., a car magnate, was the first potential buyer to go public with his intentions. In a statement released to Boston Business Journal first, and later picked up around the region, his spokesman said: "Ernie Boch Jr., president and CEO of Boch Enterprises and a lifelong Bostonian, is exploring the opportunity of purchasing the Boston Globe. Ernie is teaming up with Bruce Mittman, president and CEO of Mittcom (the Newton marketing agency), and partner in Community Broadcasters (the radio station group in upstate New York). Together they bring the financial resources and decades of experience in media and marketing necessary to make this purchase viable."
Feb. 22: "Former Globe executive in talks with the Times Co. about sale" by the Boston Globe — Straight from the story: "Rick Daniels, a former Boston Globe executive who most recently was president of Gatehouse Media, and Boston private equity investor Heb Ryan have been in discussions with the Times Co. and last month submitted a bid of about $100 million to buy The Boston Globe, according to a person with knowledge of the matter."
Of course, there's been more speculation and re-writes of the these articles, including a look at 25 potential buyers by one site, but there isn't much hard news to point to beyond what is already known. Hopefully, I can keep track of what's written right here. At least through the sales process.
So I'm out on a limb saying the Patriots are going to beat the Baltimore Ravens in the AFC championship and will advance to Super Bowl XLVII in New Orleans. I'm not just saying this flippantly. I've went out and purchased my tickets to New Orleans and now I'm trying to prepare myself for the inevitable breaking news/multimedia moment during Super Bowl week.
Last year, I was dependent on my iPhone (which held up for the most part) in Indianapolis for the Super Bowl. But I dreaded lugging around my MacBook, at almost 8 pounds, which is what I used to do the brunt of my work. This year, if the Patriots win, I'm traveling lighter with my iPad. I just bought a new Bluetooth enabled keyboard to go along with it, so I'll be able to type normally and with the same speed I'm accustomed to doing.
I still have worries though. For one, my iPad is a wifi only tablet, meaning if there isn't any wifi, it isn't worth the trouble of lugging around. Similarly, my iPhone 4S has terrible battery life. And it sucks typing on it, too. However, between the two I figure I can be as mobile as possible. I've discovered that my phone also can link with the Bluetooth keyboard and in doing so keeps me online at all times — so long as I have battery life.
Thank God I keep a charger close by.
All of this yammering will be worth it if the Patriots win. Then I'll be able to test everything. For some reason, that makes me excited. And that's how you know I'm a nerd.
I got to blabbing on Twitter a week or so ago about sports writing and what it takes to be different and good and all that jazz. And then I got to thinking, who are my Top 5 sports writers. So I wrote this up and then slept on it. I didn't want to put this up without actually being sure I felt this way about these writers. And I'm glad I did, because I switched it up.
Here's the kicker, I don't think anybody can take away from any one particular writer I didn't choose either. There's a number of fellas (and ladies) I read but I'd never put on this list because I don't agree with their viewpoints. Or, in some rare cases, I think they're too big for their britches. Pretty much, they're assholes. It's unfortunate but we have a lot of those guys in our business. Some of the guys below, I've never met before. Some, I have. I'm not sure if that matters.
1) Tim Kawakami, San Jose Mercury News — His Talking Points blog is probably my most read sports website outside of my Boston.com/ESPN/Yahoo peripherals. He hits on all of the important topics in the Bay, including the never-ending quarterback drama with the 49ers, the dysfunctional nature of the Oakland Raiders and the surprising but not so surprising rise of the San Francisco Giants. He conveniently ignores the San Jose Sharks and Oakland A's. Rightfully so.
(Readers may also note that it was Kawakami who was the source of outrage for an Oakland Raiders executive whom threatened him with bodily harm in the Lane Kiffin days. Oh, those were the good days.)
2) Ray Ratto, Comcast SportsNet Bay Area / CBS Sportsline — In the Bay Area, Ray Ratto has the reputation of being a hit man. His columns often hammer sports figures. But his wit is unmatchable in the San Francisco sports scene. He's much more of a reflective humorist, which is in great contrast with Kawakami who is issue-oriented. It was sad to see Ratto leave the San Francisco Chronicle, but I imagine Comcast is giving him opportunities he never had to begin with. Note: I don't read him on Sportsline.
3) Bill Simmons, ESPN.com — Where do I start? Before I came to Boston, before I worked in Boston media and before I ever cared to read one story about the Red Sox, the Patriots and the Bruins, I read the Sports Guy. Not for any of the aforementioned, but because of everything else. I actually enjoy his fanaticism, his often extended parenthetical side notes, and, yes, his references to Teen Wolf. He's enjoyable and his humor is expressed well in writing.
4) Dan Shaughnessy, Boston Globe — Great originality from Dan in each and every column. Besides being one of the local guys for me now in Boston, I was pleasantly surprised by his forcefulness on issues and his gumption. He doesn't hold punches when he sees fit and he pretty much epitomizes Boston sports media. There's not much to dislike about him.
(Also, it's kind of weird how Boston sports fans are split up 50/50 on liking Shaughnessy. There isn't a better example of a lightning rod than Dan. That paradox humors me as well.)
5) Tony Massarrotti, Boston.com — Now probably known more for his radio show on 98.5 The Sports Hub, Tony Massarrotti is an absolutely excellent writer. I can only imagine what he could bring to the table if he zoned in on national topics more so than the Red Sox, Patriots and Celtics. But I also believe it's his undeniably deep knowledge of the Sox that makes him a must read. Going through his archives is a good way to pick up on all trends for the laundry. Note: He doesn't write for the pink hats.
There was a time when I used to turn to ESPN's Scoop Jackson for a fix, crave for the professionalism and care from Fanhouse's David Steele (also formerly of the San Francisco Chronicle), and L-O-L along with the L.A. Times' TJ Simers. (He's certainly on a number of "dead to me" lists.) I just don't read those guys that much anymore. Victims of a busy reading/writing schedule. There are others the pique my interest, Michael Wilbon for one, but I truly do believe in local writers over national guys. And seeing how I've never lived in DC, I didn't give the superbly talented Wilbon much of my time. But I'm sure I would if I did live there. DC folks are lucky. As are New Yorkers with Mike Lupica, and Michiganders with Mitch Albom. I never read these guys, but I respect the influence they have.
At home, I have Jim Murray's book, "The Last of the Best." It's an anthology of his columns for the L.A. Times. When I was in college, I took part in the L.A. Times' Jim Murray Sports Journalism workshop, where I met a number of individuals who are now reporting across the country. But it was also my chance to meet Bill Dwyre, Dave Morgan (now at Yahoo), Simers, Bill Plaschke, Mike Brennan and get exposed to Murray's work. It's one of the few sports books I go back to because of great shtick Murray was able to churn out. He had the humor column down to a science. I see Bill Simmons when I re-read Murray's columns. But I also see a bit of prose that is often overlooked and often underutilized. Short sentences. Clear language. Anecdotes. Life lessons.
The best sports writing, in my mind, encompasses all of Murray's characteristics. That's easy to say, hard to repeat.
Who is on your list?
Editor's note: If I ever wrote a column again, it'd be here on Wednesdays. In fact, that's what I plan on doing. Starting next week, right here, my thoughts. You know the topics: Giants, 49ers, Warriors and journalism. Screw the Raiders. (OK, maybe some Raiders. But definitely screw the A's.) This is long overdue.
A new group is saying they want to buy The Boston Globe.
This comes at a time when the New York Times Company has not put the Globe up for sale. Instead, the group, The 2100 Trust, is looking to protect the interest of the community, so to speak, buy buying the Globe as some form of community trust. Hence the name.
The 2100 Trust, a Massachusetts-based limited liability company, is putting together a community-focused investor group to submit a letter of intent to purchase The New England Media Company, including The Boston Globe and all its associated properties from the New York Times Company.

The Boston Globe has been a pillar in the city, the Commonwealth and the region for more than a century. We believe that The Boston Globe's strongest days can be ahead. It is essential that the Globe be positioned for its next 100 years. This will require the significant long-term investment that we intend to make. One of the principal areas of investment will be the newsroom, which is due for a significant increase.
This all comes on the heels of the Globe's major announcement a couple of weeks ago in which publisher Chris Mayer revealed plans for the Globe to carry two websites going forward, BostonGlobe.com and Boston.com (for which I am employed). BostonGlobe.com will be a sorta paywall website, whereas as Boston.com will remain free. Globe content will be split up among the two.
Mayer responded in a memo to the Globe about the advance, which the NYT co. still has not received.
"While we can't stop others from having interest in our business, I'm viewing any potential outside interest in the Globe as a reaffirmation that we're doing all the right things and moving the business forward," Mayer wrote. "We have a solid strategy. Let's stay focused on our success."
The idea of having two websites at the Globe was a hot topic in the hallways last week. Everybody wants to know how it's going to work out. And, as Mayer has said before, all the answers have not been determined yet. But this renewed interest in purchasing the Globe, something which was broached in 2006 and in 2009 when the Times threatened to shutter the Globe, seems to be an obvious response to the new strategy. I say obvious without actually knowing what's in the minds and hearts of the individuals encompassing The 2100 Trust. However, this group's timing could not be any more questionable.
This also comes at a time when the union is negotiating the Globe's contract before it expires at the end of the year.
What does all of this mean for me?
It means that I'll be working for both of the websites going forward, producing content for both. There's a lot of gray right now, but I'll be one of the many producers and editors for the website that determines what content goes to each website and what goes on both. (Yes, there are some items that will be on both.) My job will not drastically change. I'll still be producing journalism with my eyes on serving New England fans for both high school sports and wherever else needed.
Eastie-Southie game hitting home
I recently moved from East Boston to South Boston. So went from hanging out in Eastie, to now living Southie. (Explaining this for the non-New Englanders.) Anyways, it means that I now have a rooting interest in watching the Eastie-Southie game on Thanksgiving Day. Or at least I can pretend. Either way, I miss the house in East Boston. But the move was warranted. They were selling it. I'm very happy with the new home and it's actually pretty cool to be two minutes away from the office. In eight days, I will have been in New England for an entire year. I flew in on a blustery night, Oct. 28. In the past 12 months, I've lived in three different places. Hopefully, I'm here in Southie for awhile.
Alex Smith sucks
One game doesn't change my opinion of a man. Nor does two. In fact, his entire body of work is what I'm thinking of when I say I think he's a rotten QB and should be tossed out on his hindquarters. But it's not my team, now is it. The 49ers won their first game on Sunday despite Alex Smith. However, the embattled QB did not throw an interception. He had averaged 1.8 interceptions a game up until the Battle of the Bay. It was another milestone for what has been a terrible season for Mr. Suck. But he is getting better. In fact, the comeback attempt against the Philadelphia Eagles was his first signs of real life to me, throwing two touchdowns in a what eventually was a 27-24 defeat including a — you guessed it — interception to end the game. The whole incident in which he argued with Mike Singletary and fought to go back in the game after getting pulled was the first time Smith actually appeared to be a sympathetic figure to me. He wasn't just arguing for a few minutes of reserve time. Smith was arguing for his career right then and there. You could see it in the urgency of his body language. You could see it in the urgency of his play after he called David Carr back to the sideline. He was a man on a mission to save his career. That was interesting. But two games doesn't change my opinion of Alex Smith the QB yet. He still sucks.
How about 'dem Giants?
I can't help but think about the inevitable argument on sports radio here in Boston when the San Francisco Giants make the World Series. These guys are gonna bring up all the reasons why the Giants shouldn't be there. How the Red Sox could beat 'em and yaddy ya ya ya. I hate this line of argument. It's all about the American League being better than the National League. I get it. AL cities have a superiority complex. Fine. But let's not let the conversation fall into what the Sox, or any other AL team would do, when they're not even in the dance. That's just stupid. If the Red Sox were to be included in the argument, they'd first have to go back and win a couple of regular season games and then win a couple of series against some of the best teams in baseball before even being mentioned. I have no problem with the Yankees, Rangers, or even the Phillies, beating the Giants as the world crams it on the Black and Orange about how they shouldn't have been there in the first place. But those are playoff teams. And as far as I'm concerned, they're the only ones that matter.
Jason Campbell sucks
But you know this, right? And to think, I had lobbied for the 49ers to actually trade for Jason Campbell. But after the stinker he put up against the 49ers (8-of-21, 83 yards, 2 interceptions, 10.7 QB rating), I'd be remiss to say that wasn't one of my better ideas. I mean, he did that against the 49ers. I'm not saying the 49ers defense is bad (10th in yard allowed per game), but they aren't the Chargers (1st in yard allowed per game, 1st in passing yards allowed per game).
Crackdown on the crackdowns
I used to blow guys up all the time … OK, I'm lying. I used to cheap shot guys as my teammate ran up and down the sidelines for a league-leading 32 touchdowns. But you know what, I never once hit a guy helmet to helmet. Not on purpose. I did so one time on accident. Guess who got hurt? I did. Sorta Dunta Robinson like. It made me woozy for at least two more plays as I stayed in the game trying to stop a team from scoring on us. I don't think it was a concussion, but it would explain a lot. Either way, this crackdown needed to happen. These guys are physically talented enough at the NFL level to tackle people by aiming for the core of the ball carrier's body, rather than the head or neck. For guys like James Harrison to consider retiring because he may not know how to play the game is absolutely idiotic. But then again, he's the same guy who said he wouldn't go to the White House and meet the president (Obama and Bush) after winning the Super Bowl because "they weren't for the Steelers." We're not talking about the smartest Golden Girl here.
–
Be sure to follow along on Twitter as I tweet about things related to Massachusetts high school sports and other stuff. I like the other stuff, but Mass High sports are cool too. It's football season, ya know.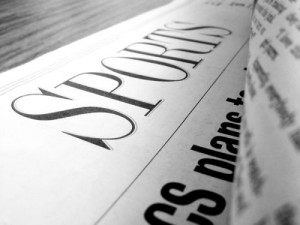 Editor's note: I wrote this weeks ago. Maybe a month or so. Unfortunately, time doesn't change my opinion here.
I've read one too many articles and columns denouncing the end of sports journalism. It's all hunky dory to reminisce about Red Smith and the good ol' days, hypothesize on the demise of each writer's talents and acceptable wordplay. But it is, after all, an over indulged topic.
Let's play a game. Name three types of stories you'll read in a newspaper every day. I dare you. Better yet, I'll up the ante and name a few myself and let you fill in the rest from the bowels of your brain. 1) A game story; 2) a profile of some sort; 3) Some news of some signing, injury, etc; 4) A box score or two; and 5) a column to boot. And in those profiles and columns, the featured persons or people are often pitted in some struggle, often up against odds, have overcome something, or destined to be chasing things like trophies, rings and a peaceful state of mind. There's not much else people care about, to be honest.
Read the full article »
Editor's note: I really wish I could have gotten this up earlier. I had mucho technico problemos with the audio. But I still think the discussion in San Diego, Calif., is pertinent for any and all interested parties.
There were a number of newsworthy moments at the National Association of Black Journalists convention and career fair (July 28 – Aug. 1). But none was more important to me than the discussion of "LeBronapalooza." Also known as, "The Decision."
NABJ compiled a stellar assortment of its own members, most of which were at the forefront of coverage and decision-making, for a panel on how the ethical quandary arose. That being how the World Wide Leader simultaneously covered LeBron James while being quasi business partners with him as he announced his decision to some 18 million viewers that he was leaving the Cleveland Cavaliers for the Miami Heat.
At issue was ESPN's ceding control of the advertising spots on the show, which many journalists are still outraged about. I wrote about that here.
It's not the first time NABJ's Sports Task Force, chaired by my colleague Greg Lee Jr., has addressed hot topics with newsmakers at NABJ conventions. (Unfortunately, Mr. Lee was unable to attend. And Mr. James was missing as well.) Michael Vick and those dogs comes to mind. But this discussion brought out all the heavy hitters. On the panel were ESPN reporters Chris Broussard and J.A. Adande, Yahoo! Sports NBA writer Marc Spears, Miami Herald Heat writer Mike Wallace, Managing Editor of the Cleveland Plain-Dealer Debra Adams-Simmons and Comcast Sportsnet New England's NBA writer A. Sherrod Blakely.
Each had a unique take on the development and coverage of the story. But with all of these great perspectives, what really lacked was an executive's take. You know, an editor.
Oh wait, NABJ had that too.
Read the full article »
National Association of Black Journalists
convention and career fair. It's an opportunity for journalists and public relations specialists of the 3,000 member organization to gather for fellowship, discussion, brainstorming solutions for the industry, and promote a healthy dialogue centered on diversity in the media.
There are a couple of common questions people ask about NABJ every year, usually centered around the need for a black journalists organization. The unfortunate quip I hear too often is that "there isn't a white journalism organization." (To which many reply, there is: The Society of Professional Journalists.) Or, "we have a black president, so what's the point?"
Read the full article »
SAN DIEGO, Calif. — I'm in San Diego for the
Everything about this 1-hour "decision" special isn't terrible. I won't go so far as to say that. But I will say that in its current design, it is of poor taste. There are a couple of reasons for this.
ESPN should not have ceded its advertising spots to LeBron James.
James, pending his exodus, is pissing on the citizenry of his hometown.
It really is outrageous that ESPN has surrendered some journalistic integrity in order to secure exclusivity with James. Only because surrendering their advertising spots, this can be seen as a sort of pay-to-play situation. And that's really what it is. It's the equivalent of Paul Pierce coming to the Boston Globe, telling us he wants to blog, then asking for all the advertising money. That's no bueno.
Read the full article »
A big source of complaints I've seen on the various websites I've helped manage and edit has been the cleanliness of grammar and spelling.
This is not to diminish the quality of the writers or editors I've worked with, but to identify how sometimes simple mistakes can occur so easily and how to rectify them. A lot of this goes back to the copy editing process in which newspapers already employ.
Not too long ago, an e-mail was sent out at Boston.com advising folks to add a spellchecker to our browser plugins (for Firefox users). It was a subtle reminder that although we use two to three pairs of eyes before publishing content, two to three people can miss something. And as I've noted on this site before, the speed and very nature of internet publishing in a breaking news environment sometimes overrules caution in the urge to chase time stamps. So how do you remain fast in the thick of competition, and remain accurate with clean copy for your readers?
Here are my 5 quick and simple ways to be right every time, in the nick of time: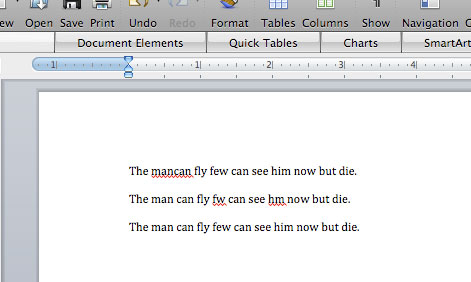 Read the squiggly lines — There is a penchant among writing aficionados to ignore the red squiggly lines in Microsoft Word, your Internet browser or wherever you're typing up your copy. Oftentimes, these dictionaries do not recognize non-English phrases or even Latin. The key is identifying which you're using and using the appropriate measure to double check the word/phrase. For Latin …

Just Google it — Everything you will write is not in the dictionary. A quick Google search on popular latin usage, foreign words, names, official titles, and other unique phrases can often times rectify a mistake before the world will know your shame. And yes, it is embarrassing.
How you do that, is what's peculiar.
Socrates developed a style of deductive argumentation — called the Socratic method — more than 1,600 years ago. His methods are studied in colleges and across America. But more so, the principles of his argument — using leading questions as premises in order to sneakily convince one's oppenent of your righteousness and therefore logical consequence — have seeped into the daily Americana experience. You can find his touch on TV, in movies, and even in journalism.
The latter of which, it seems, is where the trendiness has caught my attention. Newspaper columnists and journo-bloggers have employed these methods in an awkard attempt to translate what is a perfected form of person-to-person communication (or fighting depending on how loud you're talking) in a medium that is not dependent on conversation.
Read the full article »
Logic is the foundation of any good argument. In fact, a lazy or otherwise sloppily put together argument, especially in writing, is grounds for round criticism. So it goes without saying that if you aspire to be a good writer, you ground yourself with strong logic.