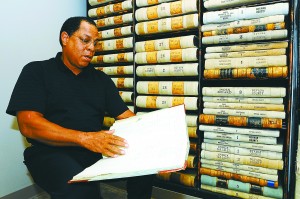 If it weren't for his wife, Gregory Diaz wouldn't be standing in as the President of the United States Sunday.
Diaz, Nevada County's Clerk-Recorder, will be President Barack Obama in the Marching Presidents' entry as part of the Constitution Day Parade festivities, set for 2 p.m. in Nevada City. His wife, Katherine, will entertain the crowd as Michelle Obama.
"I just discussed this with my wife and she thought it would be nice to involve ourselves in this community event," Diaz said. "She was pleased we had the opportunity."
Still, it took a couple of weeks for Diaz, who holds a non-partisan elected post, to decide to play the role of America's first black president. "But it's easy to look past that (the politics)," Diaz said.
"It's hard to know what people think," Diaz added. "But to me and my wife, this is an opportunity to engage ourselves in a community event that has been going on for awhile. It's non-partisan and that's the spirit that we're taking it as."
Editor's note: Read the full story in The Union.