Tag: New England Patriots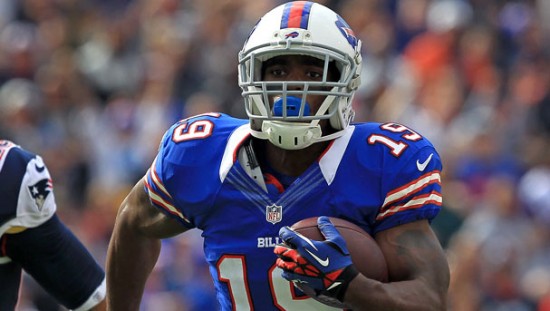 The Patriots now have 12 wide receivers on their roster after signing free agent Lavelle Hawkins to a 2-year deal. The addition makes for an interesting mix as the group of players competing to make the team swells to a number worthy of the show "Survivor."
The clarity of the group's rankings isn't helped by Julian Edelman's status, who is back in a walking boot after re-injuring his right foot. He is one player who can not afford to have an unhealthy training camp while the team has plenty of options – both cheaper and younger – to turn to in his stead. Without Edelman, who will possibly miss OTAs because of the injury, the Patriots are looking at a full-blown overhaul in the position group. That will lead to training camp battles as both veterans (Hawkins, Michael Jenkins, Donald Jones) and rookie free agents (T.J. Moe, Kenbrell Thompkins) fight for the remaining spots on the team's roster.
What does the receivers depth chart look like? – Extra Points – Boston.com.
I've been out of it again. That's just the way it is on this site in the month of March, April and May. I'm too busy doing non-football related things to really get a chance to post here.
But I wanted to make sure I got a chance to highlight some of the things I've written and produced in the last month and a half. After the Boston Marathon bombing, a good portion of my time went to Patriots coverage and the NFL Draft, which was April 25-27. I wrote a number of items on the draft and ran our live coverage of the event on Boston.com. (You can find an archive of that coverage here.) I was also did some video, both producing and appearing on air.
And then I've also been writing a new weekly feature in the Extra Points Patriots blog on Boston.com called "Patscetera." It's basically a catch-all for interesting items and commentary. So far, so good with that. You can read a new one each Friday on the site. I'll try and link it up here more regularly going forward. No promises, though.
Here's a look at what my last month and a half has been like.
Story: Patriots rookies 'just happy for the opportunity' – May 5, 2013
Patscetera (5): Now, the fun part for the Patriots – May 3, 2013
NFL draft (pictures): Meet the New Patriots – May 2013
NFL draft: On the third day of the draft, Belichick adds to competition – April 28, 2013
NFL draft: On Day 3 of the NFL draft, what's left for the Patriots? – April 27, 2013
NFL draft: 5 takeaways from the Patriots' first four picks – April 27, 2013
Patscetera (4): Day 2 of the draft: The best of the rest – April 26, 2013
Patscetera (3): Patriots show heart, connect with the city – April 20, 2013
Patscetera (2): With Dennard in the mix, Patriots draft board opens up – April 12, 2013
Patscetera (1): For Patriots, pieces falling in and out of place – April 5, 2013
NFL draft (pictures): Scouting the draft (It was a whole series) – April 2013
Hopefully I don't take this long to send in another update again. And hopefully I'm doing more video, on air.
Until next time.
The NFL Draft Combine is still in the throes of devouring its young, with linebackers and defensive linemen going through drills today. Defensive backs will take the field Tuesday. But in the week of buildup toward the combine's conclusion, more than a few names have been tossed about with relation to the Patriots. Here's a rundown of who has been mentioned, as well as any pertinent information.
1. Florida safety Matt Elam — The hard-hitting safety is one of the best rated defensive backs on the board, so it's no wonder his name has been connected with the Patriots after the team finished a paltry 29th in pass defense. As a Florida football player, Elam has connections with former Gators Brandon Spikes, Aaron Hernandez, Jermaine Cunningham, and Jeff Demps. But his game speaks for itself. He tallied 76 tackles, 2 sacks, and 11 tackles for a loss. He was first team All-SEC and first team AP All-American. It'll be tough if he makes it to No. 29, but he's definitely on the radar. We'll see more details on Elam when he works out on Tuesday.
2. West Virginia wide receiver Tavon Austin — What's the likelihood that there are two guys named Tavon on the Patriots? After the way Austin's name was thrown around by mock drafters and media folks, you'd think it was a done deal. Austin ran a 4.34 40-yard dash Sunday. In his senior season for West Virginia, he was all over the field as a returner, receiver, and in the back field. He caught 111 passes for 1,287 yards, ran for 652 yards on 73 carries, and averaged 25.1 yards on kickoff returns. He totalled 17 touchdowns on the season. He's only 5-feet, 8-inches and weighs 174 pounds. So he fits the mold of another slot-like wide receiver. But he has the versatility to be moved around, an attribute Bill Belichick thoroughly values.
See more of my original post on Boston.com: Five draft prospects that keep popping up – Extra Points – Boston.com.
The big hubbub over Brandon Lloyd, which boils down to whether or not he's pesty enough to jettison, is far too premature and underdeveloped to seriously consider.
We can ask, in essence, what is acceptable and unacceptable behavior for an NFL player? And does being moody reach the barometer for unacceptable?
Without answering those questions, it's impossible to gauge whether the Patriots should cut the cord on Lloyd. But you already know the answer to both questions and it has everything to do with star status, contract dollars, productivity, and — until recently — perception with the public, at least around these parts.
In colleague Greg Bedard's expanded thoughts on Lloyd Tuesday, he included this damning note:
You just never know what you're going to get with Lloyd, and either you can deal with it or you can't. For example, talked to one player a few weeks ago that said he was talking to Lloyd about something and suddenly Lloyd said in mid-sentence, "I don't want to talk to you anymore," and put his headphones on.
Call it anecdotal, but it's damaging nonetheless to Lloyd's standing in the locker room and a personal problem he'll have to address on his own. But if that's the extent to which the anecdotes run (there are plenty more this reporter and others can summarize in dealing with Lloyd), it's hard to imagine this passes the smell test for a team problem. However, it would also not be surprising if there were more incriminating examples of his surly behavior. He fits the type. But there have been worse characters in the NFL.
See more in my original post on Boston.com: Should the Patriots drop Brandon Lloyd? You already know the answer – Extra Points – Boston.com.
FOXBOROUGH — The Patriots were beaten handily by the Baltimore Ravens on Sunday, losing, 28-13, in the AFC Championship game. But one could still argue that the game would have turned out dramatically different had the home team capitalized on some key plays and executed better down the stretch.
There were numerous plays left on the field. There's no going back now, but let's highlight a few things that went wrong in this week's takeaways.
1. Time management was an issue — Tom Brady and Bill Belichick did their best to deflect the issue, but they had a problem toward the end of the first half managing the clock and burned all three timeouts at the end of the game, much too soon for any comeback effort. But the events at the end of the first half were particularly troubling. The Patriots were driving down the field, only 10 yards away from the end zone, with 26 seconds left. Brady couldn't find a receiver, so he scrambled for 3 yards and then tried to gather his teammates to attempt another play before realizing too much time had passed. He had to use the Patriots' final timeout of the half with only four seconds on the clock. Either Belichick or Brady should have immediately called a timeout after the play to preserve an opportunity to take a shot at the end zone. With only four seconds on the clock, they were forced to take the field goal. A touchdown would've changed the dynamic of the game and given the Patriots more confidence going into the second half.
2. Wes Welker's drop deflated a perfectly good drive — The second half wasn't kind to the Patriots. They were outscored, 21-0, a remarkable display given the team's standing as the top offense in the league. Drive after drive, the Patriots were stumped by their own ineptitude. In the third quarter, they had a particularly good stretch that was mucked up by an all-too familiar episode of Welker's dropsies. (Forgive him, he was getting knocked around pretty good out there.) The Patriots had drove 57 yards to the Baltimore 34 and were facing third and 8 when Brady threw a pass that hit Welker in the hands and face mask. It would've given the Patriots a first down and possibly the opportunity to extend their lead. Instead, because of the fourth down and the windy conditions, they elected to punt. Which brings me to my next takeaway.
To see all of my takeaways, view the original post on Boston.com's Extra Points.
Last week was bittersweet for me. I went a sterling 4-0 against the spread, but my Super Bowl pick, the Seattle Seahawks, lost to the Atlanta Falcons in the team's NFC divisional bout.
It was a stellar game with the Falcons edging the Seahawks 30-28 on an inspiring game-winning drive by former Boston College quarterback Matt Ryan. Ryan certainly lived up to his nickname, Matty Ice, completing two passes with 31 seconds left in the game to get his Falcons down to the Seattle 31-yard line, setting up Matt Bryant's game-winning field goal. Bryant was clutch, nailing the 49-yard attempt after getting a practice kick courtesy of Pete Carroll.
Atlanta won the game, Seattle covered the spread. It was a small victory and a huge loss that has me re-thinking the whole Super Bowl dynamic now that the final four is set to kick off on Sunday. I've been fairly good at picking games. I'm 7-1 against the spread and 7-1 picking straight up winners during the postseason, but this week feels different. There's a lot of talent in Atlanta that I underestimated, namely the next-level worldly play of Ryan that the entire south has come to expect. But I have my doubts.
Meanwhile, we have two spreads that are virtually unbelievable. And that makes for this week's picks to be a little more hairy than usual.
49ers (-5) at Falcons (+5) — When Jim Harbaugh installed Colin Kaepernick at quarterback, it was with the understanding that the second-year pro's performance would come with high risks and high rewards. Kaepernick proved as much against the Green Bay Packers, throwing a first quarter interception before literally running away with the game. His playoff-record 181 yards rushing (in addition to the 263 yards passing) buried the Packers in a 45-31 win at Candlestick Park. The onus is on Harbaugh and Kaepernick to replicate the effort at the Georgia Dome, proving the option is viable in the NFL once again. The Falcons got a taste of the option last week, clamping down on the Seahawks' powerful running game before eking out the win thanks to Ryan's heroics. One key I noticed in the Falcons' matchup with the Seahawks, rookie quarterback Russell Wilson failed to keep Atlanta on its toes by taking the option. He kept feeding Marshawn Lynch (16 carries, 46 yards) to no avail. I doubt the 49ers' young quarterback, who has seemingly grown up overnight on the football field, would be so hesitant to take advantage of the opportunities a leaky Atlanta defense will provide. The Falcons surrendered 491 yards against the Seahawks and were the No. 24 total defense during the regular season. Ryan will be facing a 49ers team that has a significantly better defensive line with Justin Smith leading the way. It won't be easy, but with the possibility of another breakout game from Kaepernick and an already shaky defense in Atlanta, I see this breaking for the 49ers. Matty Ice can only do so much.
Straight up winner: 49ers
By the line: Falcons
Ravens (+9.5) at Patriots (-9.5) — Joe Flacco is a much better quarterback when the pressure is on the line. But what's more, he has enough moxie about him to throw the deep pass with regularity. And lucky for him, he has the talent to come up with the passes in Torrey Smith and Jacoby Jones. Add in a steady dose of Ray Rice, who ran for 131 yards on 30 carries in the AFC divisional round, and the Ravens are the most balanced team the Patriots have faced this season. Also taking into consideration the Ravens' Week 3 win against the Patriots, a game in which Flacco completed eight passes of 20 yards or more, and fans in Baltimore are probably hyped at the possibility of taking down the Patriots again. The Ravens did it on the back of Rice in 2010 and by Flacco's arm in September. But I don't see that happening this time around. The Patriots have made the necessary adjustments on defense, particularly in tightening up the secondary, to fend off another upset. Devin McCourty has yet to take the bad angles we saw from Patrick Chung in Week 3 at safety. And Aqib Talib is a quality corner that can battle one-on-one with bigger receivers like Anquan Boldin. I fully expect to see McCourty playing over the top of Smith looking for those deep passes Flacco favors, and the game to be won in the trenches. The Patriots' run defense (No. 9 overall in the regular season) is my small cause for comfort. But I do expect this one to be close.
Straight up winner: Patriots
By the line: Ravens
FOXBOROUGH — The season has come to a close and the Patriots are the No. 2 seed in the AFC playoffs.
After a 28-0 pillow fight with the Miami Dolphins, I think we're all ready for a little better competition. But before we move on, let's looks at some of the key sticking points from Week 17′s matchup and in extension the season in review.
1) Rob Gronkowski's return reminds me of … — Super Bowl XLVI. If you recall, Gronkowski returned from an ankle injury suffered in the third quarter of the AFC championship against the Baltimore Ravens. He left the game, and afterward the status of his right ankle was the most guarded secret in Foxborough. Two weeks later in the Super Bowl, he was a shell of himself. He was targeted three times, catching two passes for 26 yards. By all means, he was a decoy. But even as a decoy, he was a worthy adversary. On Sunday, Gronkowski caught two passes for 42 yards, including a 23-yard touchdown in the fourth quarter. Gronkowski was again a shell of himself, hesitant to use his big left club when engaging defenders, running around holding his arm low to his body as if it were some billy club he was trying to protect. And yet he still was able to get open across the middle and catch a couple of passes. With a couple of weeks to get healthy, we only suspect he'll be tad less shy to get tangled up. But until then, the status of that left forearm will be the most closely guarded secret in Foxborough.
"It felt good," Gronkowski said of getting hit for the first time. "I mean, I haven't got hit in awhile. It's been a couple of weeks, about six weeks since I got hit. It's football. I was ready to get hit, I was ready to get knocked down. So you just gotta get back up and get back in the huddle. It felt good to be back out there."
Thank goodness nothing bad happened.
2) Patriots defensive line shows its depth — It may have felt like garbage time against the Dolphins Sunday, but we all actually got to witness the depth the Patriots have on their defensive line. They picked up a season-high seven sacks against the Dolphins with undrafted rookie Justin Francis leading the way with three. Brandon Deaderick, a backup defensive tackle, got his first sack of the season in the finale. Trevor Scott (1 sack) got in on the action, as did Vince Wilfork (1 sack). The output was a welcoming sign considering one of the most consistent pass rushers, Rob Ninkovich, left the game with a hip injury. Francis has been working hard to get to this point, impressing early in training camp and then continued to work hard after being inactive for the first four games of the season.
"It's just a blessing of God," Francis said. "It's been a long journey and the journey continues."
The Patriots have to account for the loss of Ninkovich, which will certainly be a blow. But with Scott, Chandler Jones, Jermaine Cunningham, and now Justin Francis emerging, the Patriots appear to be in good hands.
"I think we have a lot of depth defensively, on the d-line," Scott said. "We have a lot of different things we can do. And that's why we're so deep, because everybody is a little bit different. So we just try to put everyone in a situation to make plays.
"We don't know what's going on with Rob yet, but it's definitely a big loss. If I am that guy that's going to be going in, then I'm going to take it full steam ahead."
For all of my takeaways, view the original post on Boston.com's Extra Points blog.
You wouldn't know that the Patriots had won Sunday, judging by the mood and comments from the team. The Patriots won, 23-16, over the Jacksonville Jaguars, but it wasn't close to being pretty. Sunday seemed like a perfect day to get another win, avoid injuries, and coast into the playoffs. But we know that for Bill Belichick, looking past opponents is not his team's modus operandi.
With that in mind, here are some takeaways from the game.
1) Turnovers, turnovers, turnovers — The Patriots lead the NFL with a +23 turnover differential. They've now gone 26 straight games forcing either an interception or a fumble. It seems, more and more, that if the Patriots do not win the turnover battle, or in a case like Sunday's game against the Jaguars get a timely turnover, the team's chances of winning plummet dramatically. But despite the drama of Sunday's game, including two first-quarter interceptions by Tom Brady that put the Patriots in a 13-3 hole, that really doesn't bear out when looking back over the past two seasons. Dating to the beginning of the 2011 regular season, the Patriots have played in 17 games in which they have lost or were tied in the turnover battle. In those games, they've won 12. Coincidentally, they've played in 17 games in which they've won the turnover battle since that time, winning 14. While the drop-off in wins is real, as could be said about any team when they lose the turnover battle, there is a resiliency that has defined this Patriots team. One only has to look back at Brady's comeback bid against the 49ers last week. So while perfection is the goal, there is unnecessary fretting about the Patriots giving the ball up. They've proven to have fight in them, even when they're hurting themselves.
2) Stopping the big play on a big day — The defense changed significantly with the addition of Aqib Talib in the secondary. Kyle Arrington shifted to the nickel corner, Devin McCourty took up real estate at safety, Alfonzo Dennard occupied the right corner, and the Patriots' secondary appeared to settle down. But those pesky chunk plays of 20 yards or more kept coming. Since Talib was inserted into the lineup against the Indianapolis Colts in Week 11, the Patriots have given up 21 plays of 20 yards or more in the air. On Sunday, Talib was hobbled by a hip injury and Dennard was out with a knee injury as the secondary reverted to its early season form with McCourty and Kyle Arrington at corner and Patrick Chung at safety. The result of which led to a big day for Chad Henne, who threw for 348 yards and a touchdown. But surprisingly for the first time all season, the Patriots held an opponent to only two passing plays of 20 yards or more, a 53-yard catch and run by Montell Owens and a 36-yard strike over the middle to Jordan Shipley. So despite letting the game go down to the wire, and allowing Henne to lead the Jaguars to the 12-yard line with time expiring, the Patriots secondary managed to not let themselves get beat by the big play. It was a small victory in a day when the statistics and the play didn't necessarily matchup.
See all of my takeaways in the original entry on Boston.com's Extra Points blog.
The weird thing about covering the 49ers for my first time in the regular season, when everybody around you professionally and personally knows you've followed the team your whole life, is everybody expects it to be a big deal to you no matter if they win or lose.
I'm sorry but that's just not the case for me. Win, lose, or draw, it's all just work at the end of the day. That doesn't mean I don't enjoy a good game, so long as it is played well, appears fair, and ends at a decent time. Sunday's 42-34 win for the 49ers over the New England Patriots definitely fits the bill. At least partly. But I certainly didn't care which way the game went. I'm just glad I didn't have to watch the Patriots pounce on another team after they demolished the Houston Texans. That was atrocious.
For me, as a football writer and a fan of the game, what's most important is a high level of competition. Nothing is better than a good game with two worthy opponents going toe to toe. I'm not a fan of blowouts by any means. I'll leave that to the diehards who paint their faces. The 49ers wouldn't even be worth my time if they weren't such an interesting and dynamic team. I'd treat them like the Oakland Raiders if that weren't the case, out of sight and out of mind.
Instead, I think because I've written about the 49ers for more than 10 years now — in training camp, in columns for my previous newspaper, and on this site — my family and friends hold certain assumptions about whether I'm a fan or not. Even some colleagues may view me as a fan, although they would be wrong to do so. In fact, the conversation came up in the press box after Sunday night's game at Gillette Stadium. My response is a simple one, and it may be hard for some to understand: I like good football. I'd be remiss if I didn't find certain joy from watching the 49ers play well, or upset if they played poorly. But I feel exactly the same way about the the Patriots, the New York Jets, the Jacksonville Jaguars (who I have the unfortunate pleasure of watching this weekend) and every other NFL team.
For the Patriots, a team I'm paid to watch and write about, it's tough to see them play bad games when their opponents are clearly not up to the task. I feel like I'm in a perpetual state of rooting for the underdog, just to see a good game. That's not what I want. That's not what I want to go home and talk about.
For the 49ers, a team that my family and friends follow closely, it's all a regional thing. They are all my family and friends know, and there's nothing wrong with that. But I'm trying to do more with my football writing career than just following the 49ers, while at the same time remembering where I came from. So I pay attention while living 3,000 miles away and continue to write about a team that I have very little professional interest in.
It's hard enough to do what I do, trying to be creative, provide insight, and stay on the ball with all of the storylines for the Patriots, and then be questioned about who I'm rooting for. All I can say is the last thing I want to do is be bored to death. If anything, that's what being a fan of the game means to me. On Sunday, I got to catch one of the few good games in the NFL. I was happy about that.
I don't know what other kind of fan I could be.