Tag: Oakland Raiders
In a perfect world, I would've already expressed my concern about the San Francisco 49ers and the Oakland Raiders. That is, if concern is the most appropriate feeling. And I'm sure you'll agree, that's been the dominant feeling about both of those football teams for, oh, the last decade.
Instead, I've been busy doing Patriots coverage of the NFL draft over on the Extra Points blog for Boston.com. So excuse me as I continue my amateurish ways and hold off on posting something so immediately.
I think some post-draft analysis will be appropriate given the circumstances.
Until then, follow along on Twitter at @zuriberry.
So I wrote a little thing about Boston sports summer storylines knowing very well that this topic was going to come up. You know, Bay Area sports storylines.
Here, again, I'm dividing them by individual team. Now, because the Bay Area obviously has more teams than Boston, I'll just have to write more. But you know who comes first….
Read the full article »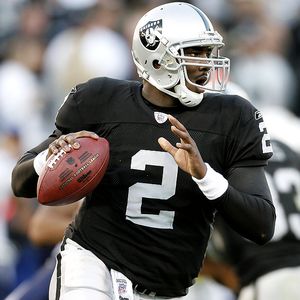 Only a couple of things really get me going. And when I get going, I'm inspired to write. Today's topic is the Oakland Raiders, who have been the butt of my jokes in multiple columns on this site and when I wrote for The Union in Grass Valley, Calif.
A simple question was posed today by a fellow sports writer on one of the many journalism list serves I take part in: Has JaMarcus Russell gotten a fair shake considering the state of the Raiders? (I'm paraphrasing.)
There were a couple of somewhat emotional responses to this, including my own. I hate the guy's play. I think he down right sucks, and I said as much in the e-mail thread. I've asked for permission from two individuals, Benjamin Bullock and Marcus Osborne, to quote their responses (and the initial question) so that you may see how the conversation went. I find it interesting to see how those in the newspaper and radio industry view the Refrigerator — inside and outside of the Bay Area bubble.
Read the full article »
Tom Cable
may be exactly what the Oakland Raiders need.
I had to think about it a moment before I realized that Cable, who allegedly punched out Raiders defensive assistant coach Randy Hanson, is going to get what he wants out of this franchise — for better or for worse. I'm leaning on better right now for a couple of reasons.
Wacky Al demands not only respect, but full efffin loyalty out of his employees. You can't sneeze without permission from this dude. It's that serious. And with a personality like that — a demigod as Tim Kawakami notes — you need to have a strong personality in order to deal with the rest of the organizational players. Hanson, who was notedly a disturbance last year for Lane Kiffin and who Kiffin wanted to fire at one point, is a victim of the territorial warpath. Cable is the big dog in the club house. He's marking his spot and all possible traitors are not welcome.

Does old Al really think this is going to be an easy process?
Does he really think that there's enough money in the bank to entice some young, foolhardy coach into the grasps of the Raiders' clutch?
He may fool them, but he won't fool me. And if I were an agent for some coach, I'd use any offer the Raiders put up as leverage for the next opportunity. You know, the job my client really wants.
There are tough days ahead for the silver and black. They have one coach, Tom Cable, who has been there in the aftermath of Lane Kiffin's ugly, very public exit. Cable should be heralded for his ability to steward the Raiders to a 4-8 record, especially the two straight wins to end the season on a high note.
Those were goodies.
But old Al is either getting greedy again, or putting up one helluva show for the coaching community. The interim portion of Cable's title just doesn't appear sexy enough for old Al. He wants better. He wants a winner.
Too bad he doesn't see that nobody wants him, or his degenerate franchise for that matter — except Cable.
The fact that old Al can entertain New York Giants offensive coordinator Kevin Gilbride for 90 minutes is shocking. I'm sure Gilbride is really thinking about the money. What's it gonna take? Two? Three million? No problem. The money will be wired to your account, Mr. Gilbride. Just sign this contract here with your blood and realize that you're giving away your manhood to be run by some skull and bones owner with his hands in your cookie dough.
No, for old Al to get what he wants — that being a winner — he's going to have to make concessions. Particularly, he's going to have to loosen his death grip on decision making and allow for the hierarchy of the organization to do its job. Sadly (OK, not really), he'll have to vacate his duties as general manager. I'm sure Raiders fans will welcome it. I'm not so sure I will. What will I write about?
But it's been obvious to anyone with a working pulse since 2004 that this franchise is incapable of operating in its current structure. There has to be some serious change or old Al will continue to hire and fire while collective Raiders fans step closer and closer to the edge of insanity. I'm afraid to say, old Al needs help. Let's try and help him.
There is one example, or blueprint of sorts, of a team that became wayward with its organizational structure that is now getting back on track: The Denver Broncos.
Yes, those hated rivals and curmudgeon bastards of the AFC West are a good example of what old Al needs to do. Because Mike Shanahan, bless his soul, won two Super Bowls while being the face, decider and the coach of the franchise. He was fired because he had full control of the franchise as it went 10 years — a whole decade — without winning a playoff game.
Broncos owner Pat Bowlen actually cried when he was dumping Shanahan. But he knew what was best for his franchise. He had laid the entire trust of his football operations into Shanahan's hands, and while racing away for two scores, still managed to fumble in his post.
Old Al has fumbled in his post. Old Al needs to fire himself. Old Al will never learn.
Any coach looking presumptively for employment at the Raiders already knows this. You know this. To move forward, old Al will have to budge. Cable will have to be respectfully employed and he will have to demand greater control.
I remain optimistically hopeful that these things will happen, but I reserve the right to be cynical knowing this old dog doesn't want to learn new tricks.
Cliché? Yes. Realistic? Most definitely.
This column originally appeared in The Union.

All I want for Christmas is a winner.
Kings, Warriors, 49ers, Raiders, Giants and A's, take notes.
You too, Sharks. You're not out of the woods yet.
When you step out, do so with the intention of winning. Nothing else. And when you plan for the future of your franchise, plan with the intent of winning. Nothing else.
If I hear about this false pretense of "rebuilding" one more time, I swear to the Lord almighty I will throw my television out the window and lead the rest of my days as a recluse in the Sierra foothills.
Why? Because I'd rather be ignorant of Northern California's collective incompetence than spare another second of my time on Earth being complicit in this buffoonery. It's either second place or the worst of the worst. And if history is any precursor, those that plan to rebuild are planning to fail. Just picture being a lifelong Cincinnati Bengals fan. Or how about an L.A. Clippers fan?
That's hurt.
And honestly, that's too much hurt for any one fan to handle. So instead of starting my own self-help group and letting my fantasy leaguemates get angry at me because I'm ignoring my duties as commissioner, I'm going for the Hail Mary.
Santa, you're a few years overdue and I suggest you pay what you owe.
Is it too much to ask that when one of our area teams takes to the playing field (listen up 49ers), that they attempt to win every game? I can't for the life of me remember a year in which there was more disappointment after acquiring so much talent to bolster team play. It's just god awful. I want people who want to be better than before and have the talent to do it. Then, back it up with a .500-plus season.
Saint Nick, you hearing me? Singletary?
I want, for once in my young life, to have a team proclaim that off years are no excuses for poor team play and spending less money on available talent.
You got that Maloofs?
I want the guy on my team that says "put it on my back, and I'll carry us." Tim Lincecum, are you the man for the job?
I long for a general manager that has a better selling season than book. (Yo Billy, stop acting like Mr. Bean and take care of business.)
I need a new owner and a new coach in Oakland — for the Raiders and the Warriors.
And I need the Sharks to not tank on the cusp of a Stanley Cup. Just when I was getting into watching hockey, it went south. That's unacceptable. Kind of like when I just got into watching golf, and then Tiger takes the rest of the year off. It's killing my mojo.
Santa, if for once you can do what you're supposed to do — bring joy to those that are good — then take heed here. I've paid for my fair share of tickets and memorabilia. And I've written about some of these teams way too much. Help a fan out that's two steps away from his tube.
It's sad that it has come to this, but I knew — for some reason or another — we were at this point. Maybe it was the collective surprise that both the 49ers and Raiders won on the same weekend. Or maybe, it was on Saturday, when the Grant Pacers football team did more for Northern California than the collective Bay Area teams have done in three years by beating Long Beach Poly for the state championship.
Those kids, their parents and the Sacramento region are swelling with pride right now.
I'm so jealous.
You can find this column and more on TheUnion.com.

From a column I wrote last week:
You're just going to have to get used to Mike Singletary barking at you on that TV screen because he's not going anywhere, anytime soon.
After the 49ers dropped the New York Jets, one week after downing the Buffalo Bills, there's a distinct flavor of football being formed in the San Francisco Peninsula. It's an unmistakable change from the random week-to-week strategy that was offensive oriented, unorganized and worse yet, a losing culture.
Now, with Singletary playing captain, Shaun Hill starring as first mate and Vernon Davis being a good sailor, there's a lot of positives to take from a tragic 2008 season.
Like pheromones, the Yorks will unknowingly, or rather ignorantly, enjoy the plunders of these non-essential, late-season wins. They'll look at the few wins they pick up and see justification for sacking Mike Nolan, justification for benching J.T. O'Sullivan, and justification for not going after another quarterback last offseason, and probably this upcoming one.
Singletary deserves the credit for bringing discipline. He's a pretty stern dude who has reinvigorated a defense that was not playing up to par. Holding Buffalo to three points showed that and holding the Jets (who had just beat the previously undefeated Tennessee Titans) to 14 proved that. It's very satisfying to see the defense play so well when they're supposed to, all the while understanding that you can't expect that performance every week.
To read the full column, go to TheUnion.com.
UPDATED: So the 49ers took a loss to the Dolphins this last weekend and I couldn't help but stew about that. It wasn't like there was something magnificent about what the Dolphins did, it was more about how magnificently anemic the 49ers offense was. They just couldn't get the plays when they needed 'em. I don't think all of the blame should be on the quarterback in this scenario. There's a lot of fault laying around that offensive line and the lack of running plays called.
The question is, if the 49ers are going to lose to the Dolphins, when they can clearly win the game, will they lose to the Bengals if they played today? I mean, this is the low of the low. Can they even beat the Raiders.

Maybe it was that first game (on Monday night of all occasions) where he lost his manhood to super rookie receiver Eddie Royal of the Denver Broncos. Or maybe it was the fact that he could never play man defense, getting prime time coverage in Atlanta in the Cover-2 defense the Falcons employ. Or, Al Davis could just be as crazy as I've been trying to tell you for the last five years.
Without an announcement, the Raiders waived Hall, thereby eating $8 million in losses. Can we say, bust?