Tag: sports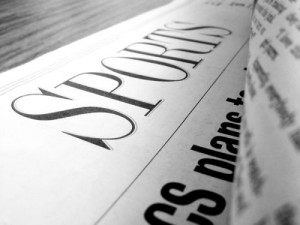 Editor's note: I wrote this weeks ago. Maybe a month or so. Unfortunately, time doesn't change my opinion here.
I've read one too many articles and columns denouncing the end of sports journalism. It's all hunky dory to reminisce about Red Smith and the good ol' days, hypothesize on the demise of each writer's talents and acceptable wordplay. But it is, after all, an over indulged topic.
Let's play a game. Name three types of stories you'll read in a newspaper every day. I dare you. Better yet, I'll up the ante and name a few myself and let you fill in the rest from the bowels of your brain. 1) A game story; 2) a profile of some sort; 3) Some news of some signing, injury, etc; 4) A box score or two; and 5) a column to boot. And in those profiles and columns, the featured persons or people are often pitted in some struggle, often up against odds, have overcome something, or destined to be chasing things like trophies, rings and a peaceful state of mind. There's not much else people care about, to be honest.
Read the full article »
Editor's note: This was originally posted on Addisports.com, headlined "Writing our online obituary."
Nobody's died. At least not a person. But in a few days, I'm going to end the life of AddiSports.com for reasons that should be apparent: I just don't have any time or energy for it.
This is very unfortunate because I kept thinking that with enough attention to the site and the proper love and devotion one would need to give in order to expand their online presence, it would grow into something fortuitous and possibly generate secondary income. Alas, that is still possible. But my time for such endeavors is not.
Read the full article »
On Tuesday, I started in my new position with The Union as the beat reporter for Nevada City, Calif. It's a switch from working part-time on the sports desk while being the online community manager. I'm now splitting time with the news desk while continuing my duties as the OCM.
This wasn't an easy decision. I love sports and I love covering the teams out here, especially come football season. Football is half the reason I got into sports writing. The lure of Friday night lights is what drew me to Nevada County. But I also realize I came to a point where I felt like I could make a real impact from the news side, reporting with an eye out for packaging multimedia elements. (Tonight, I'm going to be doing live coverage of the Nevada City Council meeting.) That's part of the reason why Jeff Ackerman wanted me to do this job, because he knows I have a knack for new media elements which can help broaden our appeal on TheUnion.com. And that really was the selling point for me because I still have plans of covering major league sports. This isn't unknown to Jeff or Brian Hamilton, The Union's sports editor.
In a sense, the geek half got the better of me. But that doesn't mean I'm giving up sports. Not now, not ever. I'm just going to move my column online to my long dependent sports blog, Addisports.com, where I've been opining on all things sports since 2005. (The archives don't reflect the date, unfortunately, because more than a few times I crashed this blog in the upgrade process. Thanks WordPress.) It's always been a place where I can write about the topics I choose, at the length I choose, and at the time I choose.
Anyways, the good thing is I'm still writing sports. The bad thing is, it won't show up in print. So if you're a reader of the column, or know a reader of the column, point your browser to http://addisports.com and subscribe for e-mail updates. I'll be hoping to keep up with the same cycle as before, meaning a column every Wednesday, with other posts throughout the week.
And if you're really keeping count of what I'm doing, and wondering aloud to yourself, how many blogs do I contribute to, the number is seven — From the Notebook, Prospector Underground, Sustainable Living, The Aggregate, Firewatch, here and Addisports.com. Crazy, right?
Technically, it's six, because I consider this my site and not a blog, even though I'm using a blogging platform. And with The Aggregate going to the wayside, a diminished role with Prospector, and Firewatch and Sustainable Living running itself, I really only have to worry about Addisports.com and From the Notebook, The Union's newsroom collaborative blog.
Down to two from 12. That's pretty good for the focus.
OK, two and a half.
But not from the New York Post.
We see this thing happen pretty often, especially to celebrities. I wouldn't call Andrews a celebrity (or any other journalist for that matter), but she's known as a "pretty face" for the World Wide Leader. But that doesn't take away from further sensationalizing the story, which is what the Post is accused of. The Post published three photos from the video, after it appeared on the internet in many places.
"While we understand the Post's decision to cover this as a news story, their running photos obtained in such a fashion went well beyond the boundaries of common decency in the interest of sensationalism," ESPN senior vice president of communications Chris LaPlaca said in a statement Wednesday night.
In response, ESPN has banned all Post writers from appearing on its network. Ouch.
Talk about bringing the hammer. Not sure how much this hurts because the WWL doesn't share what kind of contracts it has with writers of news organizations. Are they paid like Mike Wilbon, or are they doing it out of a means to promote themselves and their newspaper's brand? We really don't know.
On the other end, ESPN has been taking hits this last week because they would not even mention the Ben Roethlisberger case, in which he's been accused of raping a hotel employee in Harrah's. (The thing is, the accuser waited a whole year to just file a civil lawsuit — that's right, no criminal complaint — against Big Ben, Harrah's Casino and some of its employees. This was the main cause for ESPN to hesitate.)
While the accusations looked flawed with the absence of a criminal complaint, most observers have noted that it is still newsworthy.
I agree.
The Associated Press had reported on the issue when it arose, getting a quote from NFL commissioner Roger Gooddell and Roethlisberger's lawyer. So it was very weird to not see ESPN even mention it.
Talk about burying the news. Would Michael Vick, Pacman Jones or Terrell Owens have received such restraint from the WWL? I don't think so.
So on two different, totally separate fronts, ESPN is caught in these awkward positions to 1) do their journalistic duty as the WWL and 2) protect their own and uphold journalistic integrity.
Batting 1-for-2 when it comes to ethics, isn't exactly admirable.
–
Here's another good read on Erin Andrews being "pretty" from Viv Bernstein.
Erin Andrews has been wronged. Recent news about her being surreptitiously videotaped naked while in her hotel room, has warranted plenty of sympathy.
But the best days for the former prep athlete are always ahead.
I look fondly back on my prep sports days. They were tough, they were exciting and they keep me filled with memories that I don't believe will ever die. But what's more pivotal than any highlight reel rolling through my own head is the simple life lessons I derived from my experiences.
Hard work will never be underscored.
As the many prep athletes at our collective high schools matriculate to college or just move on to the next great challenges and engagements in their lives, I'm uncertain that the significance of this life-altering shift has dawned on the vast majority of graduates. They will all sorely miss the camaraderie of their teams and their schools, but this will in turn make them stronger and better people. Inevitably, they will have to look upon, as I did, their successes and failures and find some meaning from the following questions: Why the hell did I do all that running? What was the point in playing this sport for four years — at times, six days a week — and not moving on to the next level? Am I good enough to play college ball? Why am I playing college ball?
These are some tough questions and answers that each person has to ask and answer themselves. (Remember, you're not crazy so long as you don't argue with yourself.) The faster you get to answering those questions, the quicker you can determine some life goals.
For a long time, all I vied to be in school was a jock — until I became one. I still hate the idea of calling myself a jock, but that was how I acted; As if there were no other reason to be at school other than to take part in some athletic showmanship. I was in it for the love of sport and the girls that came with it. These are the confessions of a former prep athlete.
But as I went along that path for four years, I did not like the idea of being known for only one thing. In my case, it was for playing on the football team. I thought it was rather juvenile that I could be all of these things in my head — writer, actor, comedian, athlete, etc. — and yet be defined by the one. I am many things, but an athlete is not one of them. Sadly, most of our local kids will come to this realization too, if they have not already. For others, they have legitimate reasons to chase dreams of grandeur. More power to them. (I wrote about the football afterlife here.) But for all, there has to be a reason to get up every day and push dumb bells, run five miles, shoot 100 3-pointers or simply work 9-to-5. What is the inspiration, or better yet, motivation?
Let's cut to the chase.
Without discipline, hard work, and the knowledge of how teamwork can be successful, I wouldn't be where I am today. I attribute that directly to football. That's not something you can learn or replicate in many places outside of the military. It's what gives many a former athlete inspiration for what they do now, and what they know they can do in the future.
In the short term, most kids simply play in high school because their friends are doing it, they've watched enough of it on TV to spark some interest, or their parents pushed them into doing something for an extracurricular activity. In the long term, you do it because you love the game, you want to continue to play, to be involved or to pass on the love. I write about sports to pass on the love.
At one point, our 2009 graduates are going to have to decide how much they love their game of choice, and with that decision, how to utilize the non-athletic skills sports have given them. I contend that they'll be better off with whatever choice they make because of the simple life-long lessons. It's just a matter of when they'll cross that bridge with their decisions.
Editor's note: This column originally appeared in The Union.
Here I am, inspired by graduation season. It's all that potential for greatness that has me giddy. I think, without a doubt, the best memories from high school are the ones on the playing field.
Besides the seasons changing, I'm getting a little change of pace at my newspaper as I cover Nevada City, Calif., during the summer because a colleague is out on medical leave.
So instead of investing most of my time in Little League and digging up sports features, I'll be digging into the Nevada City budget and working on the metro side of the paper four days a week and continuing to handle sports duties one day a week.
All while still wearing my online community manager hat.
It's not too big of a change for me except the hours. I'm scrambling to adjust to the 9-to-5 grind after doing the 3-to-midnight. (That's still messing with my body clock.) I had a great opportunity to help cover the city of Oakland a few years back when I was with the Tribune, doing mostly crime and general assignment work. So I'm a bit prepared for this kind of duty. (It was between multiple bouts of sports writing for various newspapers.)
This time around, the stakes are a little higher. (When I was in Oakland, I was helping cover the mayoral election in which Ron Dellums was seated.) With the ongoing state budget issues, municipals like Nevada City — and even Grass Valley — have to worry about the particulars of where its money is going and how the books are balanced. Nevada City passed its budget Wednesday night to little fanfare after increasing its water rate 8 percent. I wrote about that for today's paper.
Looking ahead, the city will have to account for Gov. Arnold Schwarzennegger's plan to take $120,000 in local funds in his proposed budget. It'll be an ongoing issue which probably won't be resolved during my tenure covering the city as the state legislature has not passed a budget on time (June 30 deadline) in many years.
Otherwise, it should be fun to work in the A section for a bit. I'm looking forward to making more connections in the city and this will give me a great opportunity to do that.
Bill Simmons, one of my favorite writers, has always been hesitant to give bloggers credit where credit is due. Although he did go to bat for the genre against ESPN colleague Rick Reilly in a podcast. In his latest magazine piece online today, he breaks down his thoughts on why athletes are cutting out the middle men and women — journalists. Mainly do to blogging and the evolution of Twitter, he envisions a world with more fluff pieces like the new Kobe Bryant documentary.
Here's a sample:
You get the idea. We learn nothing from today's superstars beyond the spin. Take Spike Lee's upcoming Kobe Doin' Work, which could be headed for an Oscar next year — not for best documentary but for best actor. Blanketed by 30 cameras covering his every move during a 2008 game, Kobe tries to be funny, supportive, helpful, charming … really, there hasn't been a performance so convincing since There Will Be Blood. I nearly impaled myself with a Twizzler near the end, when Kobe jokes on the bench with Pau Gasol (who has an "I didn't even know Kobe knew my name!" look on his face), followed by Spike's cutting to Kobe's kids holding MVP signs. I had to take a postmovie shower.
Check the the column out for yourself here.
And for giggles, check out the trailer for Kobe Doin' Work below.
From the Columbia Journalism Review:
In the 1920s, The New Yorker published a piece that declared sports a "trivial enterprise" involving "second-rate people and their second-rate dreams and emotions." The magazine went on to concede, however, that "the quality of writing in the sports pages is, in the large, much superior—wittier, more emotional, more dramatic, and more accurate—to the quality of writing that flows through the news columns." Indeed, many of the greatest writers in journalism—Grantland Rice, W. C. Heinz, Jim Murray, Red Smith, to name but a few—found their home on the sports pages. Sports are big business and they have big themes: physical and intellectual tests, joy and heartbreak, hope and perseverance, teamwork and individual transcendence. The games and characters are ripe for vivid storytelling, and philosophic discourse about human nature and our culture. They are also part of a multibillion-dollar industry in need of dogged watchdog journalism.

But since the mid-1990s, two forces have diminished classic sports writing. First, television coverage in general has expanded, making hype and the sensational aspects of sports dominant. ESPN became a cultural and media juggernaut, sending fans to SportsCenter for highlights and scores, rendering game recaps and box scores in the next day's newspapers obsolete. Newspapers gradually began reducing the size of game stories, dashing the more literary ambitions of their writers. Many of the more stylish writers migrated toward higher-profile and better-paying radio and television gigs, and the faster news cycle created a sports world in which the best reporting started getting sliced into smaller stories. It used to be that a star writer like Red Smith would cover the games and put all of his reporting into a substantial game story or one of his columns. "Red Smith was my inspiration to get into sports writing," says Buster Olney, a senior writer at ESPN The Magazine who spent six years at The New York Times. "You read his writing and said, 'Wow!' Today, in four-hundred words you can get the basic details of the game story, but you miss the details and the anecdotes. It's interesting, and important, to know how the players and managers think, why they made certain decisions. That's the cool stuff, and it's getting lost."
Read the full article on their Web site please. It's a good relevant question, that actually needs to be posed at the entire industry. But I imagine, this is what magazines are for. I doubt the writer, or for that matter any writer in the newspaper business, considers this.
I've actually been thinking about the development of my writing. It's occurred to me that it's very hard to develop anything if there is no time to do so. I could relegate myself to being a tired old (young) journalist with too many tasks to handle in one day, but that would be a sorry excuse. A false excuse. I think the journalist in me wants to have hard hitting pieces to work on every day and the writer in me wants to wallow over pieces, sentence construction and the general minutia of ink stains. It's hard to differentiate, especially when there's more more pressure, as noted in the article, to pick up on every piece of crap and assemble it asap for the web. I like to pick and choose. That's part of the reason I have this blog and my sports blog. It's a way for me to write about the things I want, at the time and pace I want. Let the newspapers figure out their mission. I already know mine.
NYE Resolution No. 1: Write more for myself …