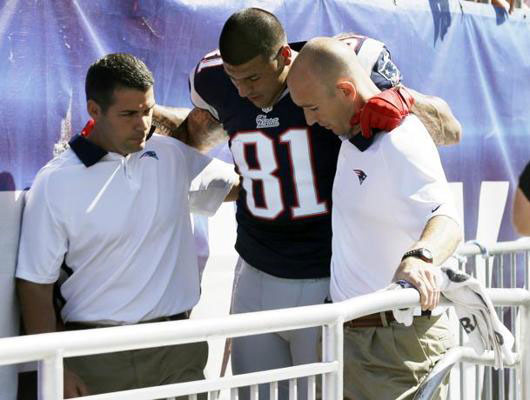 FOXBOROUGH — The Patriots' loss to the Arizona Cardinals highlighted a number of evolving issues with this team, from Wes Welker's role and the offensive line's struggles to the team's offensive execution, and Ras-I Dowling's place on the defense.
Let's get right to it.
1) The offensive line had a tough time — Nate Solder appeared to fix any problems from last week against the Titans in a solid effort. But the Patriots' interior linemen were having a difficult day dealing with the likes of Darnell Dockett and Calais Campbell. Campbell had 10 tackles and two sacks, manhandling guards Donald Thomas and Logan Mankins at times. Cardinals lineman Sam Acho also got loose for a 10-yard sack and had a tackle for a loss. Afterward, Thomas was obviously not happy with his performance.
"I mean, the game plan was to control those guys up front," Thomas said. "They got a good line. We just had to execute really better. They played well today. I can't take anything from them.
"At the end of the day, we just didn't execute well enough to win the game … I'm my hardest critic. So you know, I look at all the plays I had. I'm gonna go back and take a look at them. Since I've been playing football I've never been satisfied with the way I've played. I'm certainly not satisfied today. I'll go back and just try to get better each week."
2) With Aaron Hernandez's injury, Wes Welker filled the vacuum — Welker was looking at another down day after Julian Edelman started and Welker stood on the sideline in the team's base offense. It wasn't until Aaron Hernandez went down with a right ankle injury that Welker's snaps picked up. He ended up being targeted 11 times, catching five passes for 95 yards. He took the franchise lead in receptions. When Tom Brady needed a huge pickup, he was looking in Welker's and Rob Gronkowski's direction. It's safe to say that Hernandez would've picked up some of those plays. It's also safe to say that Edelman, who had a terrific offseason, deserves some increased playing time. But it's befuddling that Welker was initially minimized.
"Aaron is in there almost every play, so [the offense] changes quite a bit," Welker said. "You have to go to a different attack and go out there and play the way we need to and execute the way we need to and today just wasn't enough."
For the rest of this post, visit the Extra Points blog on Boston.com.