Tag: writing
As much as I hate going so long without posting to my website, this period of inactivity happens to occur every year around this time for a particular reason. Why? Because of March Madness. Unfortunately I'm not talking about the men's college basketball tournament. I'm talking about the Massachusetts high school Super 8 hockey tournament, the boys' and girls' basketball state championships, and the end-of-winter projects like All-Scholastics at the Boston Globe. It makes for quite a rigorous month, with many days logging 12, 13, 14 and 15 hours. So in a nutshell, I can only handle so much blogging at work before neglecting my personal site.
It's a give and take I'm still working on.
With that said, it's been quite an enjoyable month because of the work my colleagues and I have done. We're going into the month of April having navigated another demanding season by providing dynamic, timely, and news-oriented features for our readers. Our live blog on Boston.com of the Super 8 tournament was wildly successful, as was our live coverage of the state high school basketball championships. The tool of choice, Scribble Live, has certainly made our lives easier for event coverage.
In April, I get to turn the page a bit and focus on the Patriots more before the NFL draft. I'm currently in the throes of a month-long series scouting prospects that would be a good fit for the team. You can find my entries on Boston.com's Extra Points blog. But I'm also developing some other features that I think will be awesome for our offseason coverage.
What's great about all of this is that I'm back to writing every day. Not just every other day or some days of the week, but every single day. I'm at my best when I'm writing often. And that means April looks good too.
This is the tough part of the year when this blog gets pretty inactive. Football is over and there is no longer a sense of schedule and rhythm to hold myself to every week.
Instead, I try to latch onto whatever national news there is, journalism topic of interest, or cultural snafu worth whining about. But that's never come with regularity for me, hence the trepidation about what to do this winter and spring.
I feel like this is a great time to start writing about basketball again. Basketball is an early love of mine. Second to baseball and before football, I spent many an hour studying the game and playing it. One could argue I've written some of my best work snooping around the hardwood. It comes natural for me.
On the other hand, I know the danger of starting something and not being able to finish. And when I write finish, I mean continue the activity with consistency and timeliness until it's done. There's only so much time in the day and only so much I can do without taking away from my work. Paychecks come first.
Then there's the prospect of a new baseball season starting. In my dreams, I'd follow a team throughout the year and write a recap for all 162 games. It's something I've never been able to follow through on but I've been dying to do since 1995 when I caught every single San Francisco Giants game. (Caught my most SF Giants games since leaving California last season en route to their World Series win. How many? About 40. Ha. Thanks At-bat.)
Between basketball and baseball, I'm sure my attention won't waver. But I'm not so sure my will to write will be as strong, particularly with the many commitments I have as my schedule changes. That's something that won't go away. When the seasons change, so do my time and ability to do different things. Certainly not extended essays or commentary. That is the definition of impossible for me. And the time it takes to do full-blown newspaper commentary right is out of the question.
So what then? What to do, what to do?
Thinking out loud here (which is what you should be prepared for because you're on my site), this is a great opportunity to introduce a new series in this space: One thought.
For every game I watch, regardless of sport, I'm going to offer one thought, or takeaway, on what's occurred. I can only imagine what my dominating thoughts are for the Celtics. Whether that be Kevin Garnett acting unruly again or Doc Rivers' rotation choices (a large source of my ire).
The idea here is that my one thought should take no less than a few paragraphs. But it can be longer. It can also be very short. Even one sentence — or tweet. It can also be sporadic. It most definitely can be bigger than pro basketball and baseball. It could even be high schools related.
Whatever it is, I think you'll get an idea of how many games I actually watch and attend in a year's time. It's something that needs to be represented here and hopefully you'll enjoy these short bites while I wait until the football season begins again. Of course, I still have thoughts on Super Bowl XLVII to come, including my pick. So there's that. But at least now I can say there's more to come. In fact, expect my first thought really soon.
The weird thing about covering the 49ers for my first time in the regular season, when everybody around you professionally and personally knows you've followed the team your whole life, is everybody expects it to be a big deal to you no matter if they win or lose.
I'm sorry but that's just not the case for me. Win, lose, or draw, it's all just work at the end of the day. That doesn't mean I don't enjoy a good game, so long as it is played well, appears fair, and ends at a decent time. Sunday's 42-34 win for the 49ers over the New England Patriots definitely fits the bill. At least partly. But I certainly didn't care which way the game went. I'm just glad I didn't have to watch the Patriots pounce on another team after they demolished the Houston Texans. That was atrocious.
For me, as a football writer and a fan of the game, what's most important is a high level of competition. Nothing is better than a good game with two worthy opponents going toe to toe. I'm not a fan of blowouts by any means. I'll leave that to the diehards who paint their faces. The 49ers wouldn't even be worth my time if they weren't such an interesting and dynamic team. I'd treat them like the Oakland Raiders if that weren't the case, out of sight and out of mind.
Instead, I think because I've written about the 49ers for more than 10 years now — in training camp, in columns for my previous newspaper, and on this site — my family and friends hold certain assumptions about whether I'm a fan or not. Even some colleagues may view me as a fan, although they would be wrong to do so. In fact, the conversation came up in the press box after Sunday night's game at Gillette Stadium. My response is a simple one, and it may be hard for some to understand: I like good football. I'd be remiss if I didn't find certain joy from watching the 49ers play well, or upset if they played poorly. But I feel exactly the same way about the the Patriots, the New York Jets, the Jacksonville Jaguars (who I have the unfortunate pleasure of watching this weekend) and every other NFL team.
For the Patriots, a team I'm paid to watch and write about, it's tough to see them play bad games when their opponents are clearly not up to the task. I feel like I'm in a perpetual state of rooting for the underdog, just to see a good game. That's not what I want. That's not what I want to go home and talk about.
For the 49ers, a team that my family and friends follow closely, it's all a regional thing. They are all my family and friends know, and there's nothing wrong with that. But I'm trying to do more with my football writing career than just following the 49ers, while at the same time remembering where I came from. So I pay attention while living 3,000 miles away and continue to write about a team that I have very little professional interest in.
It's hard enough to do what I do, trying to be creative, provide insight, and stay on the ball with all of the storylines for the Patriots, and then be questioned about who I'm rooting for. All I can say is the last thing I want to do is be bored to death. If anything, that's what being a fan of the game means to me. On Sunday, I got to catch one of the few good games in the NFL. I was happy about that.
I don't know what other kind of fan I could be.
That's why as the football season gets ready to start there are a number of things I'd like to highlight personally so folks understand what my role is at work and at home.
In general, my personal goal is to write more this year than I did last year. I'm already on my way with a number of posts on the Extra Points blog. I think I have the formula in place that will help me to continue to do that. It's called tiger blood … a.k.a. 5-hour energy.
I feel like I'm starting this year on the right note. My energy is higher than it's been in a long time and I'm clear on what my goals are: Be everywhere and outwork everybody.
Did you see the World Cup final? Japan, victorious and smitten with their World Cup trophy above, beat out the Americans in an amazing match of wills and endurance. It was very enjoyable game. The US dropped its first three penalty kicks as Japan nailed three out of four to clinch the win.
But if you asked me to break it down for you — the game play, that is — I'd look like a moron.
Here's the thing: I've covered a few hundred soccer games. Tons in high school and college; and now a handful of pro games. I've probably watched a ton more. But I'll never consider myself an expert of the beautiful game. I am a casual fan, not much more. If you were to start a conversation about soccer strategy, soccer rules, or anything of the sort, it'll likely just hurt my head. I'm that kind of fan.
Read the full article »
Until today, I hadn't written a non-game oriented feature for a newspaper in almost two years. I had this silly idea to write about a school that gets a heckuva lot of publicity as it is. But they're too good to ignore. The school, St. John's Prep in Danvers, Mass., has won seven state championships in the last year. They're success is so prolific that it's practically controversial — at least according to the comments on the story.
(BTW, I really am trying to learn this whole thing about not reading the comments on my own stories. It's tough though. I generally want to take part in the discussion, but folks online are so nasty and generally grumpy that it messes with my positive vibe. So I'm conflicted.)
But more than anything, this school is successful because they care about all of their athletic teams. That's why the fencing, sailing and rugby teams are defending state champions. And it's why its Catholic Conference rivals have to worry about them every year in football, hockey, basketball and baseball. That kind of balanced success is a model I think is very difficult to copy, but thanks to the relative wealth of the private school (tuition is $18,695) and its funding prowess, they've made it look easy. So it made for an interesting story.
I'm sure there will be detractors to what's written, or quoted in some instances. But let's call it like it is: St. John's Prep has haters. That's how it is when you're a powerhouse. When you're on top, like St. John's Prep is year after year, you're bound to attract the worst in people.
I got to blabbing on Twitter a week or so ago about sports writing and what it takes to be different and good and all that jazz. And then I got to thinking, who are my Top 5 sports writers. So I wrote this up and then slept on it. I didn't want to put this up without actually being sure I felt this way about these writers. And I'm glad I did, because I switched it up.
Here's the kicker, I don't think anybody can take away from any one particular writer I didn't choose either. There's a number of fellas (and ladies) I read but I'd never put on this list because I don't agree with their viewpoints. Or, in some rare cases, I think they're too big for their britches. Pretty much, they're assholes. It's unfortunate but we have a lot of those guys in our business. Some of the guys below, I've never met before. Some, I have. I'm not sure if that matters.
1) Tim Kawakami, San Jose Mercury News — His Talking Points blog is probably my most read sports website outside of my Boston.com/ESPN/Yahoo peripherals. He hits on all of the important topics in the Bay, including the never-ending quarterback drama with the 49ers, the dysfunctional nature of the Oakland Raiders and the surprising but not so surprising rise of the San Francisco Giants. He conveniently ignores the San Jose Sharks and Oakland A's. Rightfully so.
(Readers may also note that it was Kawakami who was the source of outrage for an Oakland Raiders executive whom threatened him with bodily harm in the Lane Kiffin days. Oh, those were the good days.)
2) Ray Ratto, Comcast SportsNet Bay Area / CBS Sportsline — In the Bay Area, Ray Ratto has the reputation of being a hit man. His columns often hammer sports figures. But his wit is unmatchable in the San Francisco sports scene. He's much more of a reflective humorist, which is in great contrast with Kawakami who is issue-oriented. It was sad to see Ratto leave the San Francisco Chronicle, but I imagine Comcast is giving him opportunities he never had to begin with. Note: I don't read him on Sportsline.
3) Bill Simmons, ESPN.com — Where do I start? Before I came to Boston, before I worked in Boston media and before I ever cared to read one story about the Red Sox, the Patriots and the Bruins, I read the Sports Guy. Not for any of the aforementioned, but because of everything else. I actually enjoy his fanaticism, his often extended parenthetical side notes, and, yes, his references to Teen Wolf. He's enjoyable and his humor is expressed well in writing.
4) Dan Shaughnessy, Boston Globe — Great originality from Dan in each and every column. Besides being one of the local guys for me now in Boston, I was pleasantly surprised by his forcefulness on issues and his gumption. He doesn't hold punches when he sees fit and he pretty much epitomizes Boston sports media. There's not much to dislike about him.
(Also, it's kind of weird how Boston sports fans are split up 50/50 on liking Shaughnessy. There isn't a better example of a lightning rod than Dan. That paradox humors me as well.)
5) Tony Massarrotti, Boston.com — Now probably known more for his radio show on 98.5 The Sports Hub, Tony Massarrotti is an absolutely excellent writer. I can only imagine what he could bring to the table if he zoned in on national topics more so than the Red Sox, Patriots and Celtics. But I also believe it's his undeniably deep knowledge of the Sox that makes him a must read. Going through his archives is a good way to pick up on all trends for the laundry. Note: He doesn't write for the pink hats.
There was a time when I used to turn to ESPN's Scoop Jackson for a fix, crave for the professionalism and care from Fanhouse's David Steele (also formerly of the San Francisco Chronicle), and L-O-L along with the L.A. Times' TJ Simers. (He's certainly on a number of "dead to me" lists.) I just don't read those guys that much anymore. Victims of a busy reading/writing schedule. There are others the pique my interest, Michael Wilbon for one, but I truly do believe in local writers over national guys. And seeing how I've never lived in DC, I didn't give the superbly talented Wilbon much of my time. But I'm sure I would if I did live there. DC folks are lucky. As are New Yorkers with Mike Lupica, and Michiganders with Mitch Albom. I never read these guys, but I respect the influence they have.
At home, I have Jim Murray's book, "The Last of the Best." It's an anthology of his columns for the L.A. Times. When I was in college, I took part in the L.A. Times' Jim Murray Sports Journalism workshop, where I met a number of individuals who are now reporting across the country. But it was also my chance to meet Bill Dwyre, Dave Morgan (now at Yahoo), Simers, Bill Plaschke, Mike Brennan and get exposed to Murray's work. It's one of the few sports books I go back to because of great shtick Murray was able to churn out. He had the humor column down to a science. I see Bill Simmons when I re-read Murray's columns. But I also see a bit of prose that is often overlooked and often underutilized. Short sentences. Clear language. Anecdotes. Life lessons.
The best sports writing, in my mind, encompasses all of Murray's characteristics. That's easy to say, hard to repeat.
Who is on your list?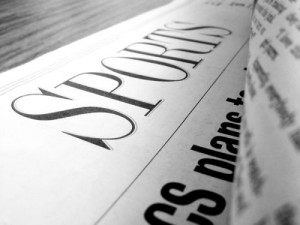 Editor's note: I wrote this weeks ago. Maybe a month or so. Unfortunately, time doesn't change my opinion here.
I've read one too many articles and columns denouncing the end of sports journalism. It's all hunky dory to reminisce about Red Smith and the good ol' days, hypothesize on the demise of each writer's talents and acceptable wordplay. But it is, after all, an over indulged topic.
Let's play a game. Name three types of stories you'll read in a newspaper every day. I dare you. Better yet, I'll up the ante and name a few myself and let you fill in the rest from the bowels of your brain. 1) A game story; 2) a profile of some sort; 3) Some news of some signing, injury, etc; 4) A box score or two; and 5) a column to boot. And in those profiles and columns, the featured persons or people are often pitted in some struggle, often up against odds, have overcome something, or destined to be chasing things like trophies, rings and a peaceful state of mind. There's not much else people care about, to be honest.
Read the full article »
This is pretty much how I felt when I was thinking about all of the things I do and whether or not they were leading me to the goals I wanted to achieve, eventually spurring me to shut down Addisports.com.
So watch the video below. But bloggers, do yourself a favor and check this man's website. The original post is here.
Television news and political commentary has become more and more out of bounds from mainstream thought and discourse, in my opinion. And it's a good reason why I have given up on watching almost altogether.
But here's the thing, I still turn on the TV for practically everything else. And I realized, ever so slowly, that my No. 1 enemy on a day-to-day basis is not the clock, but the television.
Oh, it romanced me with scenes of carnage and explosions (24), and it wined and dined me with comedic flair (South Park, Family Guy, etc.). And when I needed a dose of reality as perceived by urban America, it was there for me too (Southland, The Wire, etc.). And, finally, when I am implored to be wary of the news necessary for my job, ESPN and the locally run New England Sports Network (NESN) provide good background chatter.
But at the end of the day, the TV once again robs me cold, blind and stupid.
Read the full article »