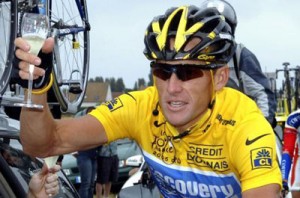 The best part about being a reporter is getting the scoop on a story.
The worst part about being a reporter is seeing your hot scoop go cold because some other news organization reports the story better and basically takes over your initial hard (or lucky) work.
It's the life in the news business. You win some, and you lose some.
I think I got lucky yesterday when I received a phone call close to 10 p.m. from Tour of Nevada City owner race director of the Nevada City Classic Duane Strawser. He was just calling me back after I had made some inquires to him about some chamber of commerce issue (which he sits on as the president).
By this time, I had heard a rumor from pretty good source that Lance Armstrong and Levi Leipheimer were possibly racing in the Nevada City Classic, bringing some super star power to the event. I scrapped whatever thought I had about the chamber and asked Strawser what was going on. He provided the confirmation I needed to sound the alert in the newsroom, but that wasn't satisfying enough. So I took a shot in the dark by sending him at tweet. OK, two tweets. One before I talked to Strawser and one afterward.
Rumor has it that @lancearmstrong is coming to the Tour of Nevada City and the Reno race … can I get a confirmation please?
And:
Rumor somewhat confirmed … @lancearmstrong coming to Nevada City for Tour of Nevada City Classic… apparently, it's down to logistics
I'm sure this was pretty good theater for whoever was paying attention to me at 10 p.m. on a Monday (1 a.m. for you east coasters), but it was definitely a calculated move to see if Armstrong would actually respond and confirm. I mean, why not try? It's like I can text him myself and he can choose to respond like some girl I'm trying to date. There's no sense of failure.
Anyways, he actually responds within the hour:
fact.
That's it. One word. That's all it took to set in motion a hurricane of folks hounding Strawser for interviews, the million or so followers of Armstrong to repeat the rumors and all the while me calling every airport within the vicinity to see where he's gonna land. Two tweets later from Armstrong and almost 17 hours, he delivers this gem:
Race update – @levi_leipheimer, @hornerakg, and myself are racing the Nevada City Classic next Sunday. A great American race!!!
What this really shows me is the power of this tool. Just like with the invention of caller ID, Armstrong can pick and choose when to respond to the communication, but you know what, it's still a direct form of communication. Because of that, I was able to build a whole story about his tweets to race in the classic, as well as Levi's, for my newspaper. If that's not Web 2.0 reporting, I don't know what is.