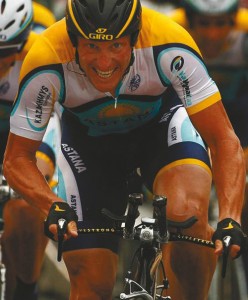 All it took was a tweet to set Nevada City abuzz.
Lance Armstrong, Levi Leipheimer and Chris Horner of the Astana Cycling Team will bring their star power to Nevada City, taking part in the 49th annual Nevada City Classic this Sunday, Armstrong confirmed Tuesday.
Armstrong, the seven-time Tour de France winner and noted cancer survivor, made the announcement on the popular social networking site Twitter, writing: "(Leipheimer), (Horner), and myself are racing the Nevada City Classic next Sunday. A great American race!!!"
News of Armstrong and Leipheimer's possible participation first surfaced Monday, as race director and Tour of Nevada City Bicycle shop owner Duane Strawser fielded telephone calls and exchanged e-mails with the Astana team manager to work out logistics.
Strawser had been helping the team decide at which airport to land for its chartered flight; the airport remains undetermined.
Since then, questions have streamed into Strawser from regional and national media outlets, wondering whether famous riders will show up.
Leipheimer, who won the Nevada City Classic in 1998 and is the three-time reigning Tour of California champion, helped quell the unrest on Twitter.
"Yes, we, (Armstrong), (Horner) and myself will be racing the American classic Nevada City on Sunday," Leipheimer wrote. "This is one to come watch, party.
"I'm excited to see Nevada City again, it's been 11 years since I've done it, in the beautiful Sierra Mountains of (Northern California)."
Armstrong's manager called Strawser early Monday to set up a charter flight into the Nevada County Airport, just east of Grass Valley on Loma Rica Road. The famous cyclist has previously raced in the Nevada City Classic on a number of occasions, finishing second in 1991 to Chris Huber.
"We are excited," said Cathy Whittlesey, executive manager of the Nevada City Chamber of Commerce.
She, too, has been fielding endless phone calls about Armstrong and Leipheimer from media and interested residents.
"It's been a whirlwind," Whittlesey said. "We expect it will draw a lot more people than what we were expecting before. I've had people tell us that they weren't going to come to the race before and are now coming.
"We need this here," she said. "It'll bring some life to Nevada City."
The news brought a smile to local business people.
"It's good and it creates more of a draw," Friar Tuck's bar manager Ernie Hosopple said, reminiscing about Armstrong's last visit. "And I think it helps with the Tour of California."
Strawser noted the impact of the stars' presence will more than likely boost businesses outside the community.
"The problem is, our hotels are already sold out, so outside businesses will benefit," Strawser said.
"But this is going to be a great test for the Amgen Tour of California. If we can handle this, we can handle a stage for Amgen."
Nevada City residents who are not accustomed to observing the second-oldest bicycle race on the West Coast are finding themselves drawn in by the star power as well.
"I haven't really picked up on it before," said Nevada City resident Douglas Depew. "I guess I've been busy or something."
Thinking about catching Armstrong in live action, Depew said, "You can't beat that."
Editor's note: This story originally appeared in The Union.