Recently, I ranted about how Google is taking over my life. This is still very true. And in continuance with this, my time on the internet is now in competition between three different Web sites: Gmail, Google Reader and Google Calendar.
How sad.
But I've come to realize that beyond my dependence on Google (don't let me down guys) is something deeper: These three tools have saved me. Let me explain.
The journalism and newspaper industry requires me to be an expert task manager. That means the tools I use to keep track of my tasks have to be top notch. Considering that I was using Microsoft's Entourage (the Mac version of Outlook) to manage all of my work e-mails, work tasks, projects and my everyday calendar, I thought I was set.
Enter my Blackberry.

I cannot describe in full honesty what having a smart phone means to me, other than that not having this miniature computer within 5 feet of me at all times is cause for an anxiety attack. Pre-Blackberry, I was not a mobile journalist. The best you could get out of me was 140 characters for that uber cool Web site everyone seems to be talking about. Post-Blackberry, I've turned into a raging multimedia evangelist who can't help but think of the next opportunity I'm going to be able to use my Qik account.
I can give countless examples of how having a Blackberry has saved a story for me, or better yet, helped me make deadline. (Like the time I got kicked out of Kinko's because it was closing time and I still needed to file my box score for a gamer I had been writing. That's right, my Blackberry stepped up to the plate big time.) But the important part is that it changed the technology for me, opening up doors to synchronize my work life and my personal life. I guess that's also when the tech problems started.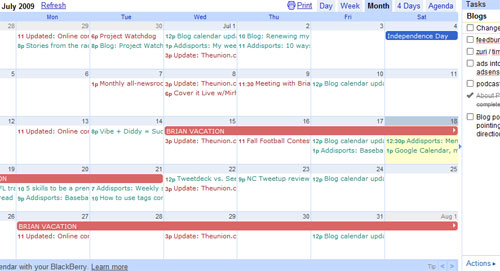 As I've stated before on this site, for reasons I do not understand I could not get my my work e-mail to sync onto my phone. In conjunction, my work calendar didn't work either. That was a perfect opportunity for an application like Google Calendar to step up, with the option to import all of my distinctive calendars (I had three at one point) and sync them to my phone with one of Google's handy applications.
This is a reoccurring theme. I have a problem; Google fixes my problem.
In college, working for the campus newspaper The Orion, staffers received forwarded e-mail addresses for their use, such as zberry@theorion.com. The point was to send the e-mail to your personal account, or where you would likely check your e-mail without having to go through the trouble of saving server space for someone who would be gone in a semester or two. (Thank you, College Publisher.) But the downside was that weird folks, or those that were just mad at me for something I'd written, would get my personal e-mail address if I chose to respond. Enter Gmail, which allows you to appear to send e-mail from addresses you own. Again, a perfect fix for the issue at hand. Nowadays, Gmail is more like an e-mail aggregate, allowing me to import e-mail from this site as well as my sports blog site, all into one account. I literally only have one place to go for everything while I have more than 10 addresses in my name. That fixes a problem.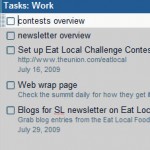 I guess my point is, every time I needed a solution, or a new way to be efficient, Google threw me a lifeline. And I highlight these things because they may provide solutions for others as well. Just this week,
Google Tasks
was released from Beta (Labs) into Gmail. Same tasks as Google Calendar, now available in four different places to edit and view. Again, another solution for me and possibly for you.
(Now all they have to do is sync those tasks with my phone and I'll be super efficient.)
I'm really wondering if other portals like Yahoo! and MSN are taking notice to these things? With the rise of Bing, can we ever expect serious competition?