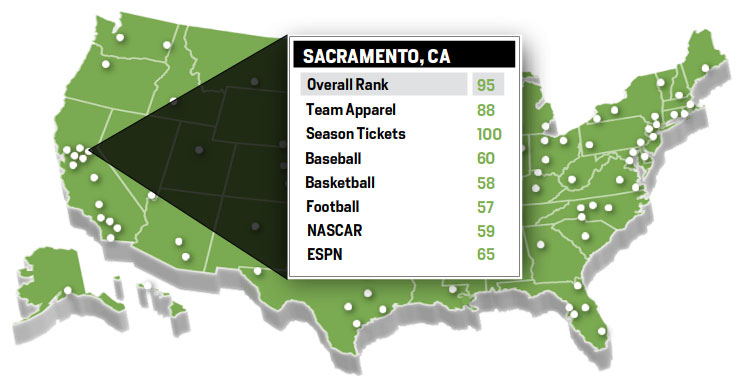 A few weeks ago I received an e-mail from a person representing
Men's Health Magazine
about their July/August issue in which the magazine ranked America's top sports towns.
My hometown of San Francisco was No. 39 on the 100-city list, with a grade of C+. But the whopper I noticed on the list was Sacramento, which was a dismal No. 95, getting a grade of F. Other, probably more notable, cities to get that grade were Orlando, Fla., Miami, Fla., and Newark, N.J.
The list was based on a couple of factors: Who's looking to purchase tickets to games and sporting events, who is buying team apparel and who responded to calling themselves a "fanatic" in a survey done by Scarborough Sports Marketing.
The No. 1 city on the list was Arlington, Texas. Shocking, I know.
This kind of reminds me of ESPN's Title Town campaign, where Valdosta, Georgia won for its "high school tradition, young but powerful Division II college football and overwhelming spirit."
It's hard to argue these things when you know towns like Valdosta just had everyone jam ESPN's servers and vote the crap out of it. But Men's Health is different in this regard. It actually did some evaluating and selected the cities and towns on its own. Which leads me to a very simple question: How can anyone argue for Sacramento to be any higher than 95th?
Let's take a look at reasons why Sacramento is probably so low:
The Sacramento Kings suck. With a stadium that seats one of the NBA's lowest figures (17,317), there were many nights when the purple and black barely touched 5,000 because of an 88-158 over the last three seasons and an atrocious 17-65 season last year. All is quiet on the fandom front, with the faithful holding it down for next season hopes.. Rocking a Kings jersey right now, is not cool. Not cool, man.
A lack of a second major franchise. How can Sacramento compete with the only major franchise in town of the four professional sports leagues is the Kings? There's just no way possible. Add on to the fact…
There's no major Division I schools in the area. Sacramento State ain't cutting it. Neither is UC Davis, which is down I-80. Although they do make for interesting Division-II fodder. (Yes, UC Davis is Division I, but how many people realize this?)
People don't respect Triple-A baseball. Maybe this is a personal opinion here … OK, they're all personal opinions. But who gives a crap if Sacramento has a championship-winning Triple-A baseball team. The Sacramento Rivercats get their due in Sacramento, but nowhere else. Because no one pays attention to minor league baseball except "fanatics" and baseball writers. It's surprising — really, shocking — that they're affiliates of the Oakland Athletics which continue to suck in their own right.
Below is the full list from Men's Health, as sent to me. Click on the link here for the article.
1) Arlington, TX A+
2) Aurora, CO A+
3) Colorado Springs, CO A+
4) Indianapolis, IN A
5) Columbus, OH A-
6) Jacksonville, FL A-
7) Forth Worth, TX B+
8 ) Dallas, TX B+
9) Charlotte, NC B+
10) Anchorage, AK B+
11) Manchester, NH B+
12) San Diego, CA B+
13) Denver, CO B+
14) Seattle, WA B+
15) Lexington, KY B+
16) Boise, ID B
17) Sioux Falls, SD B
18) Raleigh, NC B
19) San Antonio, TX B
20) Riverside, CA B-
21) Des Moines, IA B-
22) Fremont, CA B-
23) Lincoln, NE B-
24) Kansas City, MO B-
25) San Jose, CA B-
26) Oklahoma City, OK B-
27) Chicago, IL B-
28) Phoenix, AS B-
29) Omaha, NE B-
30) Austin, TX B-
31) Boston, MA B-
32) Nashville, TN B-
33) Durham, NC C+
34) Madison, WI C+
35) Greensboro, NC C+
36) Las Vegas, NV C+
37) Cheyenne, WY C+
38) Washington, DC C+
39) San Francisco, CA C+
40) St. Paul, MN C
41) Houston, TX C
42) Pittsburgh, PA C
43) Corpus Christi, TX C
44) Toledo, OH C
45) Montgomery, AL C
46) Anaheim, CA C
47) Buffalo, NY C
48) Minneapolis, MN C
49) Fargo, ND C
50) Providence, RI C-
51) Tulsa, OK C-
52) Fort Wayne, IN C-
53) Honolulu, HI C-
54) Billings, MT C-
55) Salt Lake City, UT C-
56) Detroit, MI C-
57) Louisville, KY D+
58) Memphis, TN D+
59) Milwaukee, WI D+
60) Wichita, KS D+
61) Baltimore, MD D+
62) Albuquerque, NM D+
63) Atlanta, GA D+
64) Charleston, WV D+
65) Oakland, CA D+
66) St. Louis, MO D+
67) Spokane, WA D+
68) Yonkers, NY D+
69) Cincinnati, OH D+
70) Birmingham, AL D+
71) Burlington, VT D+
72) El Paso, TX D+
73) Lubbock, TX D+
74) Little Rock, AR D+
75) Portland, OR D
76) Jackson, MS D
77) Bakersfield, CA D
78) Wilmington, DE D
79) Modesto, CA D
80) Baton Rouge, LA D
81) Cleveland, OH D
82) Bangor, ME D
83) Columbia, SC D
84) Rochester, NY D
85) Philadelphia, PA D-
86) Jersey City, NJ D-
87) Tampa, FL D-
88) New York, NY D-
89) St. Petersburg, FL D-
90) Norfolk, VA D-
91) Los Angeles, CA D-
92) Richmond, VA D-
93) Grand Rapids, MI F
94) Tuscon, AZ F
95) Sacramento, CA F
96) Orlando, FL F
97) Hartford, CT F
98) Fresno, CA F
99) Newark, NJ F
100) Miami, FL F