I can't find a reason to drop Seesmic Desktop. I don't want to either.
If you are unaware of what Seesmic Desktop is, it is a third-party application to utilize your Twitter and Facebook account. (It's also one-stop management for multiple twitter feeds.) And in my honest opinion, it's freakin' awesome.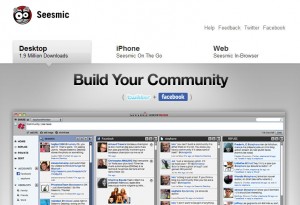 The features are pretty simple: The ability to post to your Twitter account (s) / Facebook account, check up on your followers in real time, notifications for replies and direct messages, group follows, shorten URLs (particularly with your bit.ly account for link statistics), and saved searches.
The nuances of the desktop client, which is what I use on both my PC and Mac, is pretty similar to TweetDeck, which is extraordinarily popular. (TweetDeck also has an iPhone application now available.) At one point, I had both on my Mac, trying to determine which I would stick with. I went with Seesmic because it provided an easy way to group the people I'm following.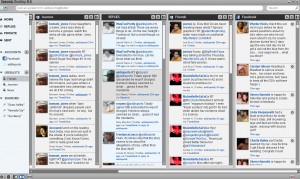 Here's the thing: There's little incentive to give up a program like Seesmic, or Tweetdeck if you're into it, when the programs perform all the functions you want. Although, there are some good reviews out there that try just to do that. One that I really like is this Mashable review, Tweetdeck vs. Seesmic.
There are other big-time applications out there to utilize Twitter, like Twhirl which are competing to corner the Twitter "power-user" market. How any of this will be monetized is beyond me.

How do you use Twitter?