I shot a quick explanatory video of changes at TheUnion.com when we went live with the alterations last week. Plans for the facelift had been in place since January. As I recall from The Union's last Web site change, change is never smooth.
So in order to help things go more smoothly (and they went infinitely more smoothly this time compared to the last), I shot this video so that way people have an idea of what all we were trying to do. See below:
To add to some of the points in the video, I'll highlight exactly what was changed here.
A new members hub — This is what all the hoopla is about. We wanted to make sure that the content of our readers and users was more prominently highlighted on the site and more easily searchable. That includes blogs, pictures, videos and comments. But where they all fuse together is in the actual hub, which shows which stories are getting the most comments, recommends and and which users of the site are active at the moment. It's another way we hope builds community between our already vibrant users.
Comments for 5 days — Any story from the last five days with a comment on it, will be shown in this new (old) section. I'm sure this will make are top 5 percent users happy, as they often are looking for the "hot" threads.
Inbox notification — In addition to the cool entreaties of the hub, we've revamped the login/my profile spot on every page of the Web site.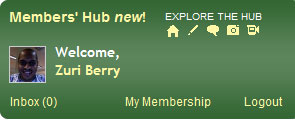 As obvious a change as it is, sitting in the right hand portion of the site, it's usefulness knows no bounds. There are links to everything you need in that little box, including the hub, your profile, your blog and your private inbox on our site. The inbox now features a numerical notifier of how many read messages you have from other members you have befriended. Again, very cool.
Other stuff — The navigation is now utilizing drop down menus, allowing space for more topics and cross-relevant portions of the site to be linked under main profiles (i.e. News, Sports, Entertainment). For example, we're looking at including a link to each particular blog under its respective category. So our Sports Zone blog would be linked under Sports, as it should. Sounds simple, right? Unfortunately, it takes time to implement.
Also, we've tightened, or should I say loosened, up our headlines. They now won't cut off but just drop down to another line on the site. So you can read all of it, and I don't yell at people over character counts so you can. Win-win.
I'm pretty excited about these alterations, as I feel like all of these fixes/upgrades/additions could have been ushered in one at a time, but the totality makes the site soooo much better. This is stuff we've been fighting for, for a long time.
If you're a user on TheUnion.com, and you want to give feedback, go here.