Do you like my new digs? I'm actually still getting used to it. One of the biggest changes for me was the new favicon. Don't it look purty?

If you've been following for the last four years or so, I've been going with the blue Z.
Twenty-10 had to be different. The change had to be seismic, in tune with my goals and updated for the new challenges ahead between the three Web sites I am charged with maintaining.

One of the biggest barriers for me is always structural. While this site may appear different today, it's still in relatively the same structure it was in 2009, 2008 and 2007. However, the redesign at Addisports.com, thanks to the Arras WordPress Theme, is entirely different than what it was last year. That's pretty much has made the goals of this year, and years past, more attainable than they've ever been for me on a blogging front.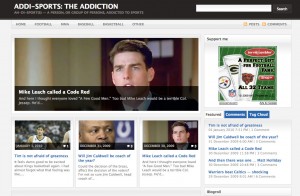 I'd been meaning to switch to a magazine-style format since June or July. But I was hesitant because I had just went through two other big changes, including moving from a Blogger hosted blog to the the self-hosted domain it sits at now and the design change that was required because of the move.
That's a lot of change for Addisports.com in the last two years.
It went from a sports blog, hosted right here on ZuriBerry.com, to a Blogger blog (losing all of its history in the process because of my lack of database knowledge) to its own self-hosted domain and now this magazine-themed ready beauty. And I'm positive there's more change to come. But the look, the feel, should be fairly consistent for some time to come as I build the site up to my expectations.
It really is in the toddler stage of what I want it to be. While I've penned quite a few crazy articles there, I would be remiss to believe that it has 'arrived.' There's more to do, more to tinker with and much more to write.
This year may look different. But the goals are the same. Can't redesign that. But it sure looks good, doesn't it?