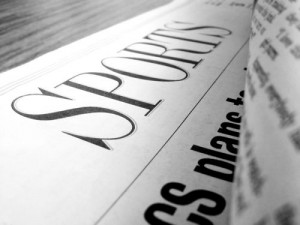 Editor's note: I wrote this weeks ago. Maybe a month or so. Unfortunately, time doesn't change my opinion here.
I've read one too many articles and columns denouncing the end of sports journalism. It's all hunky dory to reminisce about Red Smith and the good ol' days, hypothesize on the demise of each writer's talents and acceptable wordplay. But it is, after all, an over indulged topic.
Let's play a game. Name three types of stories you'll read in a newspaper every day. I dare you. Better yet, I'll up the ante and name a few myself and let you fill in the rest from the bowels of your brain. 1) A game story; 2) a profile of some sort; 3) Some news of some signing, injury, etc; 4) A box score or two; and 5) a column to boot. And in those profiles and columns, the featured persons or people are often pitted in some struggle, often up against odds, have overcome something, or destined to be chasing things like trophies, rings and a peaceful state of mind. There's not much else people care about, to be honest.

Alright, now what does the average criticism of sports journalism entail? A compost smattering of general dislikes? An unwarranted criticism for lack of imagination? An attempt to lump, group, and/or categorize all sports writers in one denomination of style, or lack thereof? Oh, maybe a not-so surreptitious ode to older, more seasoned writers? Or just dead ones? How about all of them? Whatever fancies the critic.
No mention of style enforced guidelines. Or over extensive, and sometimes ambitious, copy desks. Or even the practical impossibility of writing 2,000-word Iliad-style homages to athletes when so inspired.
In my lifetime, the two longest stories I've written were 1,800 and 2,200 words. One was broken up into pieces, the other was crammed into a newspaper. (Both were awesome, I might add.) These were special bits. Nothing that would be allowed normally. What's normal? 500 to 800 words. A thousand if you're lucky. And in knowing that, I hope to relay that it really is out of the writer's control when it comes to composing in long form for journalism. They say that's left up to the magazines, but they're apparently space deprived as well.
However, my problem is not that I don't disagree with the criticism of sports journalism and story telling in general. But really, I can't stand the unimaginative nature of its evaluation. And if the evaluation is as lackluster as the so-called story-telling, then, at least in my mind, the problem is truly hypocritical.
So we have unoriginal critics and colorless writers, bringing forth a nasty circle of creative apathy. And all anybody wants to do is get information out there while providing a few cute quips to please their readership. In spite of this, insight is still valued, clarity has never been more emphasized, and objectivity, whether real or perceived, is still at the forefront of journalism's strengths. But as we all know, readers want more than just information. They want to be entertained. Originality, creativity, spontaneity and a little bit of gumption can go a long way. But I doubt some witless critic of journalism in general is going to spur the masses of writers to change their ways.
I mean, Jim Murray can't write for you and I. It's a shame we have to do it on our own.
So, what's my suggestion for writers, both new and old? Take chances. Take risks. Make mistakes. Learn from them.
For critics? Shut up.