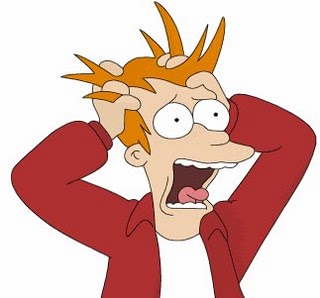 A lot of people think that crashing your site is the worst thing possible, but I highly disagree. A crash is not like crashing your computer — a sign of the end times. Instead, crashing your website just means that you're temporarily down. Depending on the situation, you could revert to an older version of your site or make a quick fix and, voila, be back online with little hair loss.
But when you deal with databases, and are moving them from one place to another, you can lose everything with one mistake. That's the worry with having a site powered by WordPress. If you're not well versed in MySQL — or even mildly interested in its repercussions on your site — you could really do damage to your site. I should know. In the early days of WordPress, when they didn't have all this support for database backups, I killed about 100 posts on this site accidentally. It threw me into a funk for days. That was 2008. (Notice, that's how far back my archives go. The truth is, I've been writing on this site since 2007.) There is no coming back from that. All of these great columns I did on this site are gone, some of which I wrote to showcase my writing talent when I was looking for a job. There were memorable jabs at Barry Bonds (including a letter written to him), Alex Smith rants, miffs on journalism and a host of other quibbles that were typed when I had time to write such things. All of them are gone.

So it was with great hesitation that I made the third biggest change in ZuriBerry.com's history Thursday when I changed hosting providers. The first being the decision to power the entire site with WordPress, subsequently killing the aforementioned posts. The second was killing off Addisports.com — an offshoot of this site for sports — and funneling all of its posts back onto ZuriBerry.com.
From this site's first day, it was hosted by Yahoo. That was a terrible decision that also came from a time in which WordPress used to actually suggest Yahoo, among others, as a hosting provider for its platform. (I had used WordPress in college and fell in love with it.) As you can probably tell, WordPress' 3.2 update, which I couldn't do because Yahoo had not updated phpMyAdmin and MySQL. So I started the process of transferring the site elsewhere with a backup of all the online files. But not without first being a coward and seeing if Yahoo could still satisfy my needs.
"Hey, Yahoo!, you think you can update your databases so I can update my site? … Oh, you will….. Wait, you're not sure when…. What do you mean you don't know?….."
After that conversation, I exported all of my content and called up GoDaddy (my domain provider and host for other websites I've managed) and asked how I could get it done with as little damage as possible. Two days later, and with only a few install problems, I'm completely back online with all of my long-standing problems instantly fixed. You'll notice header titles available for each post. Facebook sharing works properly. Oh, and each URL is now canonical, making it easier on search engines. Plus, I'm paying less in the long run.
But the best part about it all: I didn't lose anything.
Now back to typing.