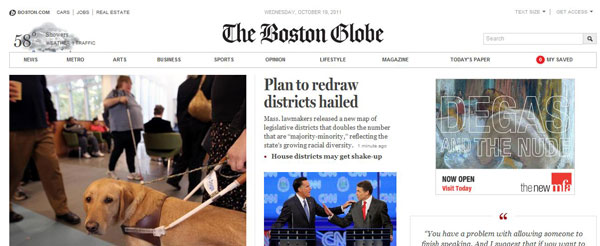 It's not often I comment on the dealings at the Boston Globe. In fact, it's been a long time since I've been sort of an ambassador for newspaper dealings. That all ended when I left The Union.
But today marks a pretty historic day for the Globe and the communities it serves, as the BostonGlobe.com paywall finally goes up and the Globe completes the splitting of the paper's online news brands.
This is significant for more reasons than opening a new revenue stream. (BostonGlobe.com will cost $3.99 a week — $0.99 for the first four weeks — but will be free to subscribers.) The deployment of a second website is a unique strategy, spearheaded by publisher Chris Mayer, that depends on both Boston.com and BostonGlobe.com to find separate niches, voices even, to serve the same communities. Boston.com, which will still carry breaking news, sports coverage and select Globe stories, is supposed to be the voice of Boston with community bloggers, photo galleries and other features that tap into the heart of New Englanders. BostonGlobe.com will carry the weight of the Globe's newspaper content, with exclusivity in some areas and also breaking news. The new website, hailed for its design and scalability between smart phones, tablets and computers, is still changing. But its main thrust is dependent on its reading experience and being New England's No. 1 news source.
So, basically, we'll see where things go from here.
A couple of things that have gotten lost in the public's conversation on the new site:
Stories of importance, or considered of public service, will be made available on Boston.com. So the whole Priest scandal thing, or the probation department fiasco, and stories like them will be made freely available.
Sports coverage, with the exception of enterprise pieces, will be available on Boston.com.
Current subscribers don't have to pay anything for access to BostonGlobe.com. (Weirdly, this is confusing to some.)
I'm excited about this. And not just because I'm an employee of the company, but because this represents another domino in a long line of newspapers that need to start charging for what they've been giving away for free. The New York Times took the plunge, the Globe has taken the plunge, and I don't believe it'll be long before many other newspapers find a strategy that works for them to charge for the content that they produce.
Now with that said, there are a number of things the Globe needs to do in order for BostonGlobe.com to be a success in its own right and so it will not compete with Boston.com, and vice versa. Mainly, the new site has to give up its current sports centric focus. Given the availability and popularity of sports on Boston.com, it doesn't make sense.
Instead, BostonGlobe.com should focus on its exclusive content and hesitate at all points to mirror what Boston.com does, particularly for sports. So in the evening, when readers visit BostonGlobe.com and see exclusive previews for content in the next day's paper from our acclaimed G section or an editorial on a pressing topic, the company is doing what needs to be done in order to be successful. But on Monday, in the morning, the last thing the new site should be doing is featuring New England Patriots content as if it isn't plastered all over Boston.com already.
It is my belief that for BostonGlobe.com to be successful — whether that is in terms of monetary value, protecting a sliding newspaper circulation, or web traffic — it has to break away from what Boston.com does and provide value to a distinct audience, one that despises Boston.com already. In the two years I've worked at the Globe, one of the constant complaints about Boston.com is how much of the newspaper's content is buried online while readers eyes are diverted to photo galleries and other non-newspaper content. The new site is designed in a manner in which that will no longer be the case, catering to a large number of people already discontent with Boston.com. But I also believe a large number of these readers will never venture to the new site if, in essence, its homepage reflects the content on Boston.com. That'something the masters of the Globe — editor Martin Baron, Boston.com editor Ron Agrella and BostonGlobe.com editor Jason Tuohey — have to hash out. With time, and proper focus, I'm sure two distinct voices will form. That's the hope I have for the company and this two-brand strategy.
So, basically, we'll see where things go from here.