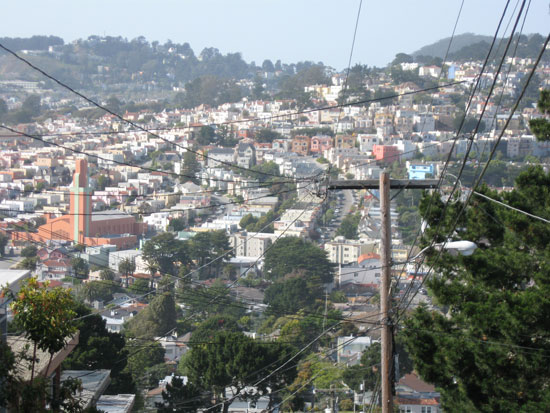 For the first time in 13 years I found myself down at San Francisco's Fisherman's Wharf playing the part of a tourist. It was, as I remember it all those years ago, a surreal experience. The sheer number of people, the smell of the water, the breeze of the bay, and the scenic views attack your senses. It's more than enough eye candy for any regular Joe or Jane. But for someone who has done it before, albeit years and years in between, it comes to be a reminder of what I left behind since moving to Boston.
I've lived in Boston for two and half years now — the longest I've lived anywhere other than San Francisco. It's grown on me but it's not home. At least not yet. There are certain views, like the one from my grandmother's house, that are ingrained in my brain. I don't have that here yet. I guess the whole part about making a new home in the Bay State, not the Bay Area, is a much longer process than the time I've put in.
When I got to Massachusetts, it was at the precipice of winter. But that didn't deter me from exploring the city. I played the tourist here for at least six months (probably longer) in order to soak up the the setting. I've walked through Boston Common, Downtown Crossing, Faneuil Hall, the North End, Harvard Square, Coolidge Corner, and have been through every other neighborhood at least once. I've done the Duckboat tour, the Freedom Trail tour, watched Shakespeare on the Common, been to the Museum of Fine Arts, Museum of Science, Fenway Park, Gillette Stadium, TD Garden (all as a fan of the game) and have found myself walking aimlessly on Newbury Street. Let's just say that my knowledge of the city is still shallow. As time has gone on, and work has become a greater focus, I've gotten into a pattern of doing the same things in Boston over and over again. In a sense, my feel for the city is that of a business traveler. I know the hot spots, but little else.
What's the answer? Become a tourist all over again.
Why not? This city has a lot to offer and I'm getting tired of telling people that the best I have to show them is Fenway Park, the Common and Harvard Square. (I also mention the Duckboat tours, but those are only during the nice months.) I would be happy to have a working knowledge of various food options outside of the North End that are moderately priced. I'd be delighted to bring visitors to a neighborhood that they can walk from bar to bar. It would bring me joy to bring folks to a park that is not located in the center of the city, but somewhere closer to its heart.
(I think I need quite a few more months as a tourist before I can call myself an insider. Surprisingly though, I still feel like I've done more in the city than some of its residents. What's up with that?)
The idea, I guess, is to have an image of Boston ingrained in my head that is unique to my experience. One that hopefully isn't just sports related. Is that too much to ask for? I don't think so. But then again, I'm asking it of myself.