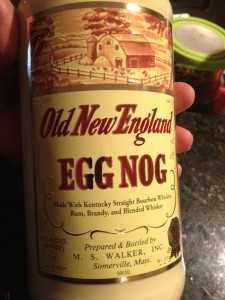 May your eggnog be as strong as mine.
Also, here's an excerpt of an absolutely awesome poem I read on Boston.com this morning. Please read the whole thing. Much love to the author, Joseph P. Kahn.
Greetings! Hola! Bon Noel!

Come right in and rest a spell.

Kick the Uggs off, lose the hoodie.

Grab a plate of home-baked goodies.

Coffee? Cocoa? Pinot noir?

The hearth is lit and here we are

To welcome all ye faithful who

Would share a cup of our yule brew:

A mashed-up missive, couplet-ized

And sent each year in warm reprise

To readers who, as Christmas dawns,

Might fetch it from their frosted lawns.

First of all — and not in passing —

A holiday-of-all-faiths blessing.

Could we take a moment here

To make our quarrels disappear?

Red states, blue states, Mitt v. Barry:

Just for one day, let's make merry,

Tout ensemble, as they say,

In keeping with this jolly day.

No more going all kvetch-y,

No more speeches Etch A Sketch-y.

Just peace, good will, and harmony

Bundled here beneath our tree.

Six days left and this year's done!

We must confess it's had its fun,

So bear with our irreverence while

We almanac it Gangnam Style.

The Court endorsed Obamacare.

Eastwood grilled an empty chair.

Mommy porn was shaded grey.

Critics clucked at Chick-fil-A.

Jesus married? Who'd have thought it?
Cheers.