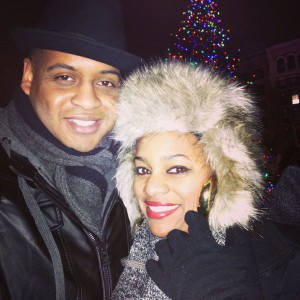 I love New Year's. It's one of my favorite holidays, giving me both the time to reflect and look forward. And yes, that means New Year's resolutions —
again
!
Yesterday I was telling Claudia that I put New Year's right up there with Thanksgiving and Fourth of July. They're all good holidays that bring family and friends together around something that has nothing to do with purchasing power, yet still have a communal purpose in which to celebrate. And I love the resolutions. As I've said before here in this space, resolutions are goals not meant to erase away what has been done the past 12 months, but a guide for the next dozen.
Since 2008, I've been sharing my NYE resolutions right here. And this year is no different. I've got a few things that I want to accomplish. The idea is to be as specific as possible with actionable items.
So, for instance, last night when I was going around the room at a New Year's Eve party, instead of telling folks that I wanted to lose weight, I told them 1) I wanted to lose 14 or 15 pounds. I'm trying to get under 200 and I want to look beach-tastic for my wedding. Right there I got my specificity and a deadline.
But that's only goal No. 1. Here are the others:
2) Find a side hustle — Right now, my only hustle is writing. That's good and all that, but sometimes you need to have something else to fall back on. For those that have followed me from the beginning, this sounds eerily familiar to my 2009 resolution to have a journalism backup plan. So to advance on that, I'll be seeking out an added skill to make some moola in the near future. And hopefully I'll have that wrapped up by the summer.
3) Be disciplined with my cash flow — I have a ton of saving I need to do for this wedding and it's imperative that I am disciplined with my money. It would probably help to not have any car emergencies for the next seventh months either. You know, because things happen. They just don't need to happen for the next seven months … maybe eight, depending on how things go down in Cancun.
Anyways, those are my resolutions. It's a short list this year, but one I'm intently focused on. I'm pumped about 2013 and what the new year will bring.
What are your resolutions? What are you looking forward to this year? Let me know.
I hope you had a happy new year. I know I did. Cheers.