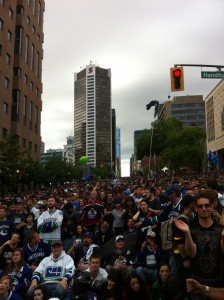 Editor's note: I wrote this June 16 as I was on the plane coming home to Boston from Canada. For photos from Vancouver that I took, see my pictures page. For videos, check out my "Vancouver" posts.
VANCOUVER, British Columbia – Lifting Lord Stanley's Cup is unarguably hockey's greatest achievement, for championships trump individual rewards and history favors the carriers of the Cup as well as the men who doggedly pursued its capture, yet failed in doing so.
It's with this thought in mind that I believe being on hand for the Boston Bruins' Stanley Cup title win – a dominant 4-0 Game 7 victory over the host Vancouver Canucks — is a moment I won't soon forget.
I shot video of the on-ice celebration right in the thick of one of sports' most precious moments. That thought hasn't escaped me since I watched a geared up Nathan Horton – despite being unavailable due to a concussion – hug it out with his teammates, capping a grueling and spectacular championship run. It clicked for me right then and there that this is a moment which will be ingrained on my cerebral to the end of my days.
For a sports journalist, it's easy to think I could have the moment while sitting in the press box, or pregame, or any of those other oft-repeated game situations I've encountered. It being a Game 7 of a championship series, one would think that the situation at hand would normally suffice the mnemonic tape recorder to begin its obligatory duty. For me, I guess not so much. It's the celebration that I'll always remember, and I think the same can be said for those watching at home around the world.
Continue reading "Remembering the Bruins' Stanley Cup win, Vancouver's reaction"