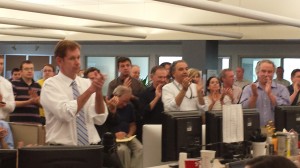 The Boston Globe won the Pulitzer prize yesterday for breaking news coverage of the Boston Marathon. While I'm glad to have played a part in the coverage, I'm so sorry I had to.
We're now at the one-year anniversary of the tragic bombings that took place. It's a good time to reflect on what an honor like this means and to keep it in perspective. So many people spent countless hours reporting, editing, and updating the public on every single piece of information that came across our paths. And over time, as the accolades have piled up, the awards continue to be a somber reminder of what has taken place, both for those who were intimately involved in the coverage of the tragedy and those who were only on the periphery. Three people were killed — Martin Richard, Krystle Campbell, Lingzi Lu and later Sean Collier — while more than 260 others were injured.
That somberness, despite any hint of joy or pride in the recognition bestowed, remains. It won't leave us. And if there were a better way to win an award, I would take it. I can only speak for myself in that sense. But that sentiment was shared widely yesterday in the newsroom after the awards were announced.
"There's nobody in this room that wanted to cover this story. And each and every one of us hopes that nothing like it ever happens again on our watch," Globe editor Brian McGrory said.
How we covered the Marathon in the very beginning
Boston.com was truly a pivotal part of the Marathon coverage for the Globe and was a prominent portion of the Globe's entry to the administers of the Pulitzer prizes at Columbia University. As the leading web portal in New England, we were first with the news online and we truly were a 24-hour news operation going forward. In those immediate hours, I was manning the desk with then Boston.com sports editor Matt Pepin. We were putting together projects and photo galleries from the day's race and were getting ready to wind down from the cranked up nature of the Marathon. That changed when the first tweets and photos came from the finish line. Matt and I culled those tweets together together before one of our producers, Steve Silva, sent his first dispatch.
I think a bomb just went off in Boston. Can't tell. Can smell smoke. Emergency vehicles everywhere. http://t.co/OTfZnvf9yh

— George Scoville (@stackiii) April 15, 2013
What many people don't remember about the Globe's coverage is that those first tweets and photos were posted in Boston.com's live race blog before we transitioned to the actual live coverage of the bombings. We ran both live blogs for a period of time because there were so many of our online readers — a substantial amount actually — who were on our site for the race coverage. Those numbers only increased dramatically in our race blog before we switched over completely. Maintaining both was seen as the right thing to do for our readers until it was no longer feasible.
This is where the quick thinking of Adrienne Lavidor-Berman, the Globe's social media editor, came into such great use. She was able to deftly handle the transition and set us up for success. Matt and I handled the race blog (the sports guys) and Adrienne handled the bombings blog. We made sure to cross post until we finally made the split.
Also worth remembering was that both Boston.com and BostonGlobe.com, because of heavy internet traffic, were down for a period of time. During that period, the Globe actually had our live blogs hosted by ScribbleLive's servers, which enabled us to keep publishing live and keep our readers informed. ScribbleLive describes this in full here.
You can only imagine all of the technical, emotional, and logistical difficulties that arose during that time. In that sense, it was remarkable we were still able to produce the content we did. So I think it's important to note that while the reporting on the ground was pivotal, there should be quite a bit of recognition to our developers and web staff for being able to traverse such a difficult set of circumstances.
Again, I'm really proud of what we were able to accomplish, but I'm really sorry that such a tragedy is what caused it. And as what was noted yesterday by the Globe's sports editor, Joe Sullivan, when a stressful, adverse, and unwelcome situation arises, you never know how you're going to react. The staff of the Boston Globe and Boston.com reacted by doing its job. I think the Pulitzer just recognizes that.