Tag: Mike Singletary
MADRID — I'm happy to take a moment here on vacation to report that I have been keeping abreast of the news back home and I'm thoroughly pleased with the recent turn of events for the San Francisco 49ers.
The moves of the past month have been needed for a long time.
First, the Week 15 firing of Mike Singletary capped what was surely the most disappointing coaching stint in 49ers history since Dennis Erickson's "glorious" return from the college ranks. Second, the hiring of 49ers general manager Trent Baalke, who fills a role that was left void following Scot McCloughlan's abrupt departure after the Mike Nolan reign, put a must needed football man in front of a once awkward power structure. And lastly, Jim Harbaugh's hiring ices the cake as the 49ers went after, and attained, one of the best college coaches in the game and a guy on everybody's wish list. (Well, OK, maybe just Miami's.)
Read the full article »
he's back in competition
for the starting QB spot for the San Francisco 49ers, which won't be named until Aug. 29 when the 49ers play the 'Boys in the final preseason game.
I'd hate to have the 49ers go this route for two reasons:
When Smith was the starter, and healthy, he went 7-9 in the 2006 season while leading the 49ers on two phenomenal comebacks. Unfortunately, these two golden nuggets were not a sign of promise. It's a sign of his limit. What we've come to know of Smith is that he's fragile. (how did he injure that shoulder again last season? Oh, that's right, by throwing the ball in practice. The primary function of his job!) He's also sensitive and he wilts under pressure. Taking slices of Smith's career and then evaluating him as a whole is faulty logic, and an apologist's summation for a loser.
Locker room leadership may take a hit if Hill can't surpass Smith. I remember vividly the divide on our team in high school when we were trying to determine who would be our quarterback. Of course, it was always up to the coaches but everyone had their sides. And when a decision was made, some folks were disgruntled. If you think that can't or won't happen on a professional team, you're whacko. Last thing Mike Singletary needs on his team is a loser. Guess who fits that description best of the two.
Look, I don't want to go back down the path of trying something old (relatively speaking), tested and not battle ready. That's exactly what Smith is. We've tried him, it didn't work, it's time to move on. Full-time duties should be put on Shaun Hill until he screws that up royally. And if it comes to that, the 49ers need to make moves for a veteran free agent. I mean, Trent Green is available. It can't get worse than that. Can it?
Life must be good for Alex Smith. He's a pro football player, a millionaire, his shoulder is feeling better and
When Alex Smith restructured his contract Tuesday, there was a loud poofing noise that occurred at 49ers headquarters in Santa Clara.
It wasn't the normal poof that occurs when you lose an idea, a dream or some really cool visual. On Tuesday, the poof in Santa Clara was the vanishing sense of a huge financial obligation once bestowed upon the 2005 No. 1 draft pick.
In many ways, the poof was the relief the 49ers had always desired from an overpaid bust. Smith was due nearly $10 million this year. That's just unacceptable for a likely benchwarmer. But it was also the beginning of a very tough conversation the red and gold will have to have: What next? And even more precisely, who is next?
The recent addition of Damon Huard (50-of-81 for 477 yards passing in five games in 2008) doesn't make this 49ers fan feel like the quarterback issue is solved. Nor does the idea of a new quarterback competition, a la 2008, in which Shaun Hill (7-3 as a 49ers starter) is challenged by Smith, of all people, make me feel as if something is being accomplished. It all looks like musical chairs.
The one thing general manager Scot McCloughan should think about going forward, with Mike Singletary at his side, is what will his long-term quarterback plan look like. Not just the every-year shuffle of "who is the next fix," but who can be drafted, secured and/or stolen that management and players alike will want to build around.
Who, I say? Who?
The fruition of the 49ers' plans will not begin to take shape until we have seen the first draft by McCloughan and Singletary. If memory serves me correctly, the last draft was non-sensical and totally devoid of the 49ers' most prominent needs, a quarterback or receiver in the first round. That means first-round caliber. That means talented.
Maybe one will fix the other. Maybe the 49ers are banking on their latest wideout addition, Brandon Jones, to fill some invisible gap.
Maybe they don't have a plan.
The obvious observation is that the plan was nonexistent up until negotiations began with Smith. The fact that he's bought into this now yearly charade of competition is absurd. He needs to find the bottom of the depth chart and quietly disappear.
To note that there is quarterback competition reveals how flawed the plan is in its infancy. But again, this all can go down the toilet with one stellar pick at the No. 10 spot April 25. (Mark Sanchez more than likely will be available. Just do it. Just. Do. It.)
More than anything else, they need to find the one guy everybody will love and groom him like he's the prince getting ready for the throne. Let Hill be the caretaker of the quarterback duties until he's ready and let Smith date the clipboard. But no matter what the 49ers do, they have to formulate a winning plan and stick with it.
The last thing Singletary needs is to define his reign by Hill or some other toss away quarterback.
This column originally appeared in The Union.

In 2008, the 49ers failed to prove that they wanted to win, until it was too late.
Let's be principled about this. If we're going to go into the new year, we're going to have to be goal oriented and, better yet, results oriented.
Mike Singletary has been anointed. Shaun Hill has shown, two weeks in a row, that he can be the savior's solution to the quarterback puzzle. And Mike Martz, canned after one season amid marginal improvement in the team's total offense (23rd in the league after ranking dead last in 2007), is out the door. There's no looking back now. This is Singletary's team.
And with the 10th overall pick in the 2008 draft, in addition to selecting a new offensive coordinator, Singletary will solidify his mold on this red and gold creature. What will take shape, only he can dream up.
What seems to be the unanimous opinion of pundits and fans alike, myself included, is that the will of Singletary will be so strong, he will make winners of those around him despite whatever talent they have. I expect any great leader, like Singletary, to do so. But I want to stop and implore him to think about the end game for the 49ers and what's really necessary to be successful in the long run, as well as the short one.
Let's not pretend SF is still rebuilding. That's such a tired excuse for a franchise with so many weapons on offense and outstanding talents on defense. The pieces are in place. From the stacked linebacker corps, secondary and even wide receiver group, there's only so many places SF needs an upgrade — and in some cases, solidification.
Namely, the offensive line needs bodies. Rookie Chilo Rachal stepped in and did some good work for the 49ers late. But it's telling that a rookie can step in and make an impact when veterans have been at the forefront. Same goes to Bryant Johnson, who's hefty price tag was repaid with a surplus of injury days.
But again, this is about direction. Any pick, 10th or 42nd, will have to build upon Singletary's pre-ordained philosophy and come to formation on the structure that Mike Nolan put in place. I don't want to win in 2010. I want to win in 2009.
The only logical move for a big name piece is either an offensive lineman or a dynamic player on the board that can have instant impact. Too many lineman have gotten hurt, hence Rachal's second round selection last year, and too many have underperformed. Solid line play will lead to a solid running game, which Singletary favors, and a ball control offense which the 49ers desperately need.
The defense will have to take care of itself, all while the quarterback situation is figuring itself out.
In 2009, execution will be the prominent theme. And wins will be highlighted more so, thanks to all the wonderful tools already in the shed. If Scot McCloughan is writing down any resolutions, he should try this: Have a plus .500 season. Because everyone knows plus .500 means you've won the NFC West.
Next step: Playoffs.
This column originally appeared in The Union (Grass Valley, Calif.).

From a column I wrote last week:
You're just going to have to get used to Mike Singletary barking at you on that TV screen because he's not going anywhere, anytime soon.
After the 49ers dropped the New York Jets, one week after downing the Buffalo Bills, there's a distinct flavor of football being formed in the San Francisco Peninsula. It's an unmistakable change from the random week-to-week strategy that was offensive oriented, unorganized and worse yet, a losing culture.
Now, with Singletary playing captain, Shaun Hill starring as first mate and Vernon Davis being a good sailor, there's a lot of positives to take from a tragic 2008 season.
Like pheromones, the Yorks will unknowingly, or rather ignorantly, enjoy the plunders of these non-essential, late-season wins. They'll look at the few wins they pick up and see justification for sacking Mike Nolan, justification for benching J.T. O'Sullivan, and justification for not going after another quarterback last offseason, and probably this upcoming one.
Singletary deserves the credit for bringing discipline. He's a pretty stern dude who has reinvigorated a defense that was not playing up to par. Holding Buffalo to three points showed that and holding the Jets (who had just beat the previously undefeated Tennessee Titans) to 14 proved that. It's very satisfying to see the defense play so well when they're supposed to, all the while understanding that you can't expect that performance every week.
To read the full column, go to TheUnion.com.
UPDATED: So the 49ers took a loss to the Dolphins this last weekend and I couldn't help but stew about that. It wasn't like there was something magnificent about what the Dolphins did, it was more about how magnificently anemic the 49ers offense was. They just couldn't get the plays when they needed 'em. I don't think all of the blame should be on the quarterback in this scenario. There's a lot of fault laying around that offensive line and the lack of running plays called.
The question is, if the 49ers are going to lose to the Dolphins, when they can clearly win the game, will they lose to the Bengals if they played today? I mean, this is the low of the low. Can they even beat the Raiders.
In his first game at the helm of the San Francisco 49ers, coach Mike Singletary showed us what kind of job he would do. He benched J.T. O'Sullivan for his 17 turnovers, including three in Sunday's game against the Seattle Seahawks, and sent Vernon Davis to the locker room for being "nonchalant" about causing his team yards after a penalty.
But who is better to explain Singletary than Singletary himself.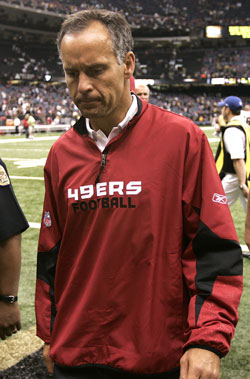 That was the worst firing in professional football I've seen in the last three weeks.
Seriously.
I wrote this originally for my newspaper, The Union.
When Mike Nolan walked the plank, I couldn't help but think the Bay Area's sports franchises were being defumigated following Lane Kiffin's exodus stage left. Here we have a franchise, just like any other, that has put a premium on winning, and the best they can come up with is firing the coach, the offensive line coach and promoting their underlings in the middle of the season.
I think it's fair to say, it's illogical to believe that somebody below Nolan could inspire the very same people they directly presided over — let alone be better than what they've currently achieved. At 2-5 in the lowly NFC West and seven weeks into the season, it boggles the mind what good could come from changing the horse midstream.
And that brings me to a very important point, was he really doing so bad they had to drop him in the middle of the season? I think not.
These actions, as perpetrated by Scot McLoughlan and the York family, are reminiscent of the faulty planning in the wake of Steve Mariucci's firing. The good coach, the one that was a winner for San Francisco, was sacked because he was too conservative for a team that was offensively deficient. In the wake of his firing, they installed an idiot a the top spot, Dennis Erickson, because they went into the coaching hunt without a plan. It was an irrational witch hunt for blame that ended in an unqualified hire.
The 49ers haven't recovered since.
There is a distinct flavor of irrationality in Nolan's maligned firing as well. Nolan is taking blame for a timid offense that was supposed to explode under Martz (anything is better than last year's offense) and a faltering defense. But while each faults are egregious wrongs in their own right, they do not pass the litmus test for mid-season firing. Nor do they, in any respect, offer a forward thinking move for a franchise tanking any hopes to make the playoffs before the halfway mark. This year's other examples of mid-season firings, the St. Louis Rams and Oakland Raiders, are perfect examples of teams that never had a chance. Argue if you want, but the 49ers still had a chance to turn it around.
Kiss that positive note goodbye.
This decision by McLoughlan and Jed York, who is apparently now the face of the cowardly owners, is the sort of management usually relegated to the East Bay under the reigns of Weird Al. Surely the 49ers aren't taking cues from mister power nut himself. Furthermore, there is no precedent that mid-season changes end positively.
In 1978, the 49ers did the same thing with coach Pete McCulley. He was fired after starting 1-8 that season. His successor, Fred O'Conner, was fired after finishing the season 1-6. There's no telling the 49ers would repeat that disastrous history, which precluded Bill Walsh's rise to power, but it is representative of the dangers of making injudicious changes.
In the defense of McLoughlan though, he at least had the sensibility to go with Mike Singletary over Mike Martz. (How many Mike's does it take to screw in a … ah forget it.) With Singletary, you get a powerful and respected voice in the locker room. His methodology, as has been noted in many media channels, is accountability. That's necessary going forward. While Martz is a profound offensive mind, he needs to be reeled in. Hopefully, with strong leadership, he can focus on the basics to spark the team's offense. And with a renewed sense of accountability, and maybe a little shock, the defense will step their game up.
But really, it all screams futile. There's no way a physical change will guarantee the next nine games this season will be worth watching, nor does it guarantee the problems of this franchise magically disappear.
All this does is provide a scape goat for a lack of franchise planning. Nolan just happens to be the sacrificial lamb.